In Windows 10, we can run many apps from Command Prompt using their alias. Eg. The default alias to open Notepad through Command Prompt is notepad.exe. Simply type it, and press Enter and the Notepad application would open.
The alias names of the applications are usually similar to the name of the original application, but at times, two different applications might have the same alias leading to a conflict. In such a situation, trying to open the intended application through Command Prompt by entering its alias might open the other one. Eg. We have 2 applications named Spot Music which might have the same name but were designed by two different brands and have a different size and structure. Possibly, the default execution name for both of them could be spotmusic.exe since both are program files. Upon attempting to open one of them, the other application opens. This is both annoying and limits our work.
Manage app execution aliases on Windows 10
Earlier Windows users could change the alias of either of the application as per the guide mentioned on docs.microsoft.com, but with the launch of the Windows 10 1803, Windows allows users to specify which app should use a certain alias when more than one application has the same name.
How to choose the app which could use a certain alias
In case you have more than one app using the same alias, the following steps could help select which app should use the original name:
1] Click on the Start button and then the gear-like symbol to open the Settings window.
2] Select Apps and then select the Apps and features tab on the left-hand side.
3] Click on the Manage app execution aliases link. It will show the list of apps which might have conflicting aliases.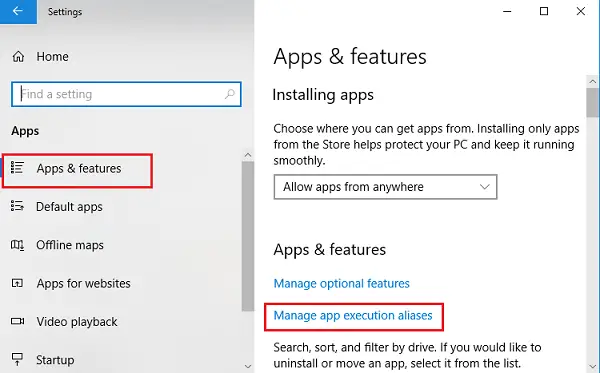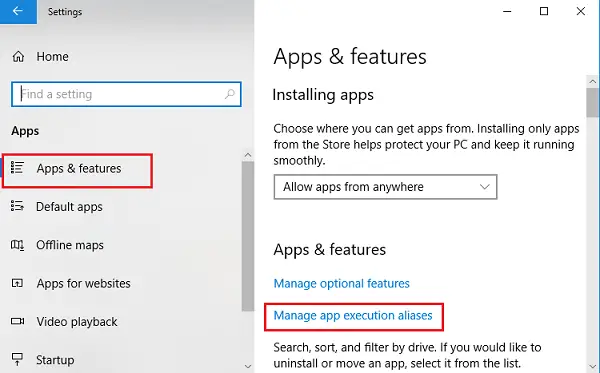 4] Turn Off the toggle button for the apps which have the same name.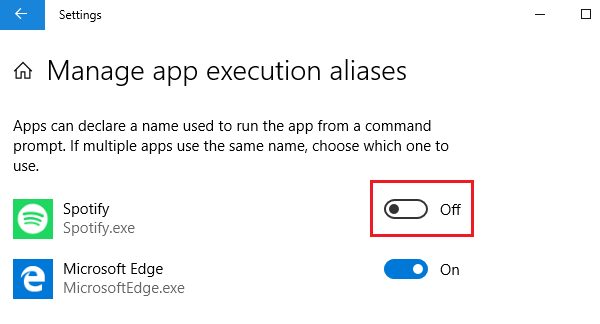 Now when you open apps using alias names using their execution name through Command Prompt, it would only open the apps which have their toggle enabled.
The toggle switch was designed for apps which have conflicting execution names. If we turn Off the toggle switch for apps which have do not have such a conflict, upon trying to open the applications through command prompt, we will get a Command Prompt error: "<the execution name> is not recognized as internal or external command, operable program or batch file." However, this would not prohibit users from launching the application from the Start Menu or otherwise.