What started with Microsoft Fixit, has now grown into an automated solution. Its been long since we have troubleshooters as part of Windows 10. Starting with Windows 10 v1903, the Windows team is taking it to the next level. Its called Recommended troubleshooting which can automatically fix problems that occur in the computer and notify you about it. In this guide, we will share how you can make Windows 10 run Troubleshooters automatically when required.
Make Windows 10 run Troubleshooters automatically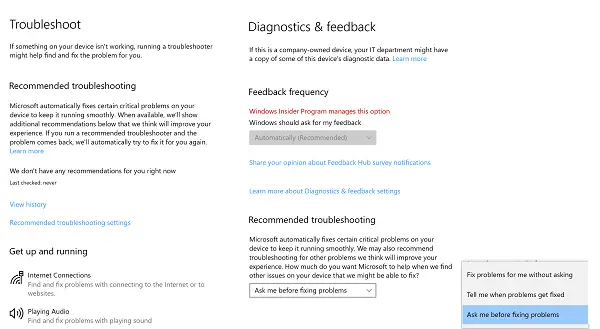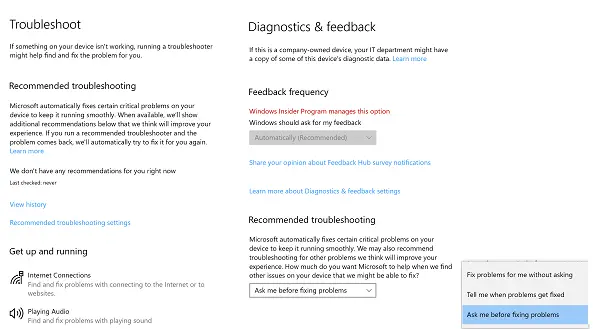 Not only can the program perform troubleshooting, but it can also apply the fix. Many consumers do not want to take a headache of looking at the notifications and want it to work while some who are tech-oriented would want to know what happened.
To apply this Recommended troubleshooting setting in Windows 10:
Open Settings > Update and Security > Troubleshooting
Click on the link which says "Recommended troubleshooting settings."
It will take you to Diagnostics and Feedback. Here you can choose between three options

Ask me before fixing the problems.
Tell me when problems get fixed.
Fix problems for me without asking.

Select the last one to automate troubleshooting.
It will make sure whatever Windows can fix, will be fixed when the error occurs.  If you wish to disable automated troubleshooting, select the first option.
The following Troubleshooters are available for recommended automatic troubleshooting:
Internet connections
Playing Audio
Printer
Windows Update
Blue Screen
Bluetooth
DirectAccess
Incoming Connections
Keyboard
Network Adapter
Power
Program Compatibility Troubleshooter
Recording Audio
Search and Indexing
Shared Folders
Speech
Video Playback
Windows Store Apps.
Troubleshooting History
If you want to see what Windows 10 has fixed, go back to Troubleshooting and click on View History. It will only list those fixes, which ran automatically and not by you. If you run a recommended troubleshooter, and the problem reoccurs, Windows will try to fix it for you again.
Apart from fixing problems, Microsoft will also show additional recommendations which will improve the user experience. If you dont see anything, give it some time, and you may get some.
I am very excited about this feature, but also at the same time, one will have to give time for this to mature. Microsoft does collect diagnostic data from your computer, and based on other computer and their experience, they can interpret the problem and the solution.
Will you let Windows 10 run Troubleshooters automatically? Or you like to keep things under your control?