If you are using Windows 10, you may be aware that Microsoft collects diagnostic data. Microsoft has launched a new tool called Diagnostic Data Viewer, which helps users know which diagnostic data has been sent to Microsoft server from their computers.
Your computer sends diagnostic data like information about installed software or apps, the apps' workflow, hardware configuration, and compatibility, installed drivers, etc., to Microsoft to improve the user experience. Now using the Diagnostic Data Viewer, you will be able to find out what data Microsoft has collected from your computer.
Diagnostic Data Viewer in Windows 10
To get started, you need to enable Diagnostic Data Viewer in Windows 10 Settings panel. For that, open Windows Settings in Windows 10 and go to Privacy > Diagnostics & feedback.
Now scroll down on your right-hand side until you get an option called Diagnostic data viewer. Click the toggle button to enable this feature.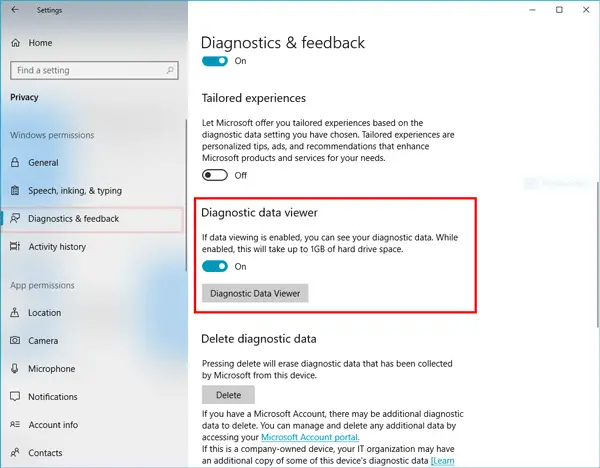 Following that, click the Diagnostic Data Viewer button to open the tool in the Microsoft Store. You need to install this app on your Windows computer.
After installing the app, you can see a window like this-
This app has the following categories-
Browsing history
Device Connectivity and Configuration
Inking Typing and Speech Utterance
Product and Service Performance
Product and Service Usage
Software Setup and Inventory
You can check this data using this free app.
Export data from Diagnostic Data Viewer app
If you want to analyze the data further on a different computer, you can export the data in .csv format. To do so, open up the options by clicking the hamburger menu on the left side and select the Export Data option.
You need to select a path where you want to save the file and give the file a name.
Thus, this app helps you review the diagnostic data your device is sending to Microsoft, grouping the information into simple categories based on how it's used by Microsoft.