File Explorer is the default application to manage files on Windows 1/110. In the earlier version of Windows, the title bar of Explorer used to show the path of the file, i.e., Address or the Location of the file or folder. However, by default, it is turned off in Windows 11/10. In this guide, we will share how to make Windows 11/10 always display the full path in File Explorer address bar.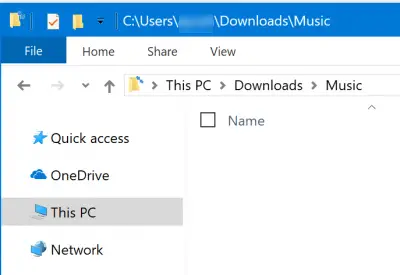 Always show full path in Explorer Address Bar in Windows 11/10
We will be discussing four methods to show the full path of location in File Explorer on Windows 11/10:
Using Folder Options
Using Registry Editor
We have also included tips to copy the full path of folders if you need it.
1] Using Folder Options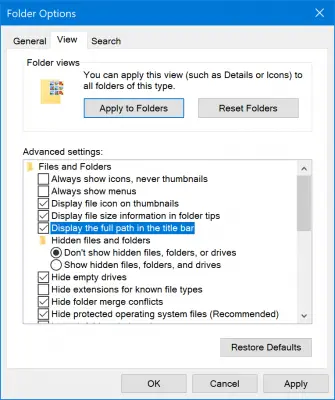 Open the File Explorer, and then press the following key combinations in the given order to open File Explorer Options. File Explorer Options is referred to as Folder Options in Windows 8/7.
ALT + V
Then, ALT + Y
After that, ALT + O
You can also switch to View Tab and then click on Options > Change folder and search options. In the folder options, navigate to the tab called View.
From the checklist, check to Display the full path in the title bar. Click on Apply, and then OK. Reopen File Explorer too, and it should now display the full path in File Explorer
2] Using Registry Editor
Open the Registry Editor, and navigate to the following path:
HKEY_CURRENT_USER\Software\Microsoft\Windows\CurrentVersion\Explorer\CabinetState
Double click on the DWORD FullPath, set the value to 1 to display full path. Set 0 to hide it again.
How to copy the full path of a folder in File Explorer
While there is a freeware called Path Copy Copy that lets you copy the full path of files and folder, here is how you can do it in File Explorer itself.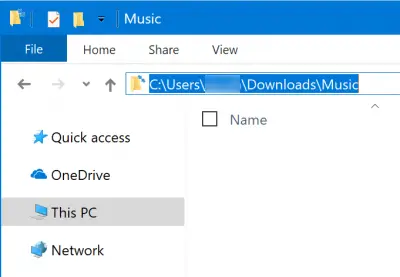 1] All you need to do is click on the empty area of the Address bar inside the File Explorer.  The address bar will then change to reveal the full path. Select all and copy the path or use it to navigate to somewhere else. It auto-populates by predicting the next possible folder.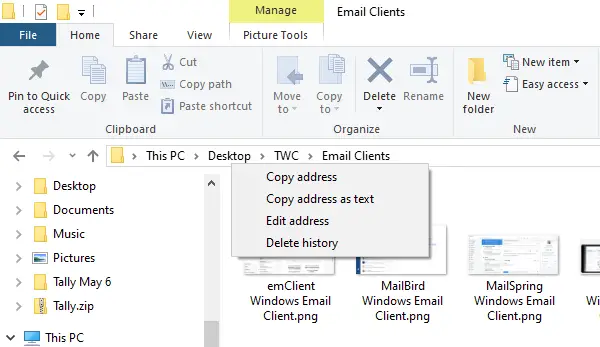 The File Explorer displays File Path in the form of breadcrumbs. You will see Folder names in it. If you want to copy the path of any folder, right-click on it, and you will have the option to Copy address.
2] Copy Path from Properties Tab
The second option is to open the Properties tab using the Right-click on a file or folder whose path you need to see.
Under the General Tab of Properties window, use your mouse to select the path displayed next to Location.  Use Ctrl+C to copy it.
Hope you find the tip useful.