Windows 11/10 now allows you to limit the bandwidth that your computer can consume for Windows Updates. This can be rather useful if you are on a limited data connection and want to control your data usage. If you are on an unlimited data pack, you may not find this feature very useful.
How to limit Windows Update bandwidth in Windows 11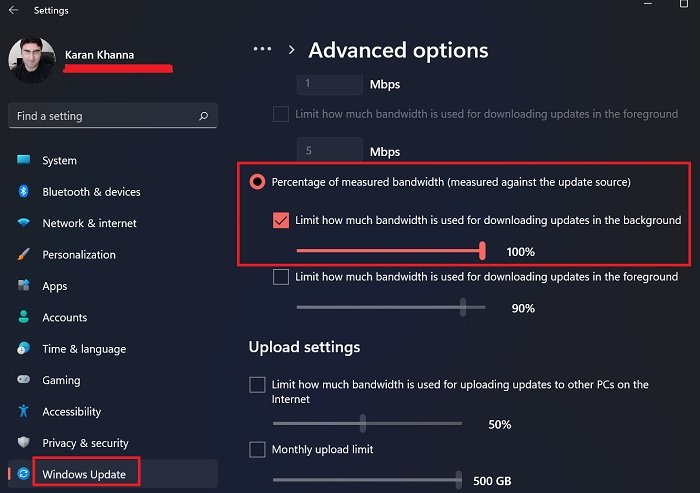 Since a lot of settings have been added for Windows 11, the approach and options have changed with the Windows 11 Settings menu. One such case is with the Delivery Optimization options. If you are using a limited data network for your system and don't want to exhaust all of your data for downloading Windows updates, then you can set a specific percentage of the data which can be used for updating your system. The procedure to limit Windows Update bandwidth in Windows 11 is as follows:
Right-click on the Start button and select Settings.
Go to the Windows Update tab on the list on the left-hand side.
In the right-pane. select Advanced options.
Scroll down to the menu under Additional options and click on Delivery Optimization.
Now, scroll down and click on Advanced options.
In this menu, under Download settings, you would find Limit how much bandwidth is used for downloading updates.
Check the radio button associated with Percentage of measured bandwidth.
Now, check the box associated with Limit how much bandwidth is used for downloading updates in the background.
Using the slide bar, you can set the percentage of the total available bandwidth to be used to download the updates.
Limit Windows Update bandwidth in Windows 10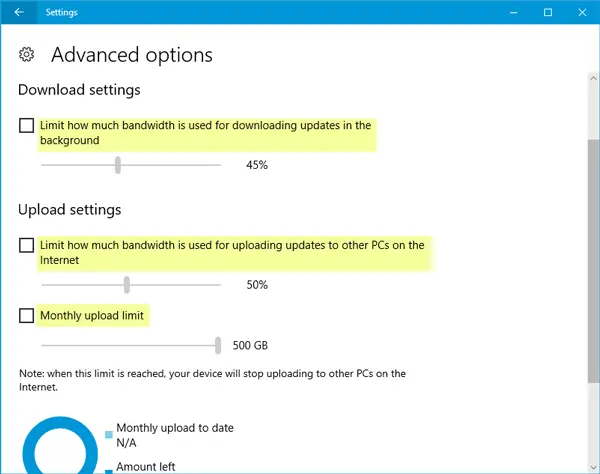 To limit data consumption for Windows Updates in Windows 10:
Open Windows Settings panel by pressing Win+I button
Select Update & Security >
Click Windows Update >
Navigate to Advanced options (under Update Settings)
Click Delivery Optimization
Go to Advanced options.
You will find Download settings and Upload settings.
Select the checkbox that says, "Limit how much bandwidth is used for downloading updates in the background." After that, you can select a percentage of the bandwidth. By default, it is set to 45%. But, you can change it using the slider.
The same thing can be done with the Upload settings. You would be able to set the Monthly upload limit if you want to limit the uploading bandwidth by either percentage or data (5 GB to 500 GB).
The uploading bandwidth limitation feature works only when you have enabled Allow download from other PCs option that comes under Delivery Optimization. If you haven't activated this feature, the "Upload Settings" options are not mandatory.
Once the predefined limit is reached, all the update activity will be stopped automatically.
You can also check how much data is used or available on the same page.
Read: How to specify Absolute bandwidth that can be used to download Windows Updates.
Limit Windows Update bandwidth in using Group Policy
In Windows 11/10, the same feature can be enabled with the help of the Group Policy Editor as well. To open it, press Win+R, type gpedit.msc and hit the Enter button. Next, navigate to the following path-
Computer Configuration > Administrative Templates > Windows Components > Deliver Optimization
On your right-hand side, you will find two different options-
Maximum Download Bandwidth (in KB/s)
Max Upload Bandwidth (in KB/s)
Double-click on an option > select Enabled > enter a value in the corresponding box (in KB/s) > click on Apply & OK.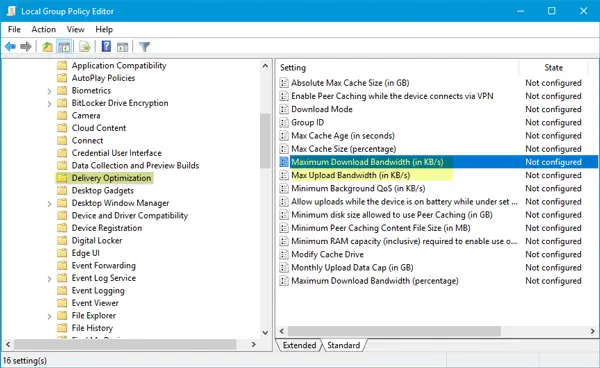 Hope this functionality will be helpful for you to limit Windows Update bandwidth usage in Windows 11/10.
How much data would Windows Updates need?
Just in case you are wondering whether or not to use the mentioned option, a general Windows Update needs hundreds of MBs of data and a featured update would need a few GBs of data. Thus, if you are using a network with limited data, then the mentioned option is the best.