If your Kaspersky software displays high CPU, Disk or RAM Usage on your Windows 11/10 computer, then this post will be able to help you. Kaspersky is one of the most popular antivirus software offering excellent protection against cyber threats.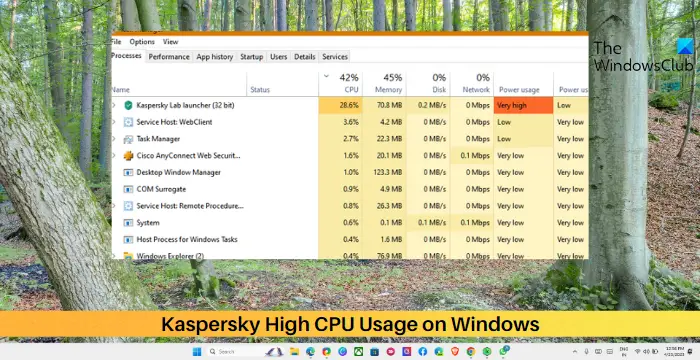 Fix Kaspersky High Disk, CPU, RAM Usage on Windows 11
To fix Kaspersky High Disk, CPU or RAM Usage on Windows 11/10, you may need to disable unnecessary features in the security software and adjust its settings. Let us see all the options available.
Disable Startup Programs
Run Power Troubleshooter
Modify Kaspersky Settings
Disable unnecessary features
Exclude trusted programs
Reinstall Kaspersky
Now let's see these in detail.
1] Disable Startup Programs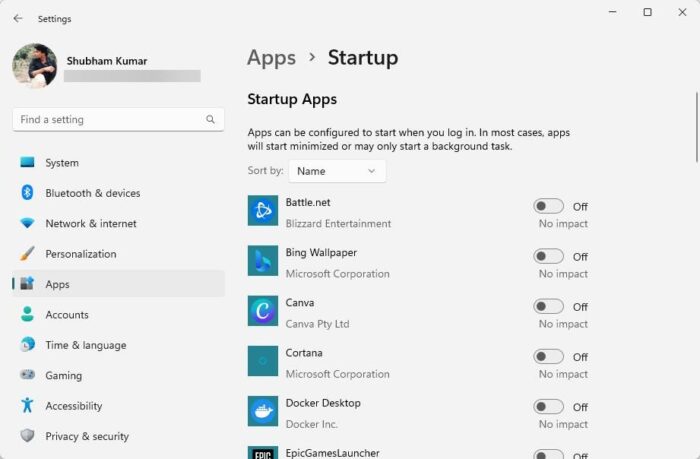 Before you make any changes to your system, disable the startup programs. Doing so will disable the applications that start when you boot your device and increase CPU usage. Here's how:
Press Windows + I to open Settings.
Navigate to Apps > Startup and turn off the toggle switch beside all apps.
Now, no applications and programs will start running when you'll boot your PC.
2] Run Power Troubleshooter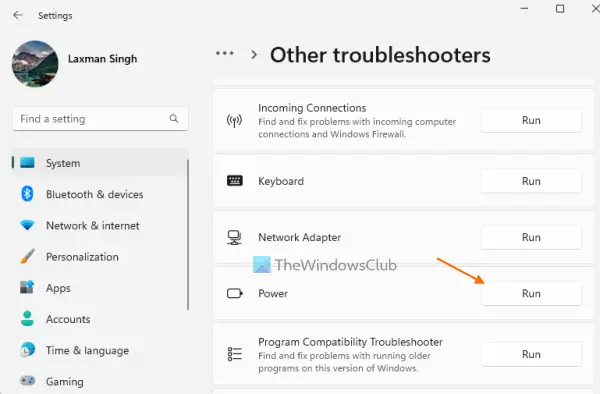 Next, run the Power Troubleshooter on Windows. Running this troubleshooter will help diagnose and fix power-related issues. It can potentially help fix the Kaspersky high CPU usage on Windows devices. Here's how:
Press Windows + I to open Settings.
Navigate to System > Troubleshoot > Other Troubleshooter.
Scroll down and click on Run beside Power.
3] Modify Kaspersky Settings
Misconfigured Kaspersky settings can be the reason why high CPU usage occurs. Modifying these settings can potentially fix the issue. Here's how:
Open Kaspersky and click on the Settings option.
Navigate to the Performance tab and scroll down to select Computer Resources.
Check the boxes next to When resources for the operating system to free, Resources for other programs freely give and Scan idle.
Restart your devices once done for the changes to take place.
4] Disable unnecessary features
Kaspersky Internet/Total Security offers various other features other than malware and quick scanning. If all these features are enabled at once, it could be why Kaspersky is using high resources. Disable all the features of Kaspersky that you do not require and see if it helps.
Read: How to Turn Off Kaspersky Firewall and Safe Money
5] Exclude trusted programs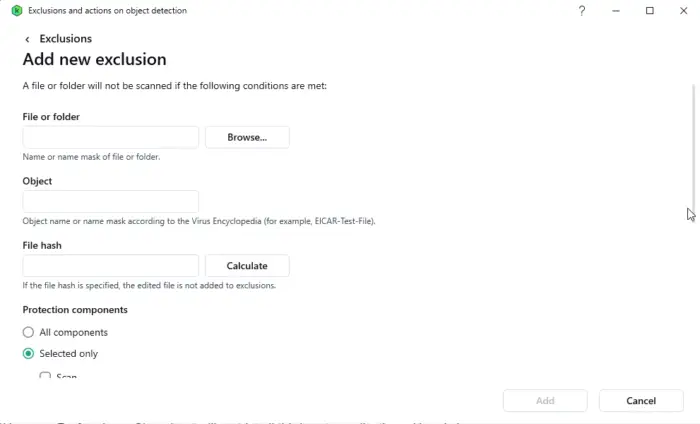 Specifying trusted applications that Kaspersky won't scan can be particularly useful for programs you use frequently and know to be safe. Here's how:
Open Kaspersky and click on the Settings icon.
Navigate to Security > Exclusions and actions on object detection; here, click on Manage Exclusions.
Now, click Add and specify the program's location to exclude the trusted program.
6] Reinstall Kaspersky
Suppose none of these suggestions helped you consider reinstalling Kaspersky. This has been known to help most users fix the error.
If the problem continues, you might want to contact Kaspersky Support.
Read: Kaspersky VPN Secure Connection not working on PC
We hope these suggestions helped you.
How do I stop Kaspersky from slowing down my computer?
The Kaspersky antivirus can also slow down your device's performance if it's allowed to perform too many system scans or other intensive tasks. To stop this, you must adjust Kaspersky settings, disable some features and exclude trusted programs.
How do I make Kaspersky use less resources?
To do so, you'll need to exclude certain files and folders from scans and disable unnecessary features. Nevertheless, if that doesn't help, modify its settings and upgrade your device's hardware.