Customizing items and prints are pretty troublesome, however, RedBubble seems to make it easier. RedBubble, an Australian-based online company is working hard since 2006, however, new users do have their concerns. In this article, we are going find answers to some questions such as, is RedBubble legit and trustworthy?
What is RedBubble?
RedBubble is an online hub, a one-stop place for all artistic buyers and sellers. Making beautiful birthday cards has never been easy; however, this is not the only feature offered here. This 2006 Australian-based platform offers a wide range of items including clothing, accessories, home decor, and such things. Currently, it is providing service to more than 700,000 active members, hence, in the upcoming sections, we are going to learn more about this growing venture.
Is Redbubble a reputable platform for buyers?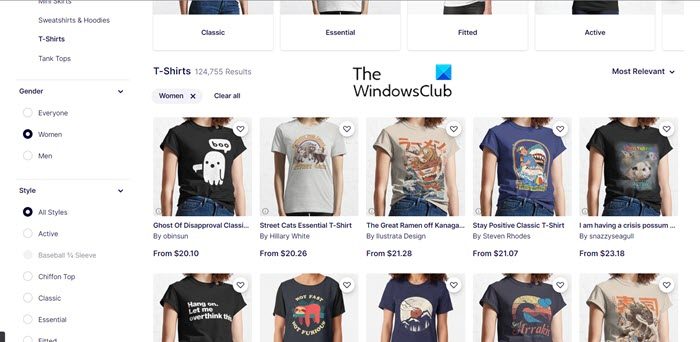 Yes, Redbubble is a legit, safe and trustworthy platform for buyers, and there is no doubt in this statement as the company is operating for more than a decade. It is a good website in the market. The site offers various options when it comes to payment, as well as an ever-available service team, ready to aid you in any way possible.
As discerning buyers, users will delight in an exquisite masterpiece meticulously crafted by intelligent boasting a diverse collection of art for home decor. And to make the buyer's experience easier, Redbubble offers filters such as price, category, or artist in the search bar.
They offer Free returns, exchanges, as well as money returns, however, it may happen that only product charges are returned, and not the shipping ones. To do the above-mentioned things, users have to initiate the request within 90 days of receiving the order, otherwise, RedBubble won't be of any help.
Read: What is AliExpress? Is it legit or safe?
Does RedBubble provide a trustworthy selling platform?
For artists and creators, Redbubble is not just a trustworthy, it is a platform that efficaciously simplifies the intricacies of commercial transactions. Creators can just publish their designs and put a tag on it, and start earning.
RedBubble neither charges sellers for creating the account nor for setting up their shops. Once the seller uploads the art and design, people who love it can access the shop, and decide the object they want to print it on. Unlike the normal transaction where the artist has to do all the basic things, nothing is required here.
All in all, as a seller, RedBubble is a recommended platform that allows users to set up their own price along with giving them the option to set it up automatically. And if a seller let Redbubble price the product, additional 20% markup will be added to the base price. There will be no listing or selling fees, and sellers will be able to enlarge their social networks.
Read: Check if a Website or URL is safe using Online URL Scanners.
Is RedBubble ethical?
Yes, RedBubble has imposed some strict policies to maintain decorum.  They do not tolerate hate speech and offensive content and have taken measures to provide sustainable offers. The orders are only produced once it's fully placed in offices near the address to save materials and energy. And they are also known for participating in offsetting carbon emissions schemes.
Although a massive number of users do not have a single complaint, some were not happy with the long wait for their order. However, due to this already mentioned on their website, this squashes any claims made by users. RedBubble does take its customers' concerns seriously and provides a response, hence it would be a waste of a great buying and selling opportunity if you don't check Redbubble.
Read: Is TeePublic legit? Know before you buy from it.
Do people actually buy from Redbubble?
Yes, RedBubble is blessed with a large database of customers. Most users tend to visit the site frequently to quench their thirst and get new pieces. RedBubble does not only host clothes but also has home decor, accessories, stickers, etc.
Also Read: We've detected suspicious behavior on ChatGPT
Can I sell on Redbubble from India?
Redbuble is head quartered in Australia, but you can sell on Redbubble from India. If you want to sell something from India, you would need to create an account and set up a profile. Once done, you can upload your design, now, apply the design to your T-shirts, mugs, etc. This will do the job for you.