ChatGPT is the most popular chatbot available right now, and while it isn't perfect, it is surely getting better with every passing day. Currently, users are required to type their query in ChatGPT, but what if using your voice is possible? Would you do it?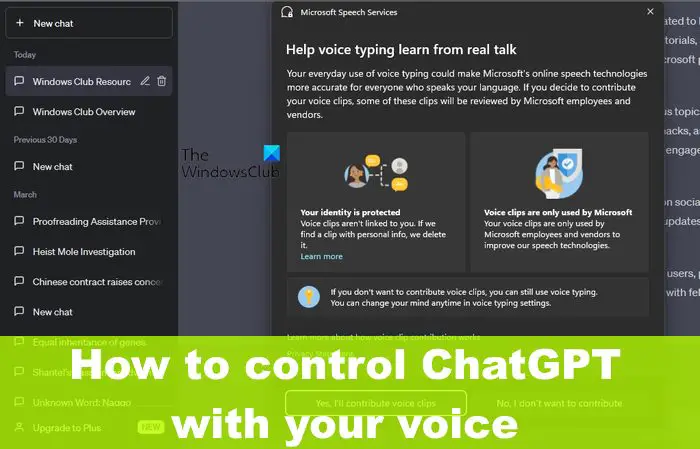 How to control ChatGPT with your voice
The ChatGPT service does not come with a voice dictate option; therefore, folks will have to use third-party tools to get the job done. There are a few we can use, but the idea here is to focus on the ones that work the best without many problems.
Use Microsoft Speech Services
VoiceWave: Voice Control for ChatGPT
Use SwiftKey or Gboard
1] Use Microsoft Speech Services
On a Windows computer, you can make use of Microsoft Speech Services if you know what to do. This feature makes it possible for users to speak into a mic and have their words transformed into text. It works in how typical voice dication works, so do not go in expecting anything special.
To use it, go ahead and open your web browser.
From there, navigate to the official ChatGPT website and sign in with your official credentials.
After you've done that, go ahead and click on the text box
Press the Windows key + H.
Once done, you should now see the appearance of the Microsoft Speech Services menu.
In order to dictate, please ensure the mic is plugged in, then hit the mic button.
After clicking on the mic button, you can begin speaking.
2] VoiceWave: Voice Control for ChatGPT
The next tool we want to recommend comes in the form of VoiceWave: Voice Control for ChatGPT, an extension designed for Google Chrome and Microsoft Edge.
Visit the official website for VoiceWave, then from there, download the extension for your supported web browser.
From there, click on the extension icon to have it direct you to ChatGPT.
Sign in with your official account information.
Once you've signed in, you'll be brought to the customization area.
Here you can decide how VoiceWave works. For example, you can choose to have it send text whenever you speak the word, Send.
When you're done customizing, go ahead and click on the X button to close the settings area.
You can now use VoiceWave alongside ChatGPT without ever having to type a single word.
3] Use SwiftKey or Gboard
If you are using a mobile device, then consider taking advantage of what SwiftKey or Gboard has to offer. Both are available for Android and iOS, and both come with voice dictation features.
To download either, please visit either the Google Play Store or the Apple App Store. The file sizes are not very large, so there is nothing to worry about there.
After installing, ensure you've set SwiftKey or Gboard as the default keyboard for your device. When done, please look for the mic icon on the keyboard and tap it.
Speak your words out loud and wait for the keyboard to transcribe everything into text with ease.
Do not expect perfection, but these services work quite well for the most part.
READ: ChatGPT History is temporarily unavailable
Is there an official voice command for ChatGPT?
There is none at the moment, but OpenAI could one day add voice support to the service in the future. For now, users must take advantage of third-party tools to control ChatGPT with their voice if they should ever feel the need to do so.
Does ChatGPT have an app?
Yes, it does, but at the time of writing, the app is only available for iOS devices. We are not sure when OpenAI will bring the app to Android and the Microsoft Store, so for now, fans on those platforms will have to continue using the web version.