Business owners tend to have ways to keep up with billing of all kinds, especially if they have multiple employees and important inventory needs. In such a situation, a great invoicing platform is required, so with that in mind, we will talk about Invoice Expert. Invoice Expert Lite is a free Invoice, Inventory and Billing Software for small and medium businesses.
Probably the most important aspect of Invoice Expert is the fact that it's free to use, and the features are more than enough for professionals and for those who are running a business by themselves.
Invoice Expert review
From our brief use, we've come to understand that this program is capable of simplifying your invoicing needs in more ways than one. If you want to save precious time and money, then chances are you should consider giving this software a test run shortly.
Free Invoice, Inventory and Billing software for Windows
First off, the program is easy to download due to the size being under 25MB. Installation is pretty quick as well because it took less than a minute for us to get it up and running on our computer. Depending on the power of your system this phase could be faster, or slower.
Now, once the software is up and running, you'll be asked to add your company profile information since it will appear on your invoice. Furthermore, the tool will require the selection of a template, so choose the template that best fits your needs and hit Next.
If you have a company logo, you can add if you want, then end this task by selecting Finish.
The user interface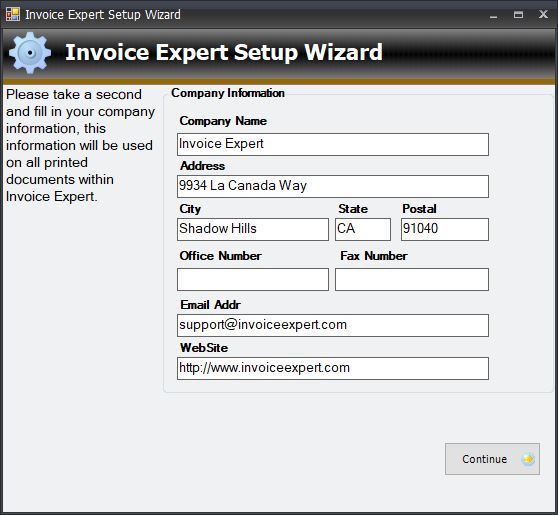 After completing the initial setup, you'll be greeted with a very simple user interface. This is the default Quick Menu, and chances are, you'll be using it more frequently when compared to the Full Menu.
The Quick Menu is designed for basic invoicing, while the Full Menu is there for when you want to do something advanced.
How to create an invoice
Creating an invoice is quite simple and should take no more than five minutes to complete. Just click on the Add Invoice button, and wait for a new window to appear. In the new window, you must add customer and billing information. Below those options, you are required to add the items of the invoice.
Click on Add Item, but wait, there's an error message. It says you must save the current invoice before moving forward. To do this, click on the button above that says Add / Update Invoice, then select Add Item again.
When you're done adding the item's information, click on Update Item, then close the window.
The final step to make here is either to print or email the invoice to whomever.
Settings
At the main menu, we have the Settings button, click on it. A new window will pop up with a ton of options to choose from. Users can edit company information, change the currency, add taxes, manage employees and a lot more.
Not only that, but should you choose, it's possible to back up the database, update and reload settings.
When everything is done, close the window and move on.
Verdict
All-in-all, we find Invoice Expert to be a powerful tool that is more than good enough for all of your invoicing needs. The user interface isn't flashy, which means, this program can be used in a professional setting without looking out of place. Download Invoice Expert right here from the official website. The Lite edition is free.