Microsoft allows users to send feedback about IE issues while rendering a webpage, without leaving Internet Explorer. In this post, we will see how you can use Internet Explorer feedback smiley to report problems & give feedback – by sending a Smile or a Frown,

There is a Microsoft website that accepts your suggestions about Internet Explorer 11. The site is hosted at connect.microsoft.com/IE. The website takes in suggestions for bugs that are common to Microsoft Edge and Internet Explorer 11 on Windows 10. In addition to the website hosted at the above-mentioned URL, you have a built-in option in Internet Explorer. It is a smiley towards the top-right corner of the IE window. This article explains how to use the Internet Explorer feedback smiley to report problems and bugs for each webpage.
Microsoft not working on Internet Explorer anymore
But before talking about using either the website or smiley icon to report bugs and send suggestions about Internet Explorer, you need to know that Microsoft has stopped working on Internet Explorer – except on major updates that affect security issues. It is now focusing on Edge and pushes updates almost every second Tuesday of the month. A whole year shows at least two feature updates for Microsoft Edge while Internet Explorer remains to be the same. It may mean that your feedback about Internet Explorer may go unnoticed if it is not about security issues.
Internet Explorer smiley emoticon
You can use the IE smiley emoticon to send feedback to Microsoft. The smiley is located at the top bar, rightmost – just under the X menu that closes the window. When you click on the smiley, you get a sub-menu that looks like the image below.

You have option to send a smile or a frown.
When you click on Send A Smile, you are literally saying "Good Job, Microsoft". When you click "Send a Frown", you get a window like the one shown below.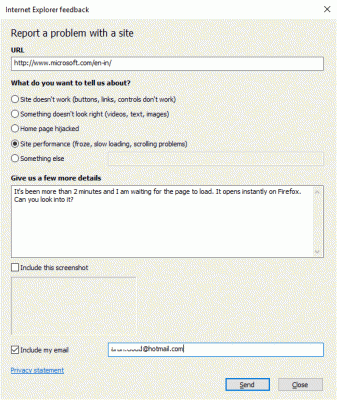 The window already has the URL of the current website pre-filled. You have to fill up other details including your problem and some optional elements such as your email ID.
There is still a huge base for Internet Explorer as not all companies are yet ready for a shift to the new app-based browser. In such a case, I guess, Microsoft should continue listening to the feedback sent to it using the IE smiley icon.
How to remove Send a smile in Internet Explorer
Many people want to know how to remove Send a smile in Internet Explorer. The Send a smile feature is hard-coded in the operating system. To remove it, you will have to hack system resource files using a tool like Resource Hacker.
I would not advice you to do this as it could render your Internet Explorer unworkable if you make some mistake.
Best to just live with a smiling face. :)