Maybe I missed it, but some users seem to be facing an issue on Internet Explorer 10, that their Back Button does not work at times. In fact, researching a bit on the Internet, I found that many appear to be facing this problem since its release, and the problem is still being faced by Internet Explorer users as is evident from this forum post. Well, till such a time that Microsoft does release a working fix for it if you are facing the Internet Explorer back button not working properly problem, you may use the Alt+Left keyboard combination to go back or try these troubleshooting steps.
Internet Explorer Back button not working properly
Before you proceed, run Windows Update and make sure you have all the latest updates installed.
1] Start Internet Explorer in no add-ons mode and see if it makes the issue go away. Open an elevated CMD, type iexplore.exe -extoff and hit Enter to open Internet Explorer in No Add-ons mode.
To isolate the problematic browser add-on, you can use IE's Manage Add-ons feature. Disable add-ons one by one and see if any of the installed add-ons are responsible for creating this problem.
2] Turn off and Turn on Internet Explorer and see if it helps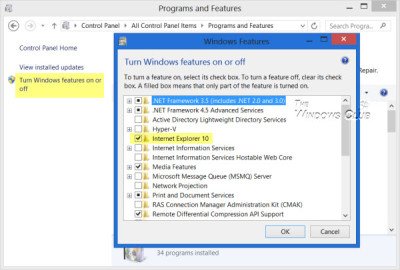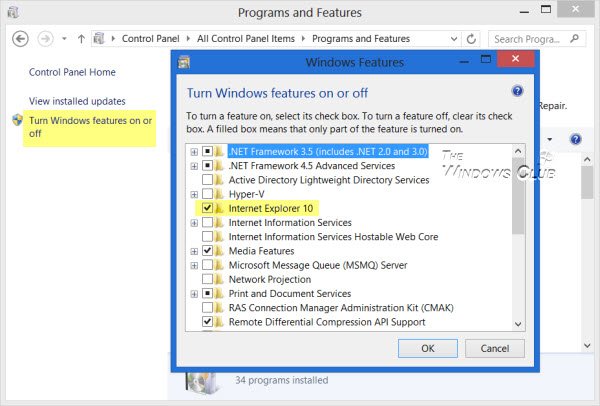 Open Control Panel > All Control Panel Items > Programs and Features > Turn Windows features on or off. Now uncheck the Internet Explorer 10 box. Click OK. Once the uninstall is over, restart your computer. Now again open this setting and this time check the Internet Explorer box and restart your computer.
3] Reset Internet Explorer
If you find that your Internet Explorer is not working the way you want to, you can easily reset Internet Explorer settings to default. This is called the RIES feature of IE. Check this post if you think you need to repair Internet Explorer.
4] Uninstall Internet Explorer

Open Control Panel > All Control Panel Items > Programs and Features > Installed Updates. Look for Windows Internet Explorer under Microsoft Windows. Right-click Windows Internet Explorer (I think it should be KB2718695), and then click Uninstall. Once the process is over, restart the PC to finish uninstalling. The previous version of IE will be restored.
Use this option if you want to uninstall Internet Explorer and revert back to the previous version of your IE. It is not possible to completely uninstall the version of IE with which your Windows was shipped. This way, you uninstall the later versions and revert back to the previous version.
Hope something helps!
While I have not faced this problem, I would like to know if any of you have.