In this post, we will see how to install WordPress locally on a Windows system using Instant WordPress. WordPress is a popular content management system for blogging. More than half of the world uses WordPress for building their websites. We have seen, how you can create a WordPress site on Windows easily with Microsoft WebMatrix. Today we will have a look at freeware Instant WordPress.
What is Instant WordPress
With Instant WordPress any Windows machine can be made into a WordPress development server. Instant WordPress is a standalone portable WordPress development environment.
Components of Instant WordPress include Apache Web server, PHP, and MySQL, which gets automatically started and stopped.
Instant WordPress is best suited for development purposes as it comes shipped with dummy posts and pages, so one need not bother about creating content and could straight away head to test themes and plugins.
Instant WordPress is easy to install just like any other Windows software as it comes with the installation wizard, so you need not worry too much about internal technical things.
Install WordPress on Windows system
Step 1: Downloading Instant WordPress
Get the latest version of Instant WordPress from its home page. It has a total size of around 58.8 MB.
Step 2: Installing Instant WordPress
Click on the downloaded file so that the installation wizard opens up.  Follow the on-screen instructions by choosing the destination folder where you want the installation location to be and click on 'Next'. It takes up to 2 to 3 minutes to complete the installation.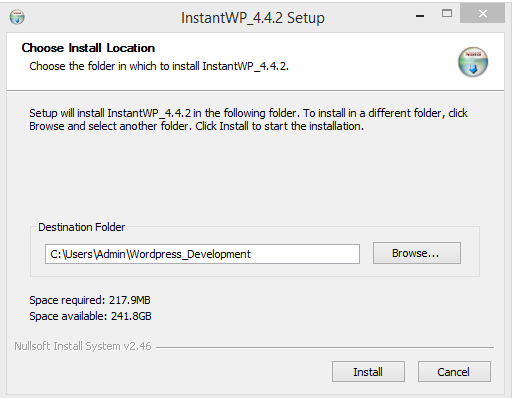 During the process of installation, InstantWP doesn't make any system registry entry. It is a portable set up, and one could run WordPress directly from the folder where it is installed. Not only in the computer, but you can also use any USB Key to install and run the Instant WordPress.
Step 3: Starting Instant WordPress
Go to the folder where you installed Instant WordPress
Find the InstantWP executable file (.exe)
Click on it so that it shows the Instant WordPress control panel
Just copy the local WordPress URL (In our case it was 127.0.0.1:4001/wordpress )  and open it in your favorite browser to check out the front page of your new WordPress website.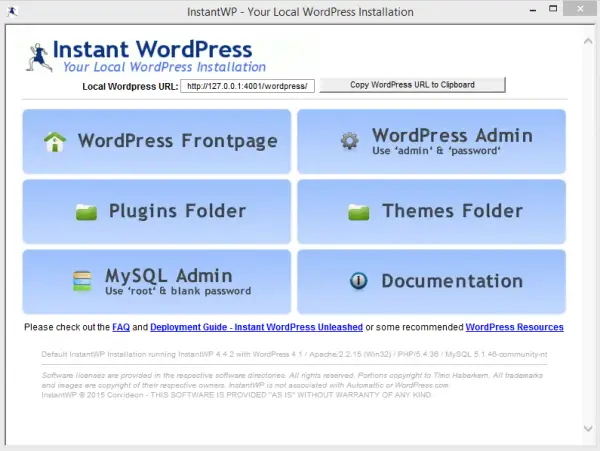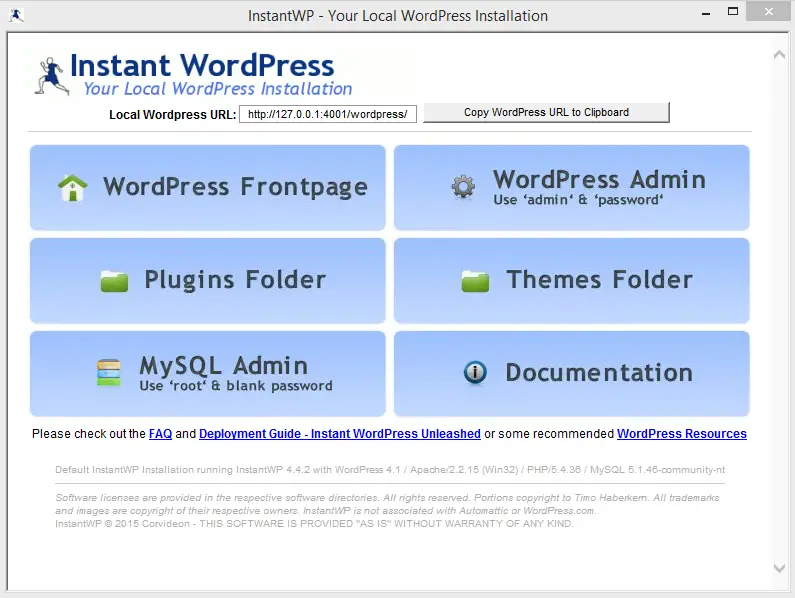 How to use Instant WordPress
The Control Panel of Instant WordPress comes with different navigation menu options which you might be already familiar with.   Some of the menu items are:
WordPress FrontPage: Which carries the link to your WordPress website homepage.
WordPress Admin: Under this menu item,  the username and password which you have to use to login are listed.  Use it to log in to your WordPress dashboard.
Plugins Folder: Clicking on this option would open up the plugins folder in file explorer.
Themes Folder: Clicking on this option would open up the themes folder in file explorer.
MySQL Database Admin:  Make use of the username and password which is shown in this menu item to log in to your PHPMyAdmin. Using PHPMyAdmin, one can look at the internal structure of your website by looking at the MySQL database tables.
Upgrading WordPress
WordPress is an open-source project, and you can expect new security patches and releases on a regular basis. It is always important to have the latest WordPress.  Instant WordPress provides you an option to upgrade your WordPress software automatically.
We successfully installed, ran and tested Instant WordPress on our Windows 10/8.1 machine without any problems. Let us know if Instant WordPress worked for you on your Windows machine.
You can download Instant WordPress from here. Its documentation says Windows Vista users need administrative privileges to run Instant WordPress.
You can also use WAMP to install WordPress on Local Computer.