If you used to be a Trello user and want to move to Notion, then this tutorial will show you how to import Trello tasks into Notion. Although both are top-notch and feature-rich Task management tools, Notion's user interface is slightly better and smoother than Trello's. Therefore, if you are a new user, you can import all the existing Trello tasks into Notion without third-party service.
Before getting started with the process, you should know a few things.
You can choose specific Trello boards to import them into Notion.
Notion creates the exact columns that you have on Trello.
Notion shows all Trello comments made for a specific Trello task.
Notion assigns the due dates as they are on Trello.
Notion imports all attachments from Trello.
In other words, you will be changing the platform, but the entire thing will be the same. Therefore, if you are ready to migrate your tasks, go ahead and follow this guide.
Import Trello tasks, boards, workspaces into Notion
To import Trello data and tasks into Notion, follow these steps-
Sign in to your Trello and Notion accounts in the same browser.
Open the Notion account.
Click on the Import button on the left-hand side.
Click on Trello on the popup window.
Click the Allow button.
Select the board or workspace you want to import into Notion.
Click the Import button.
Let's learn more about these steps in detail.
First, sign in to your Trello and Notion accounts in the same browser. Eventually, you have to do it to finish the migration. Therefore, it is better to log into those accounts as the first step.
Open your Notion account and click the Import button visible on the left-hand side.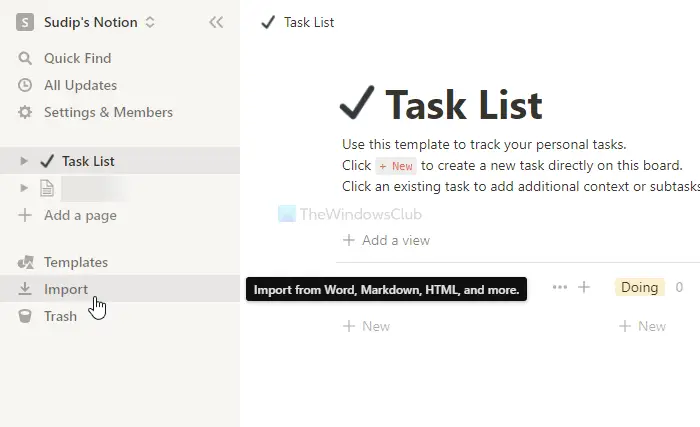 Next, it shows a list of services or apps from where you can move your data to a Notion account. Choose Trello from the popup window.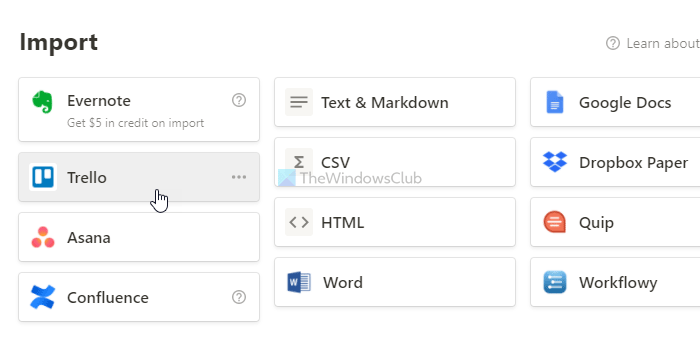 You can now see another popup window where it shows all the information that Notion is about to receive or fetch from your Trello account. In case you skipped the first step, you have to sign in to your Trello account now. Either way, click the Allow button.
After that, it shows all the boards and workspaces you can move to Notion. Make a tick in each workspace or board you want to migrate to Notion and click the Import button.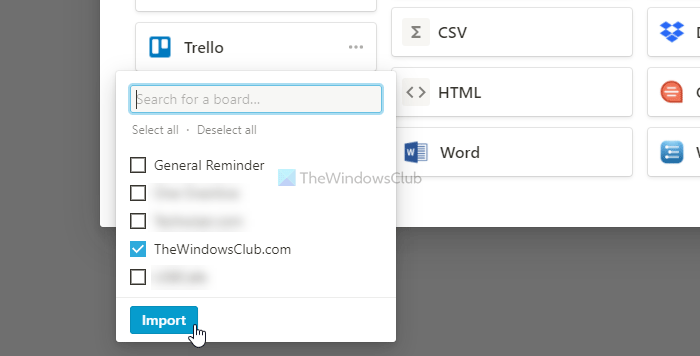 It doesn't take much time, but it depends on the number of workspaces or boards you have in your Trello account.
After that, you can find everything from Trello on your Notion account. As said earlier, it imports almost everything so that you do not get any issue even if you are about to use Notion for the first time.
That's all! Hope it helps.