The Media Player app (Groove Music) is the default media player app in Windows 11/10. In this post, we will show you how to import iTunes Music and Playlist to the Media Player app.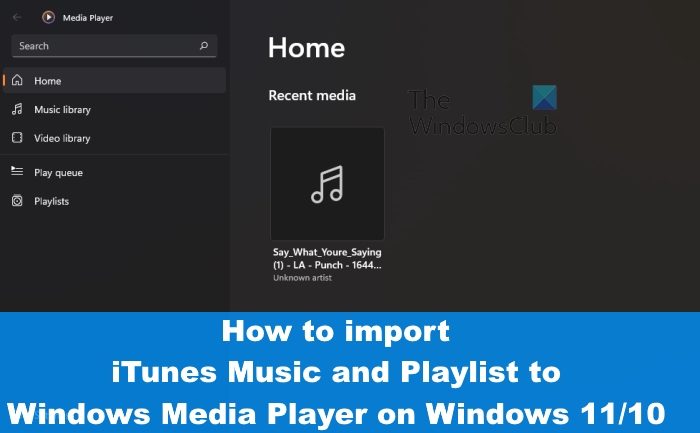 Importing tunes is much easier than how it was done in the previous version, with the previous name, and that's surprising because it was quite easy then. The developers at Microsoft have certainly outdone themselves with this one.
How to import iTunes songs and playlist
If you want to learn how to import iTunes music and playlist to Windows Media Player, then follow the simple steps below:
Open Windows Media Player
Select the Settings option
Add iTunes media folder
1] Open Windows Media Player
The first thing to do here is to open the Windows Media Player app. This can be done via the Apps Menu section or any other place where the shortcut is located.
Simply click on the shortcut, or right-click on it and select Open to move forward.
2] Select the Settings option
From within the Windows Media Player app, please click on Settings at the bottom left corner.
To the right, you will see a list of options to choose from. Not much when compared to the classic Windows Media player tool, but good enough.
3] Add iTunes media folder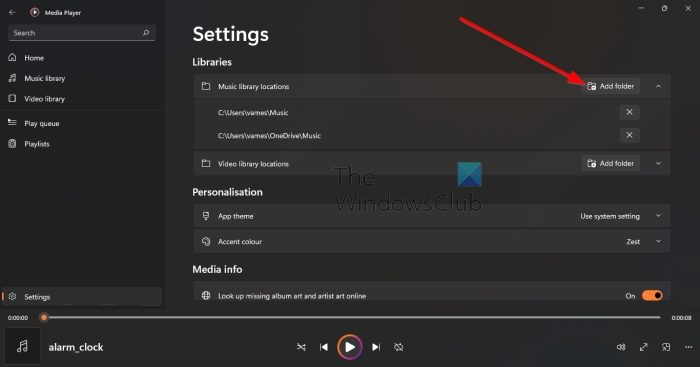 The final thing to do here is to add the iTunes media folder to the Windows Media Player app.
All you have to do is click on the Add Folder button next to Music Library.
After that, locate the folder and select it.
Click on the button that reads, Add this folder to music.
Right away the Windows Media Player app will connect with that folder, and as such, all audio content from your iTunes folder will now be available through Windows Media Player.
READ: How to change iTunes backup location in Windows 11
Does iTunes still exist for Windows?
Yes, the iTunes application is still available for Windows despite Apple removing support for Safari. Folks can continue to use the app for the purpose of connecting their iPhone, iPad, or iPod Touch to synchronize music content from those devices to Windows and vice versa.
READ: How to configure Equalizer in Media Player app on Windows 11/10
Where did all my iTunes music go?
First, you must ensure that all devices have their Sync Library turned on. Also, they must be signed in with the same Apple ID that is connected with Apple Music. For those with their music stored on their Windows 11 computer, check the cloud status of all songs to find missing music and resolve unknown issues.