ImBatch is a Windows freeware for batch image processing. With this tool, you can convert, re-size,  rotate as well as perform other operations on a bunch of images in a single operation – i.e. in batch mode.
Free Batch Image Processing Software for Windows 11/10
There are two important features of ImBatch that make it one of the better image processing tools. First of all, its user-friendly interface makes the whole experience better and second is its taskbar, which consists of various interesting features.
The task structure of the taskbar lets the user make a processing sequence. The imaging functions are known as Tasks in ImBatch. You can resize, convert or apply watermark on images using this software. You can define task lists in its taskbar. You can also change the order of the tasks mentioned in the list as well as add some tasks more than once. Some tasks can be turned off or on or can be included or excluded as per your requirement. Some task parameters can be hidden showing only the necessary ones. And the best part is, you can undo or re-do all the changes made in the task list.
ImBatch can perform nearly 20 different operations on images that are typically needed by us and can handle all image formats including MP, TIFF, GIF, JPEG, PCX, PNG, TGA, PIX, JP2, J2K, PSD, WDP, and HDP.
ImBatch also comes with 3 official plugins namely JBig, DCRaw and ImageMagick that extend the number of supported image file formats. If you enable all these plugins, ImBatch supports more than 100 image file formats, including the RAW ones received from many digital cameras.
Another feature is Live Preview'  When you perform all necessary operations of the image, you certainly want to see how will be the resulting image. This freeware lets you see the resulting image whenever you perform an active task. The preview window automatically updates all the changes that you make.
Integration with Windows Shell Context Menu
ImBatch lets you integrate commands to the Windows context menu. Users can process images with different operations or tasks and saved in BSV file format directly from Windows Explorer.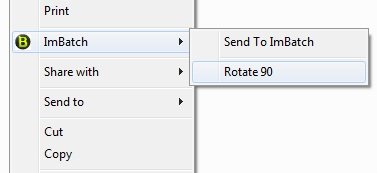 In order to enhance the functions or features, users can also use command line parameters.
ImBatch uses:
ImBatch.exe [-h] [-b "SavedTasksFile.bsv"] [-i "ImageFiles"] [-r] [-c]
| | |
| --- | --- |
| Parameter | Description |
| -h | Does not show ImBatch's main window. In this mode, if you don't also set -r parameter, ImBatch will not work and automatically terminate after the start. |
| -b "SavedTasksFile.bsv" | Automatically loads tasks from SavedTasksFile.bsv file. |
| -i "ImageFiles" | Automatically loads images, specified in ImageFiles part. ImageFiles must be quoted and separated by commas without any spaces. |
| -r | Automatically runs batch image processing. |
| -c | Automatically closes ImBatch on finish. |
If you wish, you can change the appearance for ImBatch using any one of its built-in Skins. You can make the tool look the way you want.
If you often feel the need to frequently resize, rotate, edit, convert, flip, watermark a bunch of images or add effects or carry out operations like a soft shadow, round corners, color conversions, gray effects, set or remove tags, shift time, color adjustments, add Gaussian Blur, Inner Shadow, 3D conversion, motion blur, etc, I think you will like this freeware.
ImBatch free download
You can download ImBatch from its home page.