There are many image editors that you can download and use for free. They are available as online editors as well as standalone programs for desktops. Icecream Photo Editor is one such free image editor that you can download and use on your Windows 11/10 PC. In this guide, we review Icecream Photo Editor and let you know the things you can do with it.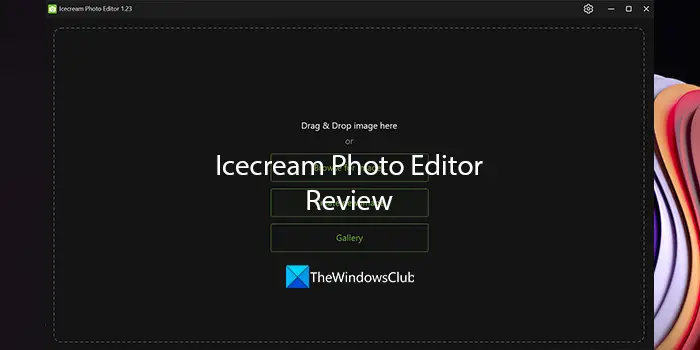 Icecream Photo Editor for Windows 11/10
Icecream Photo Editor is a free image editor application for Windows 11/10 PC. You need to download the apps from the official Icecreamapps website and install them on your PC. It has some great features that can help you edit or manipulate images.
Let's get into the details of each feature and know the Icecream Photo Editor better.
Supports multiple image formats
Icecream Photo Editor supports multiple image formats. You can edit images in formats like JPG, JPEG, PNG, GIF, TIFF, and BMP. You can access all images in major file formats we regularly see and edit them in Icecream Photo Editor.
Organize photos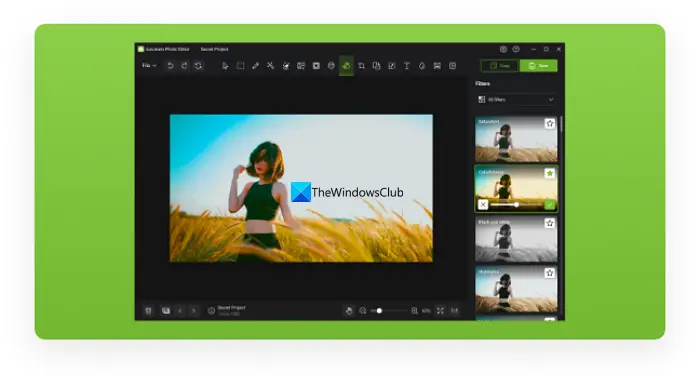 You can even use Icecream Photo Editor to organize and see all images on your PC at a single location. You can use it as a photo manager and organize them in a way you are comfortable with. You can quickly browse through multiple folders and access the images in them, edit them, and delete them if you find any of the images unwanted.
Easy-to-use photo editor
Most of the image editing applications look clumsy and hard to use. Their UI looks confusing and it takes a lot of time to get used to the features. Coming to Icecream photo editor, you will not find it confusing or hard to use. Every feature is accessible directly with a single or few clicks. You can easily get used to the UI and you don't need to use any manuals or help pages to use Icecream photo editor.
You can add text to photo, resize and crop images, add filters and stickers, rotate or flip images, enhance images, blur photos, add frames to photos, and make collages using Icecream Photo Editor.
Minimal system resources required
Generally image editors require a certain amount of system resources to run it smoothly. Icecream photo editor is a light-weight photo editor that do not require much of the system resources. It works on a PC with a RAM of 4GB,
These are the different features of Icecream photo editor that you can use for free.
How to use Icecream Photo Editor
Icecream Photo Editor is available to download for free on Icecreamapps.com. You can download and run the installer on your PC. Once the installation is complete, you can open the program on your PC. You can import images on the Icecream photo editor using the options on the opening screen like Gallery, and Browse Images. You can even drag and drop images on to the Icecream Photo Editor.
Once you have imported images into Icecream photo editor, you can use the buttons available on the top of the editor to do various editing tasks. When you hover over to the each icon, you can see the function of them and use them accordingly.
Once you are done with the editing, you can click on Save button to save the image. This is how you can use Icecream Photo Editor on your Windows 11/10 PC.
You can download Icecream Photo Editor from Icecreamapps.com.
Is there a free Photo Editor for PC?
Yes, there are many free photo editors available to download and use on your PC. Icecream Photo Editor and GIMP are good free photo editors to organize and edit your photos. There are some good free Portable Image Editor software available too.