Imagine your documents, photos, videos, and other files are gone forever by sudden system crashes or storage device failures. Quite scary, right? However, to prevent this from happening, Microsoft has implemented a new backup feature. As a result, on Windows 11, your documents, photos, videos, and other files will get automatically backed up to OneDrive. You might be wondering how to use the new Windows 11 backup feature. Here are all the details.
What is OneDrive folder-based backup?
Windows 11 comes with OneDrive integrations. This helps you to access your cloud files across devices. But you can also use OneDrive to back up your computer files.
All the computers have standard folders like Desktop, Documents, Music, Pictures, and Videos. So, with OneDrive integration, Microsoft now enables you to take a backup of these files automatically. So you won't lose your crucial files while enjoying seamless access to the files across all your devices.
How to use Windows 11 Backup Feature?
If you used your Microsoft account to sign up on your Windows 11, then OneDrive backup will be automatically enabled for some folders. However, you might want to tweak the existing settings or allocate more folders to the backup sequence.
To use the Windows 11 Backup Feature, first press Win+I to go to Settings, and from the sidebar, click on Accounts. Now scroll down a bit and click on Windows Backup.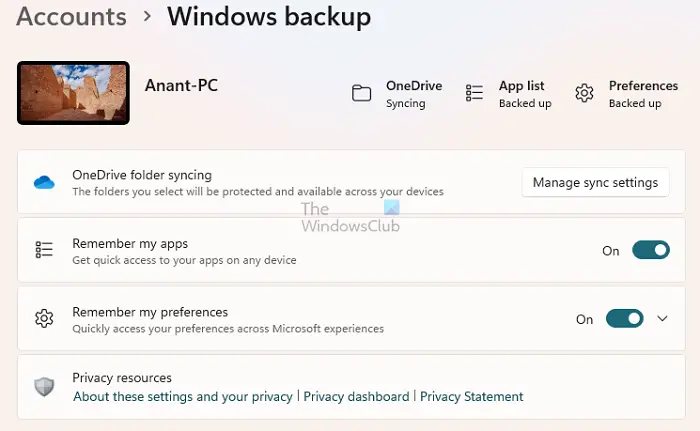 Next, click the Set up syncing button next to the OneDrive folder syncing option. If the setup has been completed, it will display Manage sync settings.
Now, you will see all the eligible folders for OneDrive backup.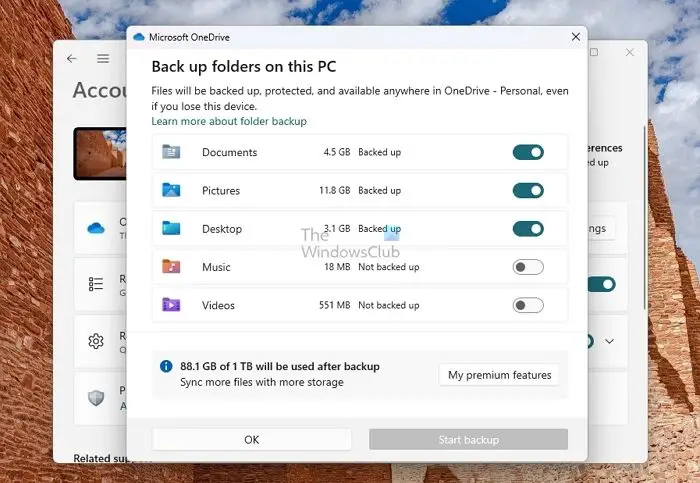 Toggle On/Off the folders you want to include or exclude from the backup sequence.
Once done, click Start backup, and you are ready.
Pros:
Takes regular backups of your documents, photos, desktop, etc
Your files will be made available on the OneDrive cloud
You can access your files across devices
No need to take regular backups
Cons:
Can't assign a custom folder to OneDrive backup
Requires OneDrive subscription for extensive storage needs
Read: How to automatically backup files & folders on Windows 11/10
How is the Windows 11 Backup Feature different from traditional backup in Windows
Although Windows 11 now uses OneDrive to help you back up your files, it is pretty limited as it can only backup specific folders on your PC. As a result, you cannot backup custom folders to OneDrive, or you can take a backup of the complete and all the drives on your PC.
So, if you want to back up a whole drive, the traditional method is still there. You can create a copy of your entire system, including Windows 11 installation, personal files, settings, and app. The traditional way of backup will create a shadow image of your PC, which you can restore when a system failure occurs.
But yes, unlike OneDrive, you won't enjoy cloud-based features like file accessibility across devices.
Read: How to use Windows Backup and Restore Tool in Windows 11
Conclusion
This OneDrive-powered Windows Backup feature helps automate the whole backup process. However, ensure that your OneDrive has enough storage to support your backup needs. Also, it would have been better if we could assign a custom folder in the backup sequence.
How do I backup my programs in Windows 11?
Backing up your apps can save you time and ensure that all your favorites are available on a new device. To do this, select Start > Settings > Accounts > Windows backup and turn on "Remember my apps." This will allow you to quickly restore your apps on a new device.
Read: Best Free Imaging, Recovery, and Backup Software for Windows
How do I back up my Windows 11 system image and restore it?
To create a system image for Windows 11, you can use the Backup and Restore software or any other preferred software. To restore your system using this image, you must first boot into advanced recovery mode and navigate to Troubleshoot > Advanced Options > System Image Recovery > See more recovery options. From there, select System Image Recovery and choose the system image you previously created.