It isn't easy when doing a presentation or speech for a person to memorize everything, so that's where a teleprompter comes into play. However, not everyone has a teleprompter, so what then? Well, the best thing to do is use Microsoft PowerPoint as a teleprompter.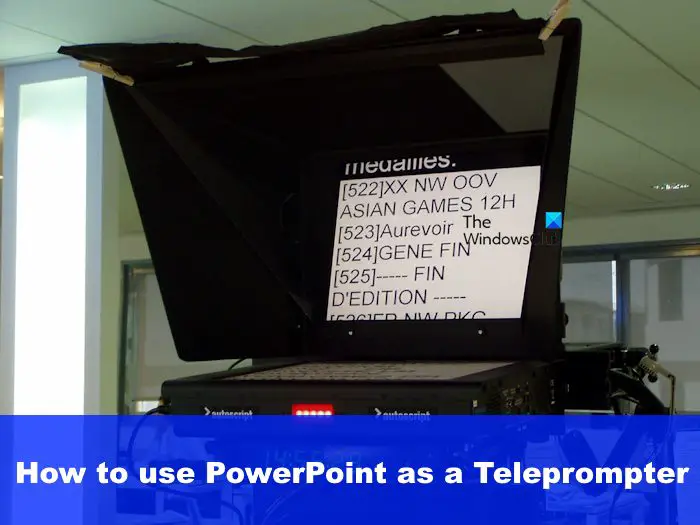 You see, a professional teleprompter system cost thousands of dollars, probably more than what you can afford. But when it comes down to PowerPoint, a simple and affordable subscription to Office 365, and right away you have a capable teleprompter in your hands.
What is a Teleprompter?
A teleprompter is a device that gives presenters access to the text they need to speak from a visual perspective. The teleprompter makes it possible for readers to keep eye contact with their audience while sounding impromptu throughout the entire process.
Now, before we begin, you must first view your Speaker notes privately. The text added to Speaker notes will be used in the teleprompter, so ensure this is set up and ready to go.
How to use the Teleprompter feature in PowerPoint
If you want to learn how to make use of the Teleprompter feature within Microsoft PowerPoint, then the information here will explain all you need to know.
Open the presentation
Go to From Beginning
Select Teleprompter
1] Open the presentation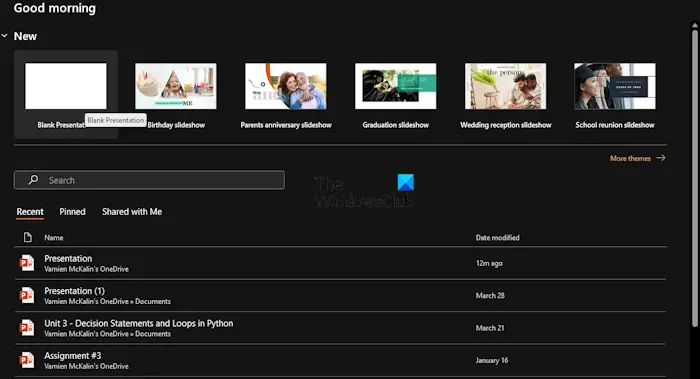 First, you are required to launch into the presentation from which the teleprompter will be used. So, let us explain how to get this done effectively.
Begin by launching the Microsoft PowerPoint application.
Once done, you can choose to open a new presentation or one that has been created and saved before.
READ: YouTube video not playing in PowerPoint
2] Go to From Beginning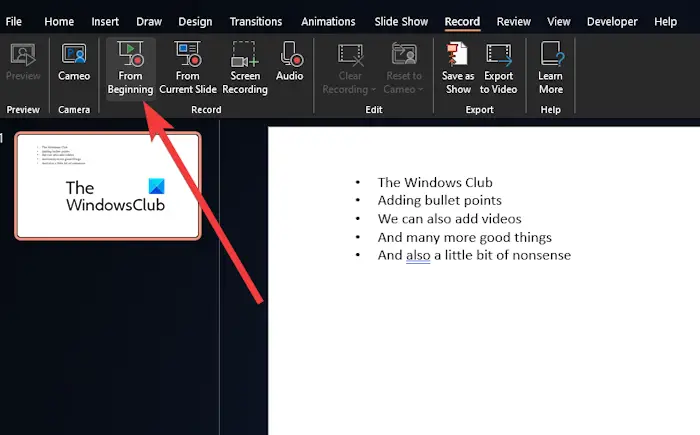 Next, you must click on the Record menu at the top.
From there, navigate to From Beginning, and click on the button to start your presentation.
READ: Where to download Word, Excel, PowerPoint, Outlook for free?
3] Select Teleprompter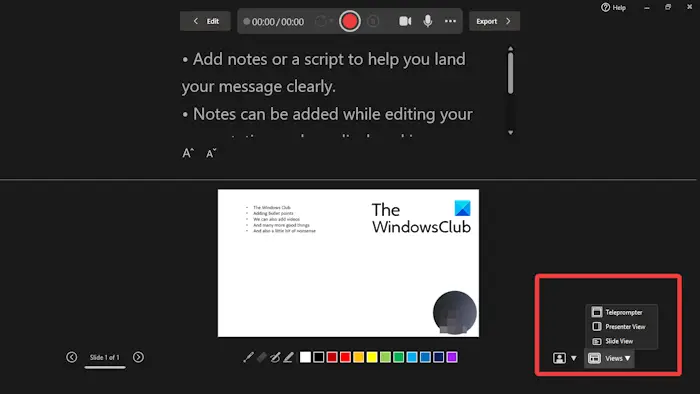 Now, after clicking on the From Beginning to start the presentation from the front, it's now time to get the teleprompter up and running.
Look to the bottom right corner and select Views.
Click the Teleprompter option from the menu.
Your notes will now appear above your slides. You can go ahead and read it as if you're working with a professional teleprompter.
Bear in mind the notes will not scroll automatically, so if you must, you will have to do this manually. Not ideal, but better than having to acquire a professional teleprompter device.
READ: How to add Videos and Bullet Points to PowerPoint
How do I record myself presenting a PowerPoint presentation?
First, you must open up the Slide you want to begin recording from. After that, look to the upper right corner of the PowerPoint window and select Record. When you feel the time is right, click on the round, red Record button. Wait for the countdown to commence, then proceed with speaking.
How do I get my PowerPoint to read to me?
Look closely at the Quick Access Toolbar, and click the Customize Quick Access Toolbar option. Once done, select More Commands. then go to All Commands via the Choose commands from the list. Finally, scroll down to Speak command and select it, then click the Add button along with OK.