In this post, we will show you how to use PIN instead of Password on a Windows 11/10 PC. Microsoft offers several different options for account authentication in Windows. These include a local account and password option, a Microsoft account and password option, and other Windows Hello options. Among these, Hello PIN is the most secure and common sign-in option.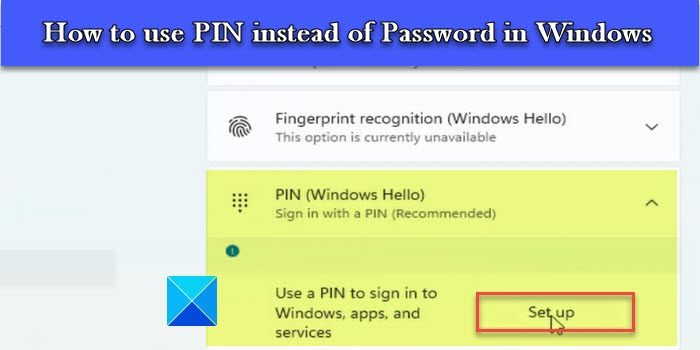 What is the most secure PIN or Password?
A PIN is set exclusively for your device and is not stored online. Microsoft states that it is a preferred security feature since even if someone does get hold of your PIN, he will only have access to your device, not ownership of your Microsoft account, which contains sensitive information and cloud-backed data. Also, if you've set biometric sign-in (fingerprint recognition, iris recognition, or facial recognition) as your primary sign-in option, you'll need a PIN as a backup if the scanner or webcam doesn't work.
Apart from this, there are other reasons to use a PIN. For example, a PIN allows a faster login and eliminates the need to check the capslock key if it only contains numbers. Also, if you have installed multiple languages on your device, entering a password means checking the language prior to typing, which is not the case with a PIN.
How to use PIN instead of Password in Windows 11/10
When we set up Windows using a Microsoft or local account, we are prompted to set a PIN as well. But since the step is not mandatory, we skip it and continue using the password to lock/unlock the device.
If you want to use PIN instead of Password, you should set it up locally for your Windows 11/10 device. Here's how:
Open Windows Settings.
Go to Accounts settings.
Select Sign-in options.
Set up the PIN.
Let us have a detailed look at the entire process.
1] Open Windows Settings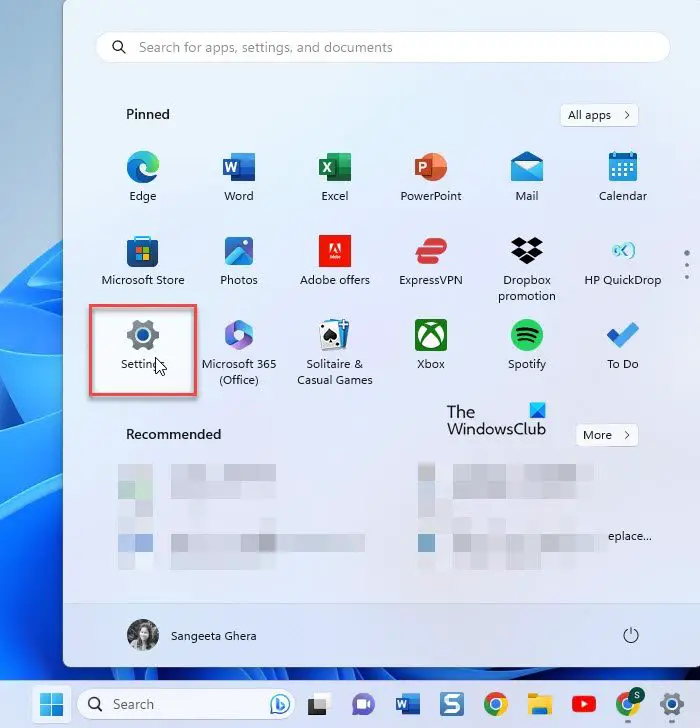 Click on the Start button icon in the Windows taskbar. Then click on the Settings option in the panel that appears.
Alternatively, you can right-click on the Start button and select 'Settings' from the WinX menu.
2] Go to Accounts settings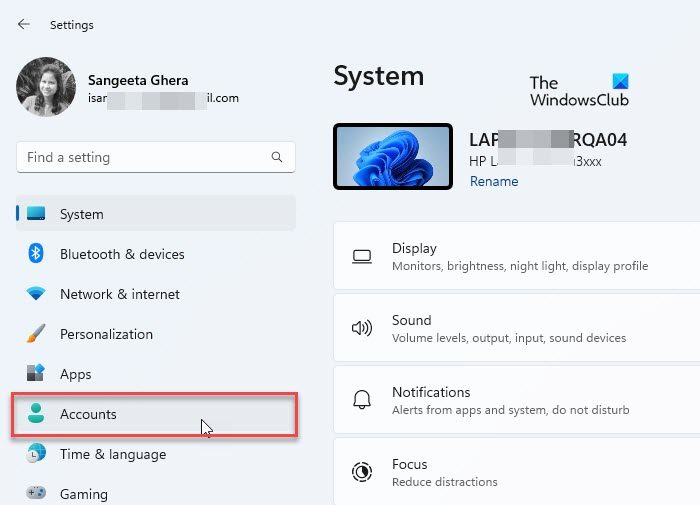 A Settings window will appear. In the left panel of the window, you will see various settings options. Click on the Accounts option to go to your account settings.
3] Select Sign-in options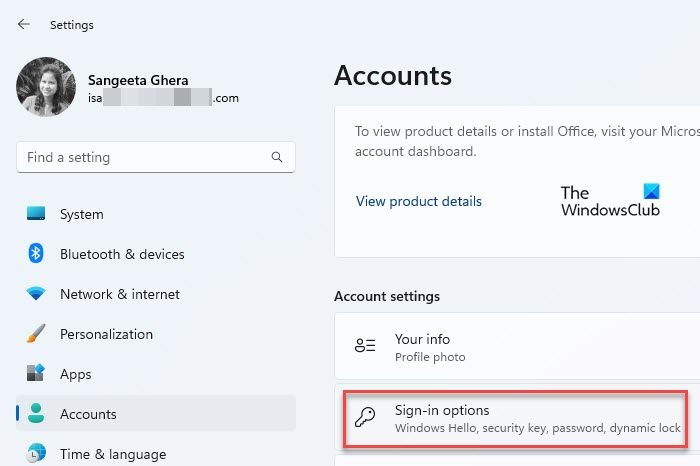 Your account settings will open up in the right panel of the Settings window. Scroll down to the Account settings section. Then click on Sign-in options. You will see different ways to sign in to Windows.
4] Set up the PIN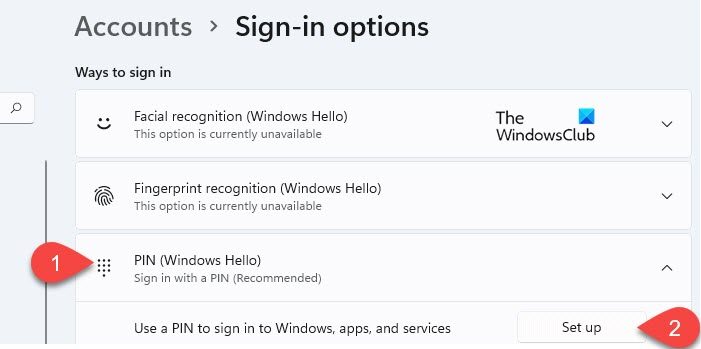 Click on the PIN (Windows Hello) option. The option will expand and show a Set up button next to the 'Use a PIN to sign in to Windows, apps, and services' option. Click on that button.
Windows Security popup will appear. Enter your computer password to verify your account and then click on the OK button.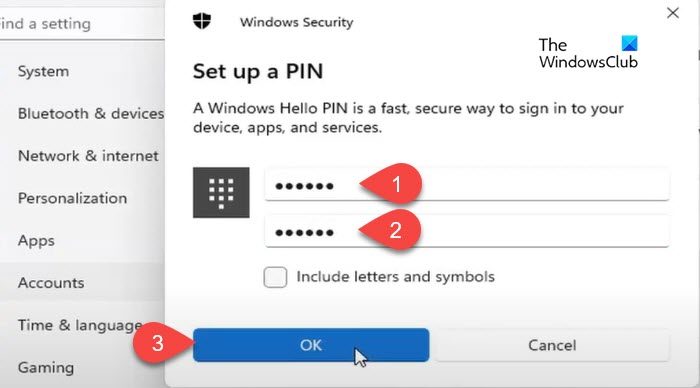 On the next popup window screen, type the PIN in the New PIN field. Then retype the PIN in the Confirm PIN field and click on OK. We recommend clicking the Include letters and symbols checkbox and setting up a strong PIN that consists of a mix of numbers, letters (uppercase/lowercase), and special characters.
Once you set up the PIN, close the Settings page and lock your device. Now you'll be prompted to use the PIN instead of the Password on your Windows 11/10 PC.
This is all about setting up and using PIN as the primary sign-in option in Windows. I hope you find this informative and useful. If you have any doubts, share them in the comments section below.
Read: How to set or change Sign-in options in Windows.
Is PIN the same as Password Windows 11?
No. A PIN is safer than a password. It is exclusive to a Windows device and is backed and supported by a TPM (Trusted Platform Module) chip. So there's no chance for an online attack and even the local attacks are limited. A password, on the other hand, is transmitted over Microsoft servers. It may be obtained from the server or intercepted during the transmission.
Why can't I type my PIN on my computer?
If you're not able to type your PIN, there may be some hardware issue on your device or it may have outdated drivers. Restart your device and see if it helps. If the issue continues, update your keyboard driver. Also, disable sticky keys and filter keys. As a workaround, you may type the key using the on-screen keyboard.
Read Next: The Sign-in method you're trying to use isn't allowed.