In this post, we will show you how to use Microsoft Editor in Edge. Microsoft Editor is an AI-powered writing assistant, just like Grammarly. It was initially developed by Microsoft to offer spelling, grammar, and style correction suggestions in Word and Outlook. Later, Microsoft released a free browser extension to allow users who don't use the Office apps or have subscribed to the Microsoft 365 productivity suite to experience writing assistance in Chromium-based browsers, such as Edge and Google Chrome.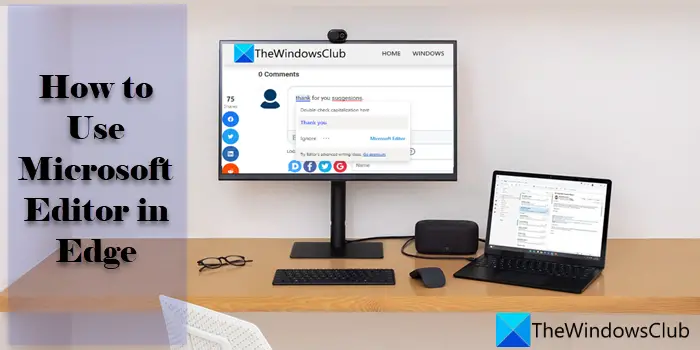 Those who prefer Edge over Chrome will be happy to know that now the extension comes preinstalled in the browser. So you don't have to go through the hassle of searching and downloading the extension. It will be right there in your browser, ready to assist you with your writing.
How to use Microsoft Editor in Edge
To use Microsoft Editor in Edge browser, you need to first sign in with your Microsoft account. But before that, you should add the extension to the Edge toolbar to make it more convenient to access Microsoft Editor.
1] Show Microsoft Editor in Edge Toolbar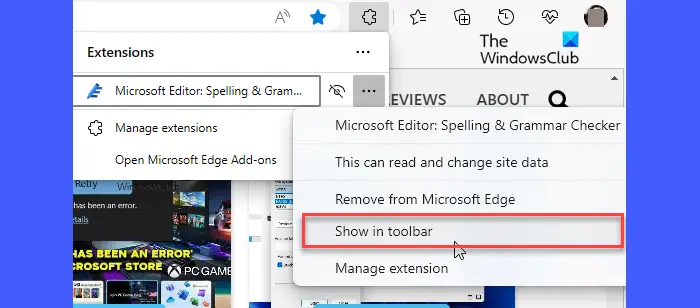 Launch Microsoft Edge.
Click on the Extensions icon in the toolbar.
In the Extensions pop-up window, click on the More actions icon (three horizontal dots) next to the Microsoft Editor option.
Click on the Show in toolbar option.
Now you'll see the extension in your Edge toolbar and it will appear on top of each new tab you open in the browser.
2] Sign in to your Microsoft account to activate Microsoft Editor in Edge
While spelling suggestions will be available instantly, for grammar corrections, you need to sign in with a Microsoft account.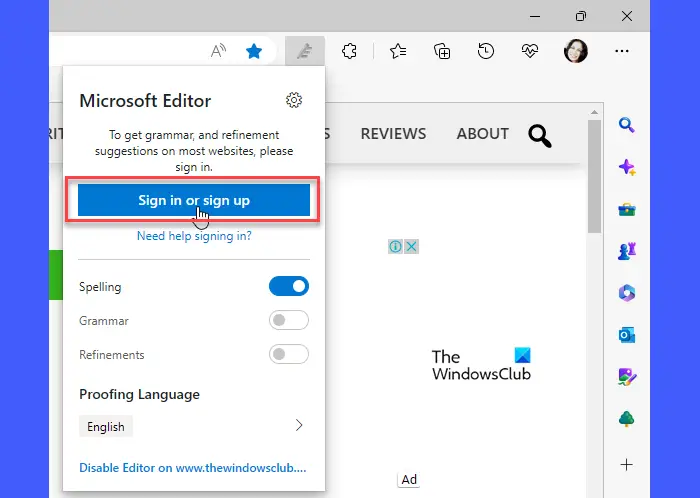 Click on the Editor icon in the toolbar. Then click on the Sign in or sign up button. You will be taken to the Microsoft Sign-in page. Enter the email address associated with your Microsoft account and click on the Next button. If you're logged in to Windows with your Microsoft account, you will be signed in immediately. Otherwise, you may have to enter the password.
After signing in, you'll be able to receive writing assistance from Microsoft Editor.
3] Configure Microsoft Editor to receive Grammar and Spelling suggestions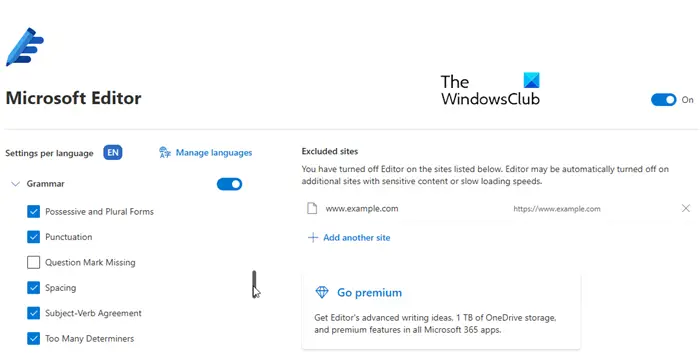 Before you use Microsoft Editor, make sure you've turned off other grammar and spell-checker tools in your browser and on your system. This will prevent any conflict and help Microsoft Editor to work in a more efficient manner.
Click on the Editor icon in the Edge toolbar.
Make sure the toggles for Spelling and Grammer are turned on. Refinement suggestions and advanced writing suggestions will only be available to Microsoft 365 users.
Click on the Settings icon next to the Microsoft Editor label. This will take you to the Settings page of the Microsoft Editor browser extension.
Click on the Manage Languages icon to set a proofing language. You may select up to 3 languages for proofing and your preferred language will be on top.
Make sure the AutoCorrect and Rewrite options under Inline Editing are On.
Expand the Spelling and Grammer sections under Corrections. Both of these sections will show options that you may select or deselect to set the behavior of Microsoft Editor. For example, if you want Microsoft Editor to show grammar correction in case of a missing question mark, you may select the Question Mark Missing option under the Grammer section. If you want the Editor to ignore such mistakes, you may leave it unselected.
Close the Settings page to save changes.
4] Use Microsoft Editor in Edge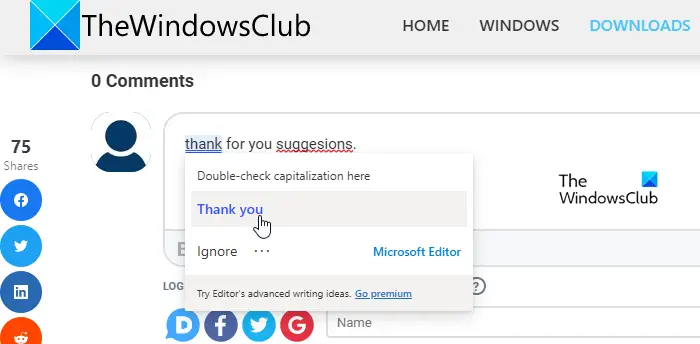 Once you configure Microsoft Editor, it gets activated on all web pages you work with. Now as you type, it will analyze your writing and mark grammatical errors with a blue-colored double underline and spelling errors with a red-colored wiggle underline. You may click on these lines to see the corrections suggested by the editor. Simply click on a suggestion to accept it. To ignore the suggestion, you may click on the Ignore/Ignore all option.
If you're sure a particular word is grammatically correct or isn't misspelled, you may instruct Microsoft Editor to stop checking for the same or add the word to Microsoft Editor's dictionary.
Also Read: Free Spelling, Style, Grammar Checker Plugins & Software.
5] Enable or Disable Microsoft Editor for a website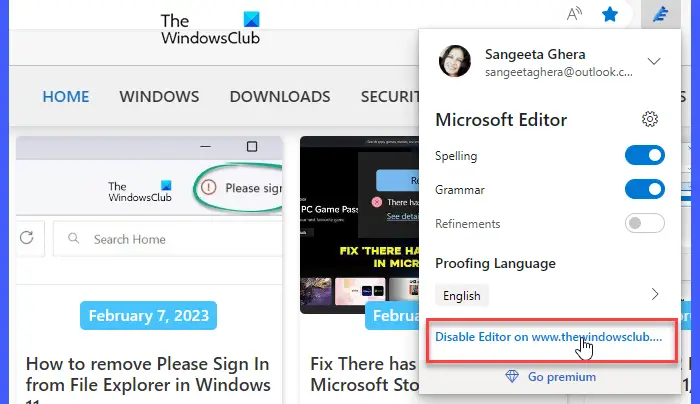 To enable or disable Microsoft Editor for a particular website, you may open the website in a new tab, click on the Editor icon in the toolbar, and then in the Microsoft Editor popup window, click on the Disable Editor on <websitedomainname> link.
Alternatively, you may open Microsoft Editor's Settings page and add the website URL under the Excludes sites section.
To re-enable Microsoft Editor for the website, you may remove the website entry from the list of Excluded sites or click the Enable Editor on <websitedomainname> link in the Microsoft Editor popup window.
Hope you find the above post useful. Do share your thoughts in the comments section below.
Read Next: Grammar and Spell Check is not working in Microsoft Word.