Windows Media Player is the default audio and video player application that is pre-installed in Windows 10. You can listen to your favorite music in it but if you want to view lyrics of a song, there is no native feature provided in it. In this article, I am going to share steps to download lyrics of songs and view them in Windows Media Player. Keep on reading how!
How to use Lyrics Plugin for Windows Media Player
To display song lyrics in Windows Media Player, you will have to use an external plugin software. There is this plugin called MiniLyrics which you can use to download and view lyrics in Windows Media Player. It is specially designed for Windows Media Player and other popular media players to fetch and display lyrics of songs. Just play any song in Windows Media Player and it will automatically find and show lyrics of the songs. Let's have a look at some of its interesting features.
Key-Features
Here are the primary features of MiniLyrics:
It downloads lyrics of songs from various online lyrics databases and displays them.
It shows scrolling lyrics which are displayed in sync with the current song.
You can enable its Floating Lyrics feature that lets you work on other applications while viewing lyrics of the song you are listening to. See the below screenshot for example.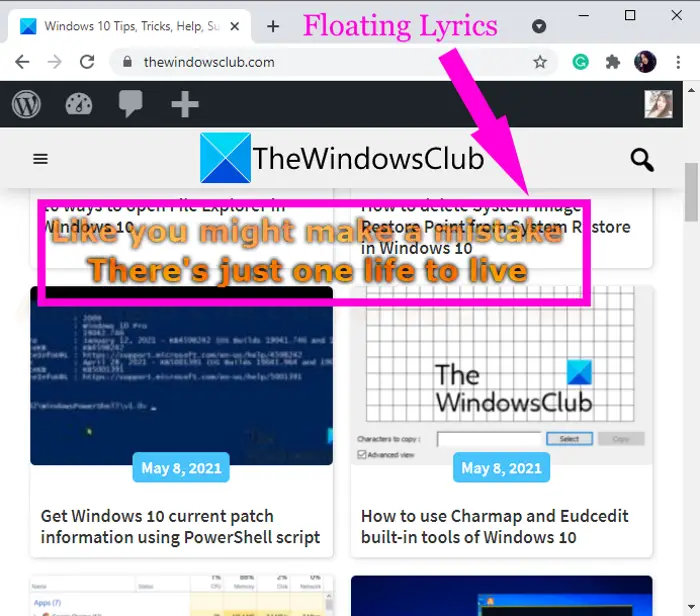 It offers various lyrics display options to customize the format and appearance of lyrics.
For example, static text style, movie subtitle style, single line style, fade in lyrics, fade out to background, karaoke, vertical scrolling style, etc.
You can also customize the font of lyrics text, draw shadows of lyrics, and set up highlight, text, and background color of lyrics. It even lets you add background pictures to the lyrics bar. To use these options, go to View > Preferences > Themes.
If there are no lyrics being shown for a song, you can search for lyrics by entering the song title and artist name. Use the Lyrics > Search option and it will display a list of fetched results. Select any of the results and then press the Open button to display lyrics with the song.
It also provides a Lyrics Editor to manually edit lyrics of songs with synchronized timing and then save lyrics to the song. Also, you can edit tags like artist, title, album, etc.
It also lets you upload lyrics from files, rate lyrics, save lyrics to an LRC file, and more.
It provides several customizable skins to change the look and feel of the plugin.
Apart from Windows Media Player, it works with Winamp, iTunes, VLC, MediaMonkey, Songbird, and other widely used media players.
How to use MiniLyrics in Windows Media Player
Here are the steps to follow to use MiniLyrics with Windows Media Player:
Firstly, download MiniLyrics from crintsoft.com and then install it on your Windows 10 PC.
Launch this plugin app and it will ask you to configure supported media players with it. It automatically detects Windows Media Player on your PC and configures itself. If needed, you can also add path to other media players and configure them with this lyrics plugin software.
Now, open Windows Media Player, import your music collections and listen to your favorite tracks. It will automatically start displaying lyrics of the songs. You can customize and use its features which are discussed above.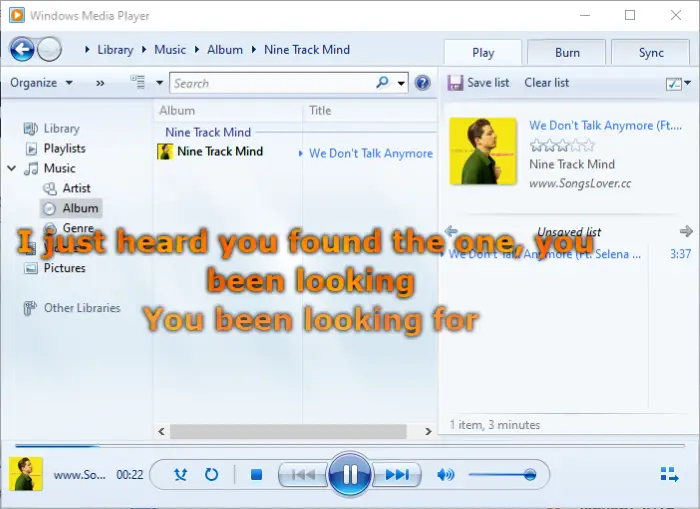 You can listen to songs with scrolling lyrics in Windows Media Player. Just download and install this amazing plugin called MinLyrics and it will fetch and show lyrics of your favorite songs in Windows Media Player.
You may want to also check out this Lyrics Plugin.
Related Read: Find the Lyrics to a Song without using Media Player or Web Browser.