Green Bot is a radio bot that one can attach to their Discord Server to enjoy music. In this post, we will learn how you can add and use Green Bot on Discord. So, put your dancing shoes on and get on with the post.
What is Green Bot in Discord?
Green Bot is nothing but an on-demand DJ set for you. It allows you to play songs, control them, and create and manage playlists. Not just that, it allows you to multiple filters to existing songs, automate messages, and more.
As mentioned earlier, Green Bot is not just a music playback, it has various other features. This bot allows you to moderate your server. So, you can apply filters to remove inappropriate comments and content. There are a few built-in commands, but you can create custom commands to personalize the experience. Finally, there are some games provided with this bot. Do keep in mind that they are not any AAA titles, but are fun to play.
How to add Green Bot on Discord?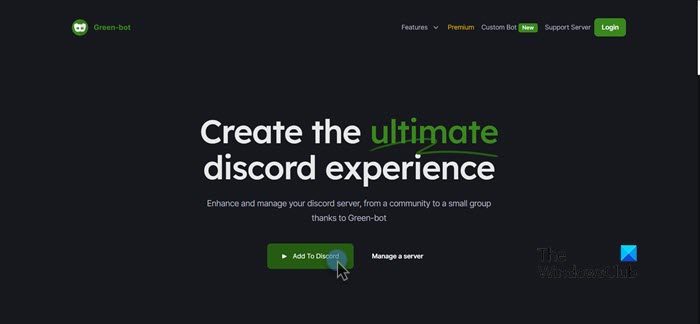 Adding a Green Bot to your Discord is not a tiresome process. To do the same, first of all, open any browser and navigate to green-bot.app. Now, click on Add to Discord. Next up, you will be asked to log in, do that, and then select the server to which you need to add the bot to when prompted. You need to click on Invite the Bot to do the same. Finally, follow the on-screen instructions to add the bot.
Read: How to add BOTS to Discord server on Mobile or PC?
How to use Green Bot on Discord
Now that we have installed the bot, let us learn how to use Green Bot in Discord. We will learn the following things.
Set Discord Roles
Play Music on Discord using Green Bot
Use Command in Green Bot
Let us talk about them in detail.
1] Set Discord Roles
In order to set roles for Green Bot in Discord, you need to follow the steps mentioned below.
Open Discord.
Go to the server where you have added the bot.
Right-click on Roles and select one from the available options.
Do keep in mind that if there are no roles and you just see Green-bot, do not worry, every command will work for you as well.
2] Play Music on Discord using Green Bot
One of the easiest things to do in Green Bot is to play music. However, you first need to connect to a Voice channel in order to play a title. It is pretty simple to do the same, just click on an option present below VOICE CHANNELS. Once you have configured a channel, just type /play <title-name>. The bot will look for the song on the Internet and play it. You will also see options to control the music just like any other music player.
3] Use commands in Green Bot
Now that you know how to add, configure and use Green Bot, let us see some commands that you need to know in order to get the full experience of Green Bot. We have mentioned some of the most frequently used commands below.
/play <song-title>: This command is used to play a song. You need to enter the command but replace <song-title> with the actual name of the song you want to play.
/skip: As the name suggests, the command is used to skip to the next song.
/stop: It stops the playback the resets the queue.
/ban <username>: This command is used to ban a particular user, just enter the command and replace <username> with the actual name of the user.
/kick <username>: It is used to kick out the said user.
/filter: Turn on or off the applied music filters.
/custom <command> <effect>: This command is used to create a new command, just replace <command> with the command you wish to create and <effect> with the response you are expecting.
Hopefully, now you know how to configure Green Bot in Discord.
Read: How to clear Discord cache on Windows, iPhone, Android, Mac?
Green-bot Discord not working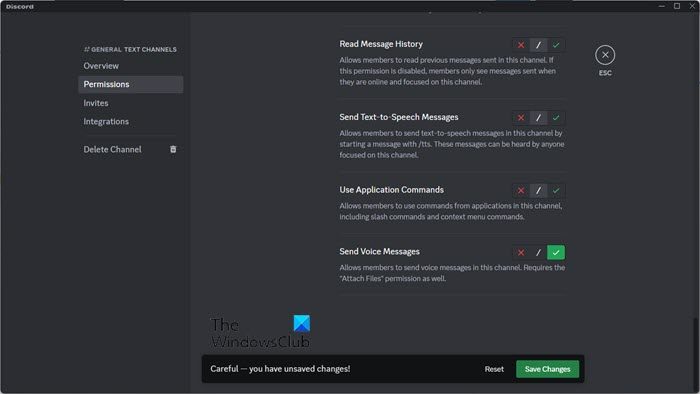 Green-bot will not work on Discord due to two reasons, lack of permissions and the absence of a voice channel. As for the latter, all you need to do is click on one of the voice channels from the right panel of the window. However, the latter required a little bit of troubleshooting. Follow the steps given below to do the same.
Open Discord and go to your server.
Click on the cog icon to open the Settings of your server.
Go to Permissions, if your is not a Private Channel skip the next 2 steps.
Click on Add members or roles.
Add Green-Bot.
Now, scroll down and enable Send Voice Messages and Create Invite.
Finally, click on Save Changes.
This should do the job for you.
Also Read: Discord Inspect Element not working.