I am sure that some of you must have faced troubles like no-connection issues, high ping issues, and game lag issues while playing online games. If you also have faced this issue, Exitlag will help to get rid of this issue. Exitlag is a Virtual Private Network (VPN) for online gaming. It optimizes your internet connection, making it more stable and decreasing ping. In this article, we will see how to use Exitlag in online gaming.
How to use Exitlag in online gaming
Download and install Exitlag
Go to the official site of Exitlag, and if it's your first time, then, first of all, you have to create your account in Exitlag. Exitlag is a paid service so you can take a three-day free trial, and after three days, you must purchase a subscription. Now, download Exitlag, and follow the below steps to its complete installation.
After downloading the Exitlag setup file, navigate to the Download folder and double-click on the Exitlag file.
Click Yes to allow this app to make changes to your device.
Click on Next > Next > Install and wait for the installation of Exitlag.
After installing it on your PC, click on Finish.
Again click Yes to allow this app to make changes to your device.
After that, Exitlag will start to load on your PC.
You will be redirected to the login page of the Exitlag, just fill in your email ID and password and hit Enter.
Exitlag will launch on your PC.
Now, Exitlag will be successfully installed on your PC.
Read: Fix Game Stuttering with FPS drops
Best settings for Exitlag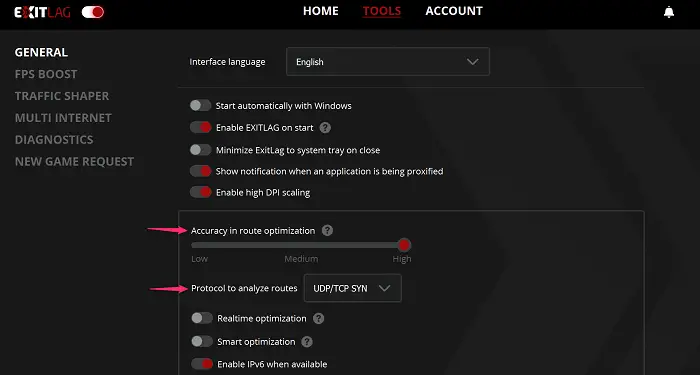 Often, we have faced troubles when the settings are incorrect. So, before playing any game, you should set up Exitlag properly. You can follow the below steps to do it.
Open Exitlag and navigate to the Tools tab from the top.
Now, make sure that the Accuracy in route optimization is set to high.
After that, click on the Protocol to analyze routes dropdown menu, and select the option UDP/TCP SYN from the list.
You can set the rest of the toggle options based on your preference.
Read: How to configure the best HDR settings for gaming on Windows PC.
Using Exitlag to play online games
Before playing any game in Exitlag, make sure that Exitlag supports your game or not. To know this, navigate to this page, and search for your game to see if you can use Exitlag with it or not. If you can find your game, then follow the below steps.
Launch the Exitlag with your email ID and password and search for the game you want to play with Exitlag and click on it.
Now, navigate to the Game region dropdown menu and select the Automatic (Recommended) option from the list to allow the software to select the best server for your connection.
If you have selected the Automatic (Recommended) option, then you can click on the red APPLY ROUTES button at the bottom of the app interface. But if you have selected a specific server location, then click on Optimize to analyze the routes for your selected server.
After the optimization is finished, click on Update to get the latest information on your server of choice. Do note that Estimate ping may vary after updating.
Once you have satisfied with the Estimate ping, click on the red APPLY ROUTES button from the bottom.
After connecting successfully, you will see your selected or automatically selected server on the Connected list.
Inside your game, connect to the same server on Exitlag to enjoy less lag and lower ping on that specific server.
Now, you can enjoy your game without lagging and connection issues.
Read: Free multiplayer game to play with friends from home.
Is Exitlag good for gaming?
Exitlag is advertised as a Virtual Private Network (VPN) for online gaming. It has an in-built function to optimize your internet connection, make it more stable, and decrease your ping. It also reduces the lags and packet loss reduction. These functions make it more efficient and reliable for gaming. So, you can play your games in Exitlag.
Also read: Best free VPN or GPN for Windows PC.
What caused a lag in games?
Lag refers to the delay or decreased speed that's sometimes caused by high ping (or high latency). Your game lag can be caused by your slow internet connection. Instead, it can happen when your computer's components don't have enough power to handle the game you're playing.
That's it!