Every software update introduces frequent improvements rather than rolling out major changes. This ensures your product continues to run successfully without any hiccups. So, if you are wondering how to update Microsoft Teams, this post will provide the necessary guidance.
How to update Microsoft Teams manually
The Microsoft Teams desktop app automatically updates itself to the latest version. So, you don't have to do anything special. However, if you want, you can still check for available updates manually, here's how!
Launch Microsoft Teams.
Go to Settings and more.
Choose Settings.
Click the About Teams option.
Check if any new update is available.
If yes, install it.
To update the Teams mobile app, you just have to download and install the app again from the iOS App Store or Google Play Store.
If you already have Microsoft Teams installed on your Windows Desktop PC or laptop, click the Show hidden icons button on the Taskbar and choose the Microsoft Teams app.
Click the Settings and more icon visible in the upper-right corner as three horizontal dots.
Next, select the Settings option from the list of options displayed.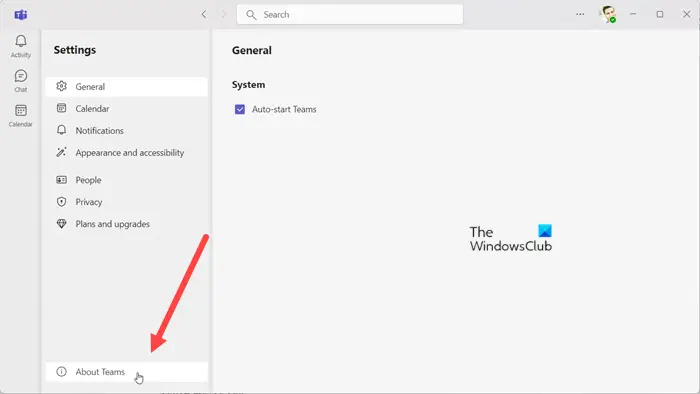 Now, choose the About Teams option visible under the Settings panel at the bottom of the screen.
Check if any new update is available. If yes, download the latest version of the app. If you already have the latest version installed, you'll see a notification that reads – you've got the latest version. It was last updated …..
You'll also see the No updates button grayed out.
That's all there is to it. Hope it helps!
What is the difference between update and upgrade example?
The difference between a software update and a software upgrade is similar to the difference between servicing your old vehicle and buying a new one. So, although the terms are used interchangeably, there are quite different.
Read: Microsoft Teams Tips and Tricks
Is Microsoft Teams free?
Yes but the free version of Microsoft Teams plans limits storage to 2GB per user, with 10GB shared storage. Paid plans, meanwhile, bump the storage up to 1TB per user. Also, the free version of Teams doesn't have access to scheduled meetings, meeting recordings, phone calls, and audio conferencing. The Microsoft Teams app is also available in the Microsoft Store.