Windows 11 comes with Windows Widgets, which aims to provide essential information and increase productivity, help you stay updated with your interests, and more. However, many users are annoyed with frequent Windows Widgets notifications. This post will share methods that help you manage or disable Widget notifications on Windows 11.
What are Widgets in Windows 11?
Widgets in Windows 11 are small, interactive applications that display a wide range of information and provide access to valuable tools.
On Windows 11, you get a dedicated panel where you will get information about your interests in the form of dynamic cards. Along with that, you can also add Widgets to Windows 11's desktop.
These Widgets can be used as shortcuts and provide information about global news updates, weather forecasts, scores, etc. It offers many pre-installed widgets; you can download additional widgets from the Microsoft Store or other third-party sources.
Types of Widget notifications on Windows 11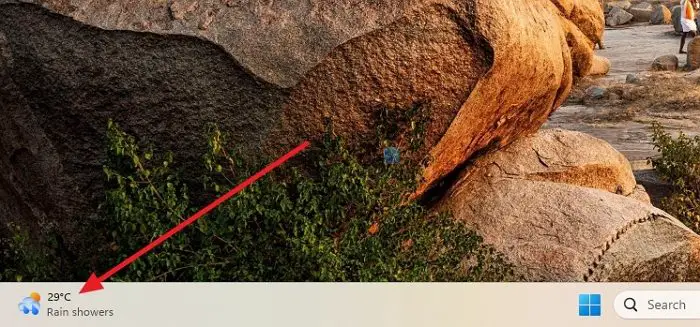 There are two types of notifications that the Windows widget offers.
The first one is rotating announcements – shown in the taskbar and aims to notify you about any recent developments quickly. Usually, on the taskbar, you will see information related to current weather but will frequently switch to display other announcements from other widgets.
The next one is the badge notification — like any other Windows notification, meant to instantly catch your eye and inform you about important weather updates or news. You can also open the Widgets panel to learn more about the notifications.
Another thing to note is that Widget notifications will only appear if you have marked specific topics as your interest or configured any of the Widgets.
How to Turn off Widget notifications on Windows 11
There are two main ways to manage Widget notifications and get informed about the latest updates for your configured Widgets. The first is to launch the Widgets panel occasionally to look at what's happening. The alternate option is to allow Widget notifications to appear in the taskbar as rotating or badge notifications.
By default, this would be enabled. So, if you want to turn the settings on/off, then you will need to follow these steps:
First, launch the Widgets panel by clicking on the icon or pressing Windows key + W.
Next, click on your profile picture to launch the settings.
Under the widget taskbar behaviors, you can toggle on/off Show notification badges and Show announcements per your preference.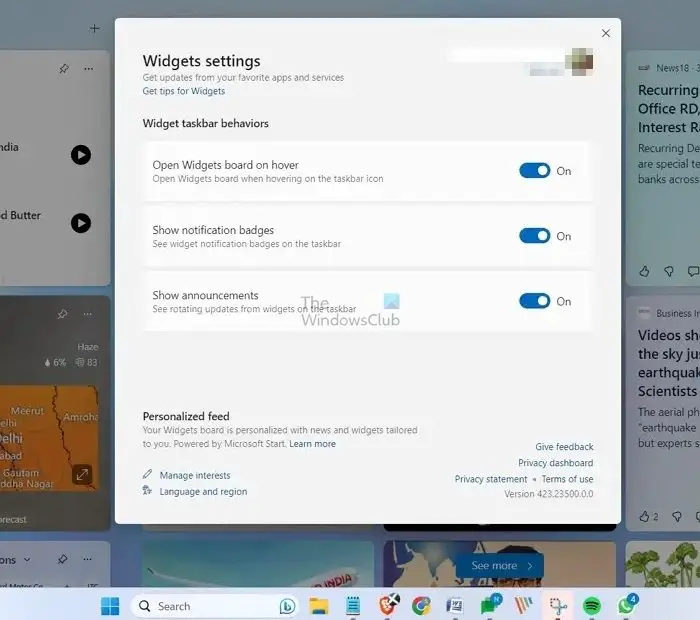 Keeping the Show announcements options enabled will be a good idea. It will not annoy you with notifications and occasionally display announcements related to your interests or configured Widgets.
Read: Windows 11 Widgets not opening, showing or are blank
That was how you can manage Widget notifications in Windows 11. Windows widgets can be beneficial for boosting your productivity while keeping you updated with the latest happenings around the globe. So make sure to configure the notifications per your productivity for the best results.
Read: Widgets Panel not working in Windows 11
How do you manage Windows widget interests?
To manage your Widget interests, open the Widget panel, click on your profile picture, and scroll down. Next, select the Manage Interests option, and over here, you can select or unselect any of the interests for news, entertainment, sports, money, lifestyle, and more.
How to turn off Windows widgets?
To disable Windows widgets, right-click on an empty area on your taskbar and select Taskbar settings. After that, toggle off the Widgets option, which will be disabled.