Although Microsoft shows random news articles in the new News and Interests widget in Windows 10, you can add or remove topics using this tutorial. You do not have to install third-party software as there is an in-built option for this purpose.
Microsoft recently added a new functionality in the Taskbar, which is called News and Interests. It brings all the latest happenings, weather forecasts, etc., under one roof so that you can get more information without opening a browser. If you often read news on various websites instead of a traditional newspaper, this widget may help you a lot.
Some people like to read sports-related news, whereas you might want to read business-related information. Whichever topics excite you the most, you can follow this step-by-step guide to add or remove topics from the News and Interests widget on Windows 10 Taskbar. For your information, it lets you make the change via the Microsoft Edge browser. However, if you do not have Edge, and you want to open all News and Interests links in Chrome or Firefox, you can follow this detailed tutorial.
Add or remove topics on News and Interests in Windows 10
To add or remove topics on News and Interests in Windows 10, follow these steps-
Click on the News and Interests on your Taskbar.
Click on the Manage interests button.
Tick the plus sign to add a topic.
Click on the correct symbol to remove a topic.
To learn more about these steps, you should keep reading.
At first, sign in to your user account and click on the News and Interests section, which is visible on your Taskbar. It opens up the entire panel, showing all the included widgets. You have to click on the Manage interests button visible in the top-right corner.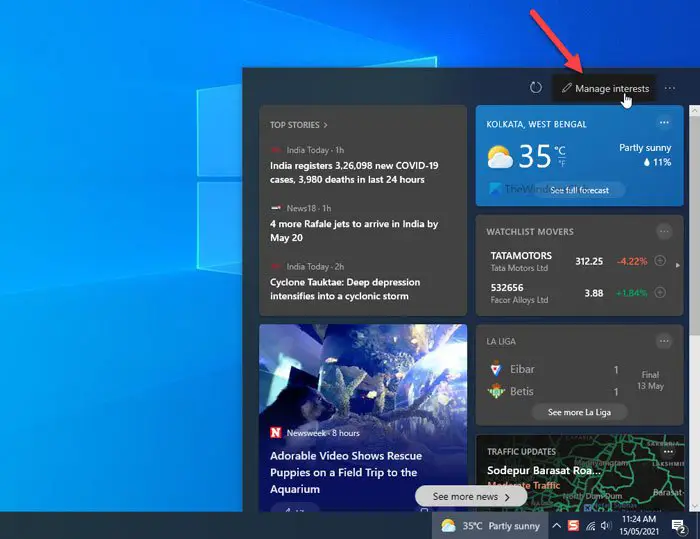 As mentioned earlier, it uses the Microsoft Edge browser to open all the links. If you haven't changed it already, you can find the Edge browser on your screen with the following page opened-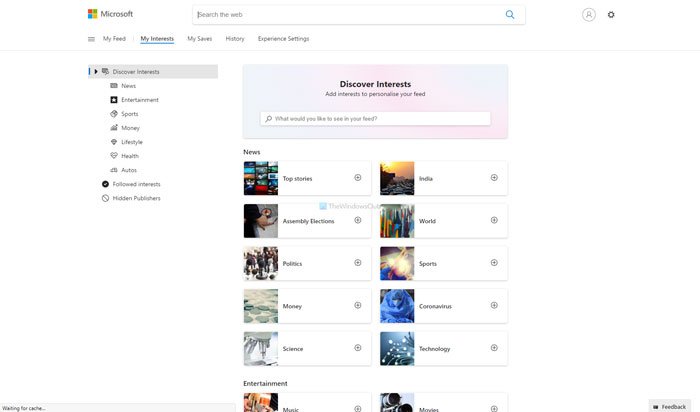 From here, you can choose various topics, such as Top Stories, World, Politics, Sports, Technology, etc. It is also possible to use the search box to find a desired topic for the News and Interests widget.
Once you get a topic to add, click on the plus icon.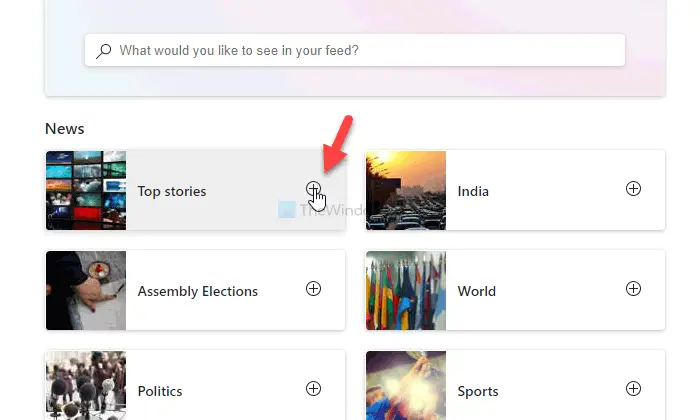 Similarly, if you want to remove an existing topic, click on the blue plus icon.
If you want to check all the followed topics, you can switch to the Followed interests tab and find out all the topics you have been following. From here, you can remove a particular topic if you want to.
This is just one of the ways you can customize the News and Interests on the Taskbar.
Read: Enable or Disable News and Interests on Taskbar using Group Policy or Registry Editor.