When creating a presentation in PowerPoint, you will see a pane on the left of the PowerPoint interface showing you some great design ideas that you can try to make the presentation more appealing to your audience. The Design Ideas feature automatically works in the background to match the content you are putting on the slide.  Design Ideas will display still images and even animated images that you can choose from on the pane.
How to turn off Design Ideas in PowerPoint
Follow any of the methods below to turn off Design Ideas in Microsoft PowerPoint:
Using the Design Ideas button.
Using the Design Idea pane
Via PowerPoint Options settings
1] Turn off Design Ideas using the Design Ideas button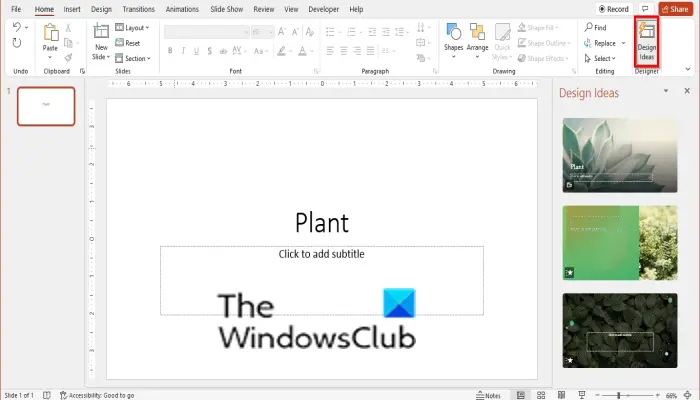 Launch PowerPoint.
Type a text into your slide and click the Design Ideas button on the Home tab in the Design group to open the Design Idea pane.
Click the Design button again to turn off Design Ideas.
2] Turn Off Design Ideas in the Design Idea pane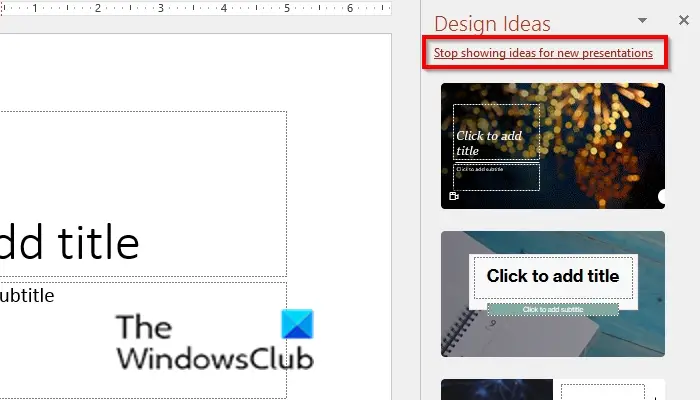 On the Design Ideas pane, click the link 'stop showing ideas for new presentations,' this will turn off for new PowerPoint decks, and the Design Ideas pane will close. You can also click the Close button to turn off Design Ideas.
3] Disable Design Ideas in PowerPoint Options settings
Click the File tab.
On the backstage view, click Options.
A PowerPoint Options dialog box will open.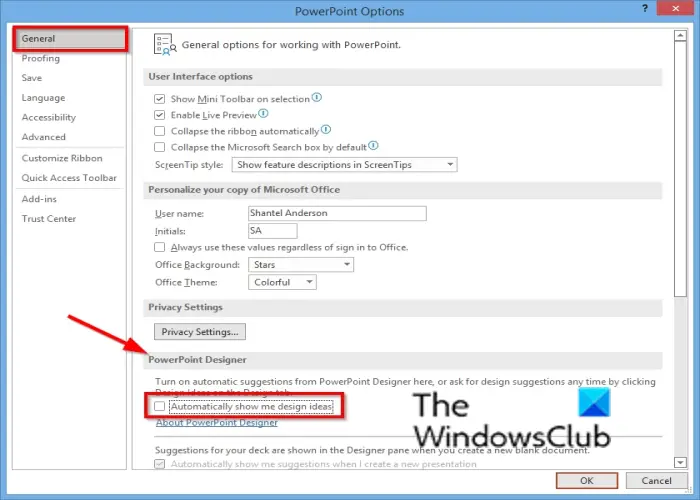 On the General tab, scroll down to the section  PowerPoint Designer.
Uncheck the box 'Automatically show me Design Ideas.'
Click OK.
The Design Ideas Pane is turned off.
We hope this tutorial helps you understand how to turn off Design ideas in PowerPoint; if you have questions about the tutorial, let us know in the comments.
Read: How to enable or disable Live Preview in Word, Excel, PowerPoint
What are design ideas in PowerPoint?
Design Idea is a feature that gives your slide a complete makeover; it examines the contents of your slide and offers you a variety of design choices based on what it fines; select the design that best suits your presentation in the Design Ideas pane.
Read: How to turn on or off File validation in Word, Excel, PowerPoint
How do I apply designs to all slides?
If you want to apply a design to all slides at once, you have to use the themes feature on the Design tab. The theme feature contains various theme layouts, and whenever you insert a new slide, the theme will automatically apply to the new slide, while with Design Ideas, once you select an idea, it will not automatically apply to the next new slide. Design Ideas only apply to a slide one at a time, with different layouts.
Read: Word, Excel, PowerPoint has run into an error that is preventing it from working correctly.