Google Maps have been a revolutionary innovation, no doubt about that. Take me a couple of years back, and I would never have imagined that navigation would be this easy. On top of a very well-developed idea, there are some interesting features Google Maps offers like taking note of the prevailing traffic conditions and Street View, a function we can use to get a glimpse of our destination. A rarely known option in Street View of Google Maps is that it allows users to travel back in time and see what the place used to look like in the past. In this article, we will demonstrate how you can do that.
Travel back in time using Google Maps
This feature is used by people to see how a place has evolved over the years. Google has gathered historic data, dating back to 2007, so you can see images as old as 15 years.
Here is how you can use Google Maps and view images of various locations from the past:
Open Google Maps on your computer (maps.google.com) and the search bar, type out the location of your choice
Click on the Street View thumbnail on the bottom-right corner of your screen and drag it to your location to access the Street View feature
On the top-left corner will be the date of the picture you're currently viewing via Street View. There will also be a clock icon with a drop-down option there. Click on the bottom-facing arrow and you'll be presented with a timeline
The slider dates all the way back to 2007 so you can scroll through it to view images of a location in different years
If you want to expand at a picture of a particular year, simply click on the magnifying glass icon
As you can see in the picture below, the timestamp is of May 2014. It really helps to observe the evolution if you drag the time slider all the way through. If you want to get back to the image at present, drag the slider to its right corner.
An important thing to note here is that this function doesn't exist in every single location, and there may be several landmark locations for which there is no historical data. This is how the street view corner looks if there is no data of the place of your choice. It has been found that the amount of data at your disposal is a function of where you live. Google's Street View has a huge database that is ever-expanding, but if you can't see the option to time travel, it means Street View passed your location only that one time.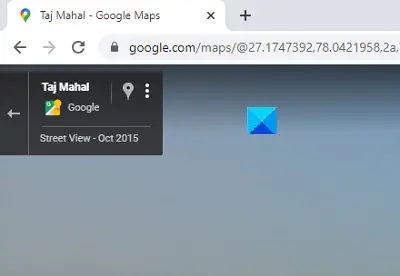 Another important thing to note here is that this function is not present on your smartphones.
Why can't I get Street View on Google Maps?
If you are not able to use the Street View feature on Google Maps, there are several solutions in place:
Check if Street View is available in your area
Use the Points of Interest (On your location, click on Nearby, and several points of interest, like Restaurants and Pubs, will show up)
Use Google Search instead of Google Maps
Hope this helps!