Windows 7 is indeed a great operating system. Even after Windows 10 release, it has been giving it tough competition in terms of the market share it acquired. But everything good has an end. And with a better choice of Windows 10 available from the same company, Windows 7 is definitely supposed to go.
Microsoft had been clear about ending support for Windows 7 for almost over a year, and that time has come. Windows 7 End of Support is on January 14, 2020.  While everything is fine for now, but the next day of End of support, customers will start receiving a full-screen Your Windows 7 PC is out of support notification.  After that, enterprises need to buy support for security updates from Microsoft. The best solution here is for them to update to Windows 10. But to do this, Microsoft is actively promoting users about Windows 7 End of Support by displaying an End of Life notification, just like the Get Windows 10 pop up.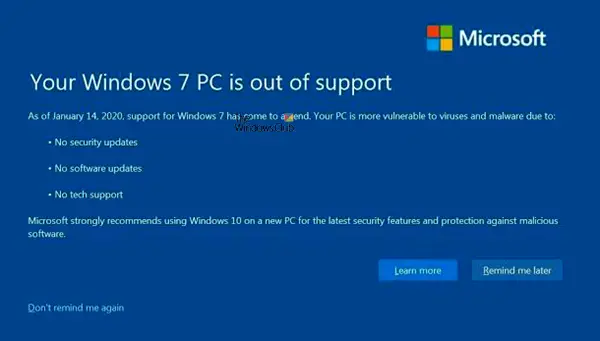 Disable Windows 7 End of Support Notification
Microsoft has rolled out an update to Windows 7 PC, KB4530734, which installs a new program called EOSnotify.exe. It is responsible for posting that full-screen notification that will remain on the screen until you interact with it. 
If you are sure that you want to stay on Windows 7 and do not want to upgrade, here is how to disable Your Windows 7 PC is out of support notification. Stay warned that its a risk you are taking, especially if you plan to connect to the internet with it:
Select the Do not remind me again option from Notification
Change value via Registry
Disable the Task in Task Scheduler
Uninstall Windows Update KB4493132.
Your Windows 7 PC is out of support
Before we go ahead, here is how it works. Microsoft has planned to notify users twice about the end of support. The first happens when you log in to the computer (EOSNotify.exe), and the second notification(EOSNotify2.exe) is displayed daily at noon. You can check the schedule by going to Microsoft  > Windows  > Setup in the Task Scheduler.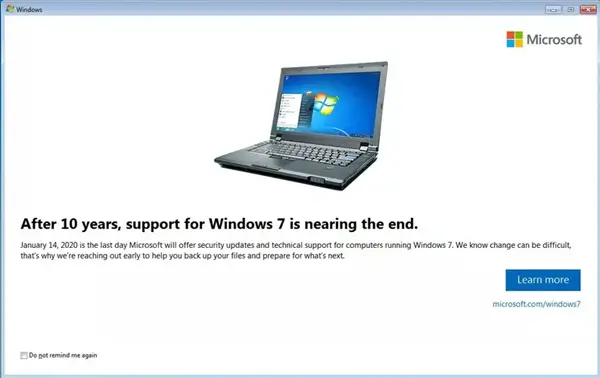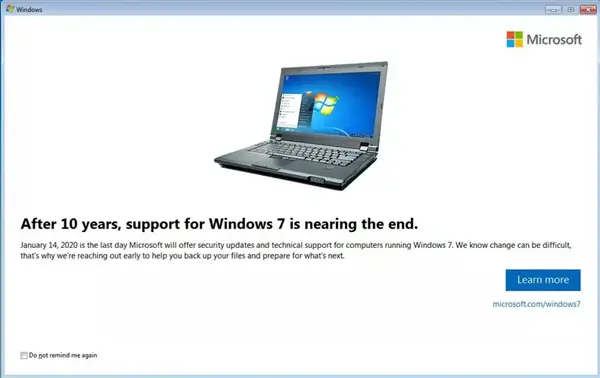 1] Disable from the Notification
It's not like Microsoft is forcing the notification, but it is mandatory to make sure the end-user is aware of it. When the warning shows up, you have two options to disable it.
Remind me later: If you want to read more about it, and take a look back again at your upgrade option, turn it off temporarily.
Don't remind me again: If you don't need the notification at all, click on this link, which is available at the bottom left of the notification.
2] Change value via Registry
Open Registry Editor by typing regedit in the Run prompt followed by pressing the Enter key
Navigate to HKEY_CURRENT_USER\Software\Microsoft\Windows\CurrentVersion\EOSNotify
Right-click and create a new DWORD DiscontinueEOS. Set the value as 1
Next time when those scheduled tasks run, the exe will check the value of DiscontinueEOS and skip showing the notification if it is set to 1.
3] Disable EOSNotify tasks in Task Scheduler
Here is an alternate method that you may try, but I am not sure if it will work. Locate the EOSNotify and EOSNotify2 tasks in the Task Scheduler and disable it. Windows may change it. Hence I am not 100% sure of this method. They are available at:
Task Scheduler > Microsoft > Windows > Setup.
4] Uninstall Windows Update KB4493132

If you see Windows Update KB4493132 installed on your system, uninstall it.
In case, you use WSUS Offline Update to update your Windows 7 computer; you need to blacklist the Update.
For that, navigate to the following location under WSUS: exclude\custom and open the following files-
ExcludeList.txt
ExcludeListForce-all.txt
Now, enter the following two lines in both of those files-
KB4493132
<A blank line>
Save those files and close them.
Now you should not be worrying about this notification now and then.
On which versions of Windows 7, the notifications will appear?
Anyone using Windows 7  Service Pack 1—Starter, Home Basic, Home Premium, Professional, and Ultimate—versions will receive  Windows 7 Out of Support notification. The notification will not appear on domain-joined machines or machines in kiosk mode.
You can still upgrade to Windows 10 for Free
If it's the cost that is stopping you from upgrading to Windows 10, and not your applications, Windows 10 is still a free upgrade if you have a valid Windows 7 License or key.
The free upgrade is applicable as long as you choose to upgrade and not a fresh install. Once the upgrade completes, the Windows 7 License is converted to Windows 10 License. And, from there, you can clean install without a problem. He said that Microsoft has to get stop promoting a free upgrade to make sure the offline shops can sell, and SMB upgrade their license.
It looks like Microsoft didn't close the loophole on purpose, so more and more people can upgrade. After all, even paid support costs Microsoft, and no software company would like to keep supporting decade-old software.
You should consider upgrading Windows 7 to Windows 10, as it will be difficult to secure Widows 7 after End Of Support.