As it stands right now, it is possible to check on who is looking at your LinkedIn profile. It does not take a lot of effort to figure this out at all, so for those who really want to learn how, this article will explain everything you need to know.
In the past, which is the long-ago past, LinkedIn did not make it possible for users to check on who is viewing their profile. Yes, it is not the most crucial feature to have, but it gives you an idea if there is anyone showing interest in your work.
Bear in mind that LinkedIn only shows data of those who viewed your profile in the last 90 days. It also provides additional information on trends and insights if you're into such things.
How to see who viewed your LinkedIn profile
Log into your LinkedIn account
Click on Me
Select View Profile
Visit your Dashboard
Selecet Who viewed your profile.
Let us discuss this in more detail, shall we?
The first order of the day is to log into your LinkedIn account. Visit the official website, add your credentials, then click on the Sign-in button. Alternatively, you could just click on Sign in with Google to log-in with your Google account.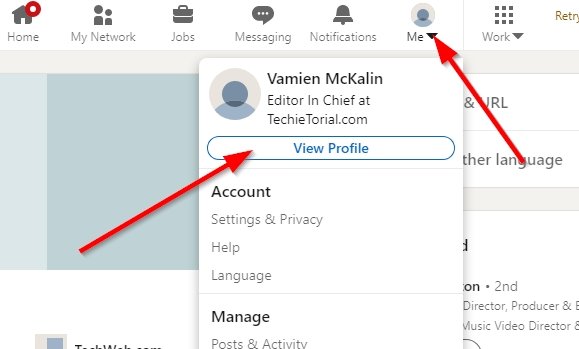 Moving forward, please click on the Me icon at the top, which is the one with your profile picture.
From there, select View Profile to fire up the dashboard.
After visiting the profile section, scroll down to the area that reads, Dashboard, then click on Who viewed your profile. Before doing so, you will be greeted by the number of persons who have done so in the past 90-days.
Unfortunately, you will need to have LinkedIn Premium to see the names of the persons who have looked at your profile.
Read: How to be a LinkedIn Influencer.
See who is viewing your LinkedIn profile via Apple iOS and Android app
Open the LinkedIn app, and after signing in, tap on your profile picture, then select the digits representing the number of people who viewed your profile.
That's it.