If you notice a GIF image in a PowerPoint that you want to save, then it's not straightforward. You may want to use it somewhere else, but since copy-paste doesn't work with GIFs as other images, in this post, we will share how you can save an animated GIF from PowerPoint using multiple methods.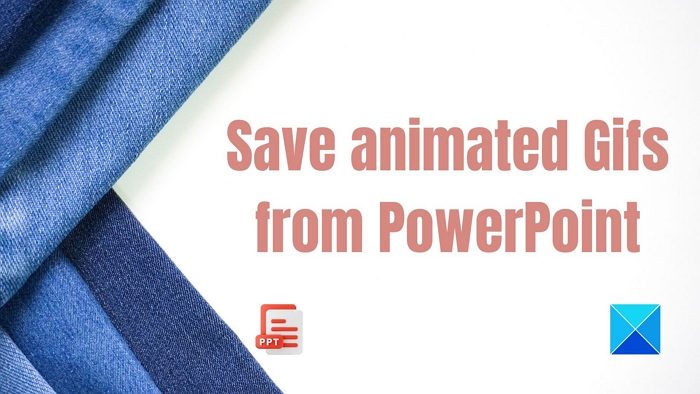 How to save animated GIF from PowerPoint
These are two ways you can extract the GIF file from Microsoft PowerPoint:
Save GIF from Powerpoint using Save as option
Rename PPT to ZIP & Extract to save Multiple GIF files
Make sure to keep a backup of the PPT file. You can always use the second copy if the file gets corrupted.
1] Save GIF from Powerpoint using Save as option
You can save the desired GIF by saving it directly from PowerPoint. Here is how to go about it:
First, right-click on the GIF, and choose Save as Picture.
In the Save dialogue box, on the Save button, you will find a pulldown arrow
Make sure GIF is selected. Once done, click on the Save button.
Your GIF will be saved on your PC, and you can use it anywhere. Make sure to open it in the browser to check if it's working as expected, i.e., you should be able to see the GIF animation. This method works well if you only have a handful of GIFs, but if there are too many, follow the next method.
2] Rename PPT to ZIP & Extract to save Multiple GIF files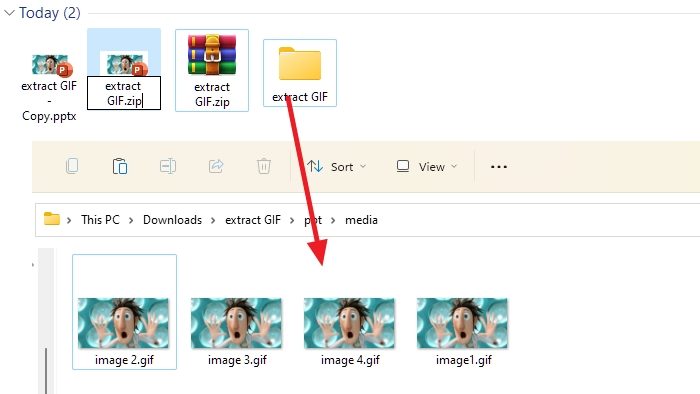 You can use the ZIP method if you need to extract multiple GIF files from the PowerPoint file. If you aren't aware, then all Microsoft documents follow a folder structure where images, content, and all are available in a structured data format. If renamed from PPTX to ZIP, you can see all the files.
Right-click on the desired PowerPoint and rename your pptx to zip
Next, extract the zip into a new folder.
To check whether the GIF is there, look into the PPT > Media folder
Copy the GIF files, and use them anywhere you like.
So, if you want to save the GIF as a whole image and not just the outline mentioned in the article, you can either copy it directly from PowerPoint or change the PPTX extension to zip. I hope the article was easy to follow and that you clearly understand how these methods work.
How do I save an animated GIF?
To save your PowerPoint as GIF, create your presentation, including any animations, transitions, and visuals you like. Choose File > Save as and select Animated GIF from the file type dropdown. Please select a location, and save it with a name of your choice.
While saving the ppt to PDF, you can choose the quality of the GIF. Go to File Save as, and select PDF from the file format drop-down. Next, click on More Options to open the save box. In the Save box, click on Tools, and then click on Compress pictures. It will reveal the options where you should select High fidelity. It will preserve the quality of the GIF.