You can add or delete Notes to PowerPoint Slides, and in this post, we will show you how to remove notes from one, multiple, or all slides in PowerPoint.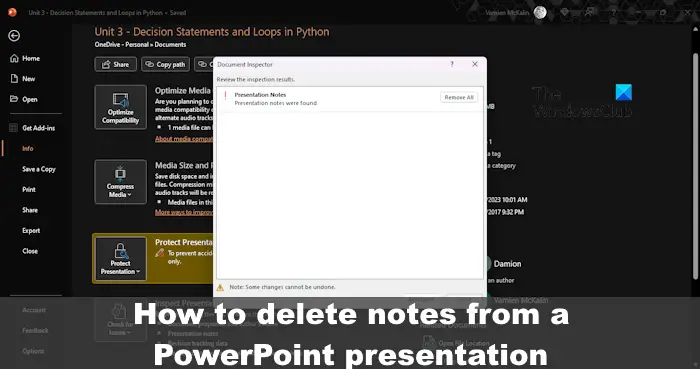 Now, the reason a person may want to delete notes from a Slide can vary. For example, if you intend to share your PowerPoint with others, you may not want them to see the added notes, and that makes a lot of sense.
How to remove Notes from PowerPoint
Now let us see how to remove notes from one, multiple, or all slides in PowerPoint.
Delete notes from a single PowerPoint slide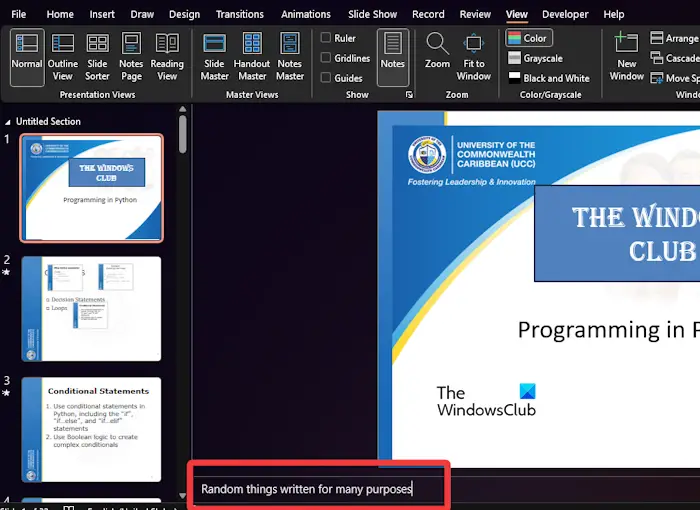 If you want to delete notes from just one slide in PowerPoint, then you're in luck because this is the easiest method.
Open the Microsoft PowerPoint application.
From there, please launch into the relevant presentation.
Click on the View tab, then look for Notes on the Ribbon and select it.
Look to the bottom of the page and highlight the text within the notes box.
Hit the Backspace key to have the note removed once and for all.
You can do this for other Slides one after the other.
READ: PowerPoint Fonts not displaying correctly
Delete notes from all PowerPoint slides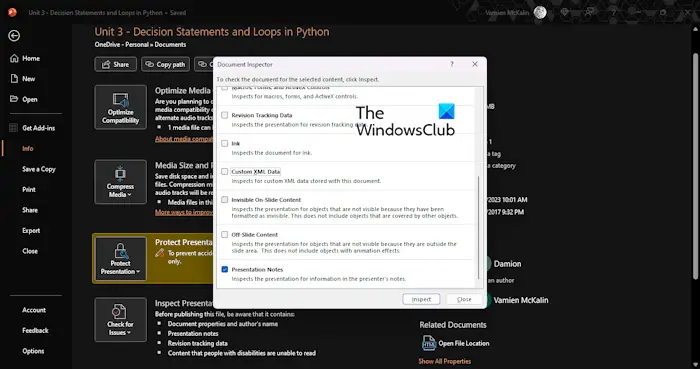 In a situation where multiple PowerPoint slides are home to notes, then we would not suggest deleting slides one after the other. It takes a lot of work and time to get this done, so with that in mind, let us talk about the easiest way to get rid of notes on more than a single slide.
Open the required presentation from within PowerPoint.
After that, please click on File, then select the Info button.
Look for Check for Issues and click on it.
From the dropdown menu, select Inspect Document.
Ensure that a copy of your presentation is made because changes made with the document inspector tool cannot be reversed.
Now, after clicking on Inspect Document, select the Yes button once it appears.
Right away the Document Inspector window will pop up.
Check only the Presentation Notes tick box.
Next, click the Inspect button, then do the same with the Remove All button next to Presentation Notes.
Close the window.
That's it. All notes available on each Slide within your presentation are gone.
READ: How to create Door Opening animation in PowerPoint
How do I edit presenter notes in PowerPoint?
Click the Notes button found in Options via the bottom-right section of PowerPoint if the notes are hidden. If that doesn't work, you must edit your notes from the Notes View. Simply click on the View tab, then select Notes Page from the ribbon.
How do I remove embedded text in PowerPoint?
To remove embedded text in PowerPint, click on the File tab, then select Options. From the section that reads, Preserve Fidelity When Sharing This Presentation, disable the Embed fonts via the file check box.