Microsoft Store is a great place to find amazing apps and games. Most of the downloadable content is available free of cost, but some of them come with a price tag. You have two options to buy an app or game; use your credit/debit card or a gift card. While using a credit card is easy, using a gift card can be a bit confusing to many. So the question is, how to redeem a code or gift card from Microsoft Store on Windows? Well, let's find this out below.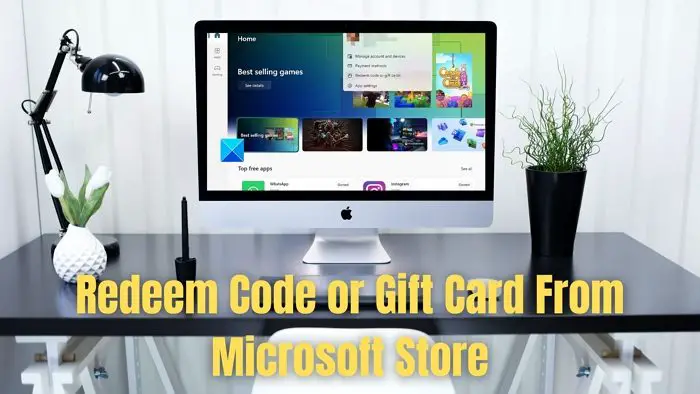 Redeeming Codes and Gift Card are two things. While the first one lets you download games or items and even add money instantly. While Gift Card, on the other hand, acts like a discount coupon used during the purchase. Since both work differently, make sure to read bout each of them.
How to Redeem a Code from Microsoft Store
Launch Microsoft Store by clicking on the Start Menu.
Next, click on your Profile icon and select Redeem code or gift cards.
A new window will open and ask you to enter the 25-character code.
Enter the code from your gift card and click on Next.
Microsoft will now verify the code and add the balance to your Microsoft account.
How to Redeem a Gift Card from Microsoft Store
Apart from this, you can also redeem a gift code in Microsoft Store while purchasing. For this, follow the below steps:
First, search for the app or game you wish to purchase.
Then, click the Buy button, and a new window will open.
Next, on the payment page, click on Get Started! Add a way to pay.
Now, click on the Redeem gift card option.
Enter your gift card code in the next screen to complete the purchase.
Conclusion
So that was all about how to redeem a code or gift card from Microsoft Store on Windows. Apart from the above two options, you can redeem your gift card by going to the redeem.microsoft.com website. You will have to login into your account and enter the 25-character code. Post that, it works the same way as you have seen in the Microsoft Store, except it's online. Make sure you are signed in using the same account as you have on Windows PC or Microsoft Store. You may want to reset Microsoft Store and try again if it is not working.
What happens after I redeem my gift card or code?
If your gift card has money, Microsoft will add the balance to your Microsoft account, and you can use it for your future Microsoft Store, Windows, or Xbox One purchases. Alternatively, Microsoft will add the balance to your library if you have a card for a specific app or game. Or if the code is for any subscription, then you can find the details on Microsoft's Services & subscriptions page.
How can I tell if my card or code was redeemed?
You can check your order history to check if the gift card has been redeemed. You can access your order history by going to the account.microsoft.com/billing/orders page. On the order history page, look for the date you redeemed the gift card. The card or code was successfully redeemed if you see the Redeemed code under the Payment method.
It works almost the same way for Xbox. Please follow our detailed guide on how to make Xbox Purchases and Extend subscriptions.