Maybe at some point, you've deleted your Spotify playlist deliberately or accidentally. How plausible is it for someone to get back their Spotify playlist with all songs intact? In this post, we will show you how to recover Deleted Playlists on Spotify.
How to recover Deleted Playlists on Spotify
Whenever a playlist is deleted, it is not completely removed from your computer. Spotify will hold on to the playlist for a maximum of 90 days before the platform gets rid of it for good. So, as it stands, as long as your playlist is recovered within the 90-day period, then you should have little to no problems at all.
We must point out that recovering your playlist on Spotify cannot be done via mobile or desktop apps. You must use the web player to get this done, which is quite strange but that is the rule we must follow.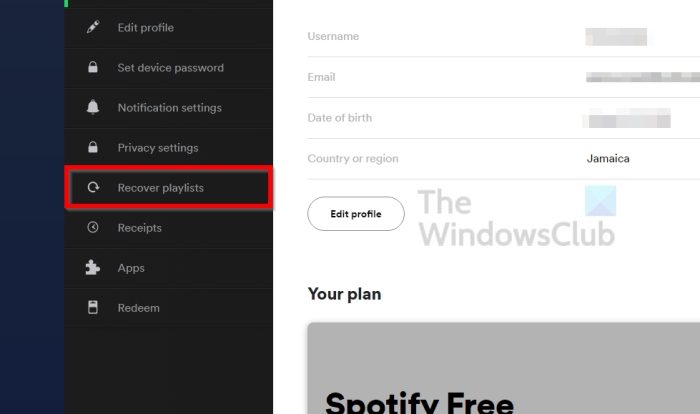 To recover Deleted Playlists on Spotify:
Open the Spotify web app by visiting open.spotify.com.
Log in with your account credentials.
Navigate to spotify.com.
From there, click on Recover Playlists from the left panel.
You should see a list of playlists you've deleted recently.
Click on the Restore button.
Your playlist is now restored. To prove this is so, Spotify will paint it green. Now, if you are not seeing your restored playlist, please reload the web page.
As you can see, getting your deleted playlist to return to its regular place is not hard. The task can be done in less than a minute if you have a fast internet connection at your disposal.
We can only hope that in the future, Spotify will make it possible to recover their playlists from within the mobile and desktop apps without having to use the web player if they don't want to.
Read: Fix Spotify Something went wrong error on Windows PC
Are Spotify playlists public?
Spotify shares all users' activities with followers and with the public. That means anyone can see your playlist and listen to it as long as it's available. So, if you know your friend's Spotify username, you can search for it and have a peek at their playlist to see if they like the music you tend to enjoy.
Can I see who listens to my Spotify playlist?
While the folks at Spotify make it possible for users to see how many people are following their playlists, the platform does not offer the ability for anyone to tell who the followers are. We suspect most users of Spotify should have zero issues with this.