Windows 10 Sticky Notes uses a database to store all the data of a Sticky Note. If you get access to the database, you can recover the accidentally deleted sticky notes. It is possible that you deleted a sticky note accidentally, or you just thought you never wanted it. So if that's the case, do not worry. Here is the foolproof method to recover it on Windows 10.
Recover accidentally deleted Sticky Notes in Windows 10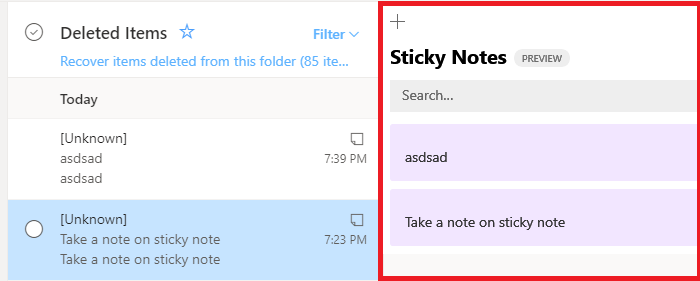 Sticky Notes is linked to your Microsoft Account. That is, it syncs across Windows 10 devices using Outlook. If you access the same Windows account from multiple computers, then you can access all your sticky notes.
So what happens when you delete a sticky note? First, it doesn't ask you for any sort of confirmation, and second, it moves the deleted sticky notes into the trash folder. So if you removed it just now, Outlook trash is your best bet to recover it.
Sign in to your Outlook Web
Switch to the trash folder
The deleted sticky notes will appear along with other emails. It will have both the subject and the text.
Select the sticky notes and click on recover or restore.
If Sticky note is open on the computer, close it, and re-open.
The deleted notes will reappear.
If you have Outlook Client on Windows 10 PC or your phone, you can access the deleted folder, and choose to recover them. Make sure to use the same account which you have on your PC in the Outlook web.
The chances of recovering the deleted sticky notes depend on two things. First, how often you clear your Outlook trash. The second is the frequency at which Outlook is configured to empty the trash folder (usually 30 days) automatically.
Are there any more ways to recover? Frankly no. In the earlier version of Windows, Sticky Notes data was saved into a text file, but now it uses a database. When you delete a file, it is removed from the database as well.
How to backup Sticky Notes?
That said, two things should be done going forward:
If you do that, the chances of losing sticky notes are going to be less, and recovering it is going to be high.
I hope the post was easy to follow, and you were able to recover accidentally deleted Sticky Notes in Windows 10.