If you regularly download OneNote files as attachments, you should be wary because the file you're downloading could be housing malware. Now, we agree that spreading malware is not as easy as in the past. That's because more computer users have chosen to implement strong security practices.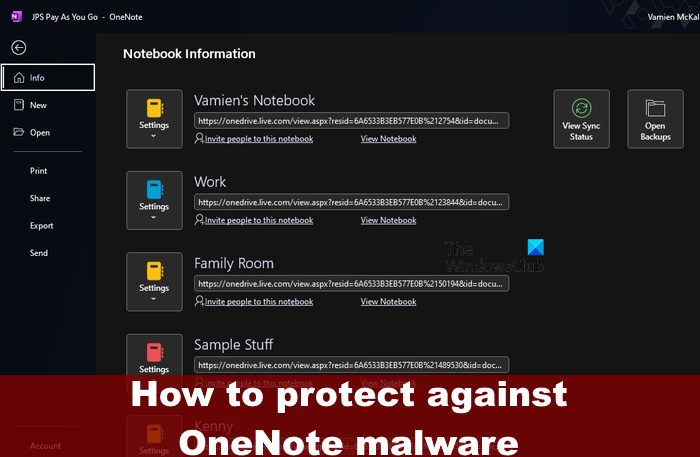 Not only that, but security software over the years has become more sophisticated than before. For example, Microsoft Defender is not the same as it was many years ago. It has improved greatly to the point where it is just as capable as paid anti-virus tools.
Now, the big question right now is why Microsoft OneNote files are being used to spread malware? This is very important, but equally so, how should users protect themselves from this scourge?
Secure your computer against OneNote-based malware
Hackers are taking advantage of OneNote to spread malware. Why are they doing this, who are the targets, and how to protect your computer? These are the questions we've decided to answer in as much detail as possible.
Reasons why hackers use OneNote to distribute malware
In the past, hackers focused on Office doc, xls, ppt files for sending malware. This was because macro was enabled by default. However, back in 2022, Microsoft decided to disable the macro feature by default, and that caused a major dent in hacking operations.
With that in mind, hackers needed a new format to get the job done, and they chose OneNote for that. You see, it should come as no surprise because OneNote is a popular note-taking tool installed as default on every Windows computer.
As such, even if a potential victim has never used OneNote, it wouldn't matter as long as they click on the infected file.
Furthermore, the OneNote application is trustworthy, so it is much easier to get users to gravitate towards clicking on a OneNote file than anything that looks out of the ordinary.
Hackers use OneNote to target businesses
OneNote-related attacks usually target businesses. Hackers do this because OneNote files are included in emails, which are sent to employees in bulk. The files attached are often designed to steal information, a practice that is known as phishing.
Business employees are the main target, this is true, but that doesn't mean regular individuals are free to do whatever they want, so keep that in mind.
Scammers use OneNote to send malicious attachments
Bad actors distribute malicious OneNote files into emails that talk about common topics relating to shipping and invoices, for example. Interestingly enough, these files seemingly include valid reasons why the receiver should download them.
Note that some emails may direct users to a website with malicious downloadable content, while others will insert the affected OneNote file as an attachment.
When the recipient opens an infected file, they will be asked to click on a particular graphic. Once done, the embedded file will be executed, and right away it will automatically download malware to the Windows computer via remote servers from all over the world.
What are the types of malware hackers install via OneNote?
From what we have gathered thus far, hackers will try to install Remote Access Trojans, Ransomware, and Info Stealers.
Info Stealers: In basic terms, an info stealer is a Trojan designed for the purpose of stealing private data. Oftentimes, info stealers are used to steal login credentials such as passwords, and even important financial information.
Remote Access Trojans (RAT): This type of Trojan, which is also known as RAT, is a piece of malware that makes it possible for attackers to control a  device from a remote location. Once Remote Access Trojan is installed, the attackers can issue commands to the machine and install other malware types.
Ransomware: The purpose of Ransomware is to extort businesses and individuals. Once the malware is installed on a computer, all files become encrypted and the owner will have no access. The attacker will request payment for this to change.
Bots or Botnets: In many cases, bots act like a spider, a type of malicious program that scours the internet looking for holes in the security infrastructure it can exploit. From there, hacking is then done automatically. In terms of botnets, they are malware that can access devices via malicious coding. A botnet will directly hack any device, and the cybercriminals will take control remotely.
Rootkits: If a hacker wants to have remote control over a specific computer, then chances are they will begin by infecting the device with Rootkit malware. Often times the victim has no idea their computer is infected, and since rootkits were designed to be hidden, many users take a long time before realizing they've been compromised.
READ: How to prevent Malware on Windows 11
Ways to protect your computer against infected OneNote files
There are many ways to protect your computer from outside interference. There are many tips designed to keep hackers out of your Windows computer. For example, you can consider turning off JavaScript, Flash, and using a strong password, along with a competent enough anti-virus tool such as Microsoft Defender.
Furthermore, you should ensure all OneNote files sent to you are first scanned before opening. If you are from the business community, then please double-check with a co-worker or manager to find out if the attached files are safe to open.
Additionally, if you haven't yet downloaded and installed Windows 11/10 on your computer, then please do because these operating systems come with improved security.
Finally, check if there are any updates for OneNote and Windows. From time to time Microsoft will release security updates to help keep the user safe from outside interference.
READ: Windows Security Service missing after malware attack
What is the malware in OneNote files?
The most known malware in OneNote right now is called Emoted, and it is distributed via Microsoft OneNote attachments via email. The plan is to bypass Microsoft security restrictions in a bid to infect several targets. Furthermore, Emoted malware has historically been linked to Microsoft Word and Excel, but these days, it targets OneNote.
READ: How to remove virus from Windows 11
Can OneNote be encrypted?
Microsoft OneNote takes advantage of encryption to secure sections that are password protected. Bear in mind that if you forget any of your section passwords, then you will not be able to unlock the contents within.