Windows 10 supports installation and use of a variety of Removable devices. This includes plug and plays mouse, keyboard, and other USB based devices. However, this could pose a threat to the integrity of a computer system, and hence, some organizations pose a restriction on the use of such devices. This restriction is also useful if you tend to leave your computer idle and someone tries to mess it up by plugging in a removable device. In these cases, the restriction also defends the user again data theft. In this article, we will be learning how to prevent the installation of Removable Devices on Windows 10.
Prevent installation of Removable Devices
There are two methods which will help you to prevent the installation of Removable device on Windows 10. They are the following:
Use Windows Registry Editor.
Use Group Policy Editor.
1] Use Windows Registry Editor
Open the Windows Registry Editor and navigate to the following path:
HKEY_LOCAL_MACHINE\SOFTWARE\Policies\Microsoft\Windows\DeviceInstall\Restrictions
Find the DWORD named as DenyRemovableDevices and set its value to 0.
If this path does not exist on your computer, just create it.
Reboot your computer to apply the changes.
2] Use Group Policy Editor
It is worth noting that the Group Policy Editor is not available on the Home edition of the Windows operating systems. Hence, these methods will not be of any use if you are using it.
Open the Group Policy Editor. Navigate to the following path:
Computer Configuration\Administrative Templates\System\Device Installation\Device Installation Restrictions
Look out for the entry that says, Prevent installation of removable devices.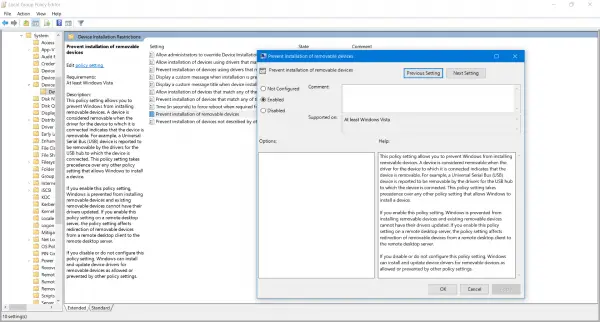 Set is as Enabled. Select Apply and then select OK.
This policy setting allows you to prevent Windows from installing removable devices. A device is considered removable when the driver for the device to which it is connected indicates that the device is removable. For example, a Universal Serial Bus (USB) device is reported to be removable by the drivers for the USB hub to which the device is connected. This policy setting takes precedence over any other policy setting that allows Windows to install a device. If you enable this policy setting, Windows is prevented from installing removable devices and existing removable devices cannot have their drivers updated. If you enable this policy setting on a remote desktop server, the policy setting affects redirection of removable devices from a remote desktop client to the remote desktop server. If you disable or do not configure this policy setting, Windows can install and update device drivers for removable devices as allowed or prevented by other policy settings.
Reboot your computer to prevent the installation of removable devices on a computer running Windows 10 now.
All the best!
This post will show you how to prevent installation of Programs from Removable Media Source.