VLC is better than most built-in media players supported by the Windows system. It offers good playback quality. Besides this, it does not require any additional codecs to play audio and video from a source. The tool comes packed with many features and multiple options to help you get the best possible playback quality. Similarly, you can change the appearance of VLC Media Player to suit your preferences if you find it too simplistic.
In this post, we look at some of the options offered by VLC Media Player and ways to customize them.
Customize VLC Media Player interface
Upon launching the VLC player, you will notice that the interface at the bottom, displays its traditional look i.e., a classic block of buttons designed to control the
Media stream
Play/ Pause button
Stop button
Forward and Backward.
The organization of menus and buttons looks well placed – however, if you feel the need to customize it, follow these steps.
Launch VLC Media Player.
Hit the 'Tools' tab and select 'Customize Interface' from the list of options displayed there.
Next, a new 'Toolbar Editor' window will open on the right. In that window, you will notice the following tabs displayed. Using the Toolbar editor, you can add, edit remove or move the Buttons using the drag and drop method.
Main Toolbar – You can change the position of the toolbar to place it above the video by checking the box marked against it. By default, the toolbar display 2 lines of controls and line 2 has the most commonly used buttons.
Time Toolbar – Adjacent to the 'Main Toolbar', you can find 'Time Toolbar'. It allows you to customize the time toolbar to shows the position of the video or audio, currently playing.
Aside from Time Toolbar, you can see Advanced Widget, and Fullscreen Controller. These are the buttons that aren't frequently used and so, you'll need to enable View > Advanced Controls to make them visible.
Download VLC Skins and then open your VLC settings (Tools> Preferences) and change your interface from native to skins (check 'use custom Skin' option).
You can choose your desired skin already there or change it when you are in the skins mode by simply browsing to the Skins folder and selecting it.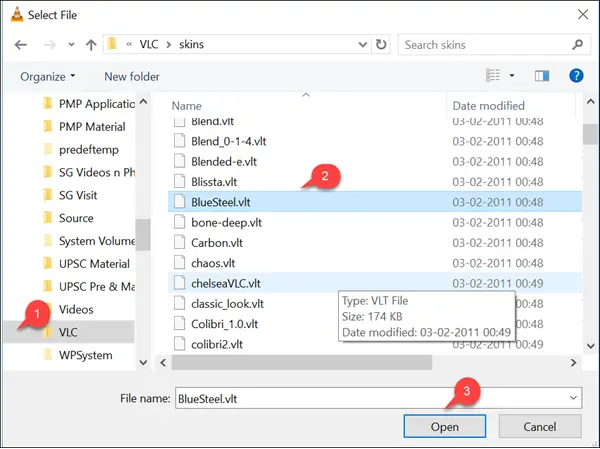 To change to the new Skins mode, restart VLC.
That's it!
Read next: How to use Compressor Tool in VLC Media Player on Windows.