There may come a time when you may feel the need to display details about your family such as medication data, ages, and relationships in a visual manner, and that is where the genogram comes into play.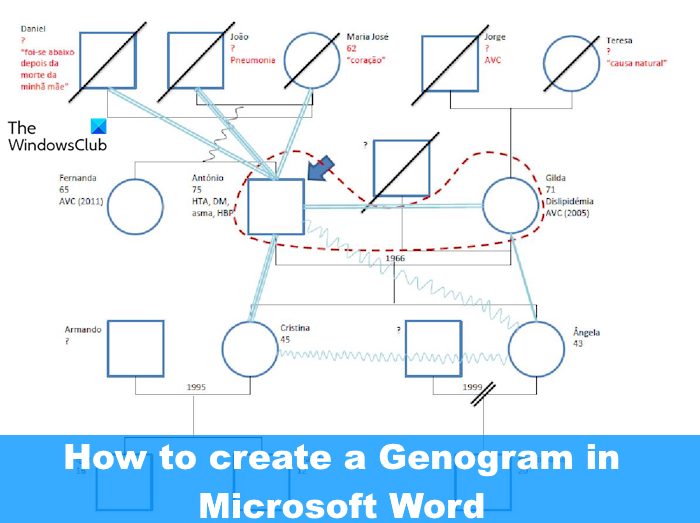 Bear in mind that a genogram is not the same as a family tree, though they do share some similarities. Now, the good news is that a genogram can be created in Microsoft Word, so there is no need to use overly complicated tools to get the job done.
What is a Genogram?
A genogram is designed to go into detail, so while it is similar to a family tree, it usually showcases more information. Its intended purpose is to display things such as illnesses, relationships, gender, and other key elements that are not usually found on a typical family tree.
What are Genogram symbols?
Before creating a genogram, you must first understand the symbols and their meaning. You see, the symbols for a genogram were created by Dr. Robert Young and Dr. Thomas O'Neil back in the 1908s.
Looking closely at a genogram, you'll realize that each person is highlighted as a particular genogram symbol. For example, the female symbol is a circle while a square represents the male symbol. If pets are a part of the family, then they would be represented by a diamond.
How to make Genogram in Word
It is easy to create, make, and insert a Genogram in Microsoft Word if you follow these steps:
Draw the relevant shapes
Copy and paste the Shapes
Create Text Boxes
Group Shapes together
1] Draw the relevant shapes
To get this done, please launch Microsoft Word and then open a new document.
From within that document, click on the Insert tab, and click on Shapes to reveal a dropdown menu.
Choose a shape from the menu, for example, a circle for a female, or a square for a male, all depending on what you need.
Use your mouse cursor to draw the shape. You can choose the overall size of the shape.
Next, return to the Shapes menu and select the Line connector.
From here, connect the line to the shapes you've drawn.
READ: How to rename a Hyperlink in Word
2] Copy and paste the Shapes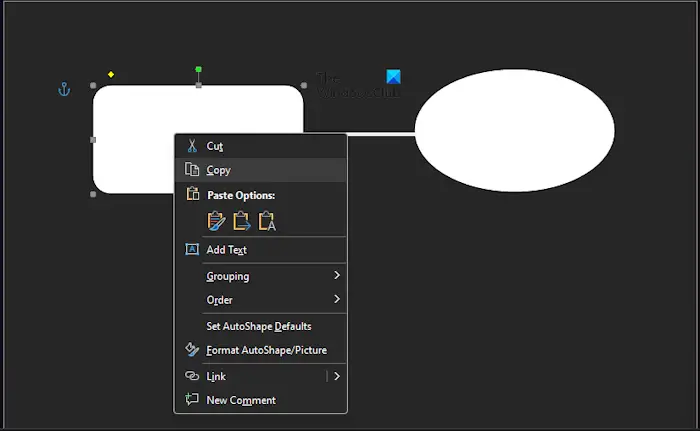 Instead of drawing every single shape in your genogram, we suggest copying what you've drawn before.
Click on the preferred shape and press the CTRL key.
When the plus sign appears, drag the cursor to make a copy and add it to the relevant spot.
The option is also to use the CTRL + C copy shortcut, and CTRL + V to paste the shape.
READ: How to Pin a Document in Excel, Word, PowerPoint
3] Create Text Boxes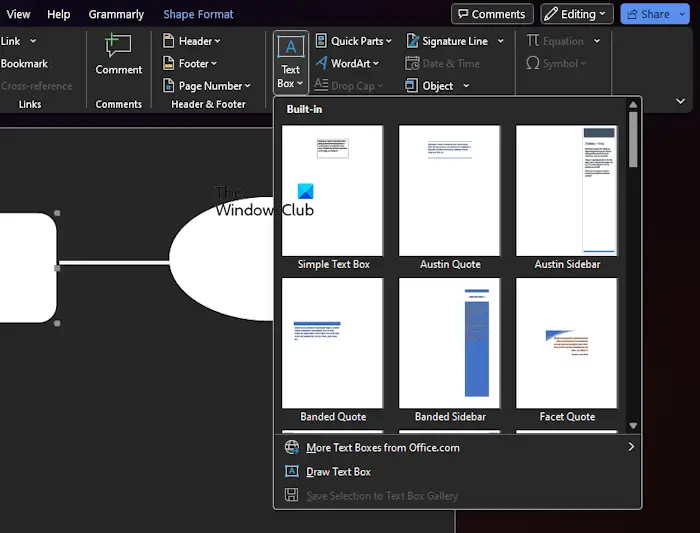 To create a Text Box in Microsoft Word, please click on the Insert tab.
Select the Text Box option, then Draw Text Box.
Draw the box per the size you need, then insert the required text.
When you're done, please bear in mind you can resize the Text Box by dragging the edge of the box.
READ: 10 Default Microsoft Word settings you need to change
4] Group Shapes together
After creating a bunch of shapes, it is time to group them. This is optional, but we recommend it since it will allow for the easy movement of the entire genogram.
Begin by selecting all the shapes and lines in your document.
Click on the Layout tab, then select Group from the Ribbon.
Right away, the entire shapes and lines you've created are now paired as a group of objects.
By now, your genogram should be completed.
READ: Microsoft Word Table not going to next page
Download and install a Genogram Word template
For those who are not interested in creating a genogram from scratch, we suggest downloading free templates available on the web.
My Word Templates: If you visit the official My Word Templates website, you will find a host of genogram templates for Microsoft Word. They are free, so select the ones that suit your needs.
Word Templates Online: Another great place to find free genogram templates for Word, is to visit World Templates Online website. There is a decent number of templates here, so you are sure to find something you need.
Does Google Docs have a genogram?
There isn't a genogram template in Google Docs, but it is possible to create one from scratch via a blank canvas.
What is the app that makes a genogram?
GitMind is one of the best apps for creating genograms, and you can find it for Windows, Android, and iOS. And of course, Microsoft Word is a great way to create genograms, and since templates are available, you do not have to begin from scratch.