Email services have become an integral part of our daily internet consumption, and that has only been exacerbated by the high number of Email services on offer today. If you ever switch your email ID or find it to have been hacked, then it becomes a cumbersome task to log it out of all your devices. In this article, we will look at the steps you need to take to log out of your Email account on all your devices. We will be covering the most commonly used Email services – Gmail, Yahoo, and Outlook.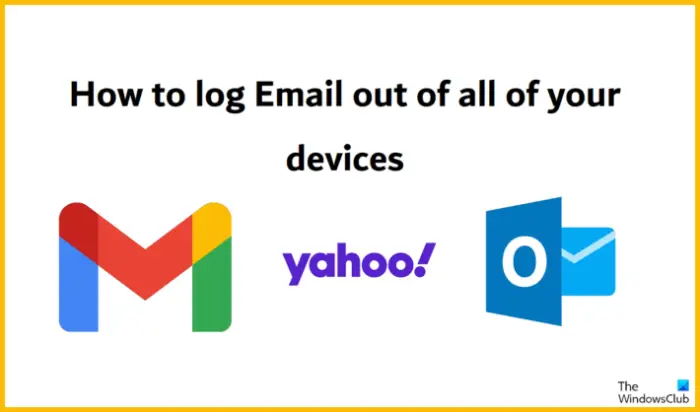 How to log out of your Email account on all your devices
There isn't a centralized option present in any of the apps that would just help you log your Email address out of all the devices synced in with it.
How to log out Gmail account from all devices
To remove an existing Gmail account from being logged in across devices, you can use the 'Your Device Activity' website. If your Gmail address is logged into multiple laptops and mobile devices, then your devices will be categorized accordingly.
Open the Your Devices Google page
If you aren't signed up on the browser you've used to open this link, do so. Once you have done that, it will show you all the devices on which your Email account is logged in
Select the devices that have shown up one by one and click on 'Sign Out'. If you find something fishy about a particular account having your account logged in, you can click on 'Don't recognize something?'
While there isn't a direct option for users to log out of all their devices at once, this is the quickest way for you to remove your account from every device that it is synced in with.
Read: Awesome Gmail address tricks to get more out of your email ID
How to log out of your Yahoo Email account on all devices
Logging out of Yahoo Mail is a slightly longer process and here too, you have to select each device that has your account logged in. Here are the steps that can help you with the device list:
Log into your Yahoo Mail account, preferably on a computer
Click on the settings icon at the top-right corner and further select More Settings
On the options pane, you'll find an option that says "Switch to Classic Mail." Click on it
This will take you to a new Mail interface at the top-right corner of which is an options drop-down. Select Accounts Info and click on Go
Finally, click on Recent Activity. You'll find that on the left-hand side of the screen
This will present you with a list of all the devices on which your Yahoo Mail account is logged in along with an option to sign out of them. One by one, click on Sign out for each device.
Read: How to permanently delete Yahoo account
How to sign out of Outlook email account from all devices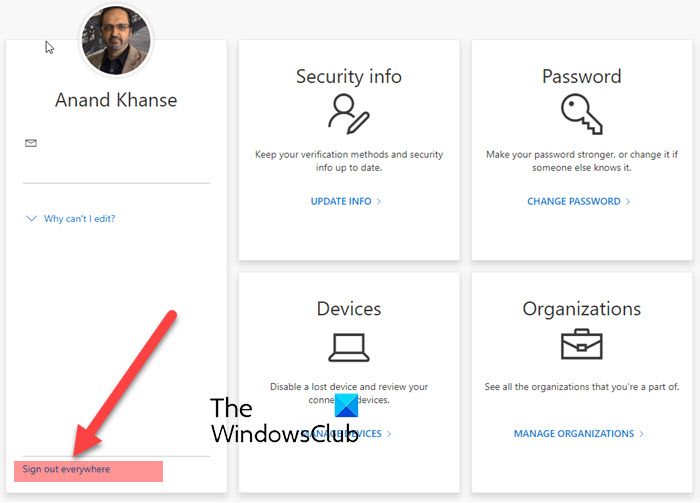 Lastly, we will discuss how this can be replicated on Outlook as well. Logging out of Outlook involves you removing your Microsoft 365 account across devices.
Open myaccount.microsoft.com and log in with your credentials
Here, you will find a Sign out everywhere link
Confirm the prompt that pops up, after which you will find out that your Microsoft profile has been logged out from all the devices.
Read: How to download Outlook emails to computer
We hope that you find this helpful.
How do I remove an account from all devices?
If you want to revoke the Easy Access rights on particular devices and mandate a two-step verification across devices, you can do so via Outlook's security settings. Click on the Profile icon and select My Account. Further, click on Security > More Security > Trusted Devices. Here, select Remove all the trusted devices associated with my account and confirm it in the subsequent prompt.
Read: Cannot send Email when connected to VPN
How do I logout of my Gmail on other devices on my iPhone?
To logout of your Gmail account on other devices on your iPhone, you need to open the Gmail app. Then, open the Settings panel and go to the General Settings section. Next, you need to change your password of your Google account. As there is no direct option for mobile users, this is the only method.