Windows has a fine set of default aero cursor set or mouse pointers. But if you feel like a change and would like to replace them with a customized set, you can change cursors easily in Windows 11/10. In this post, we will see how to install, change, and customize mouse pointers & cursor sets.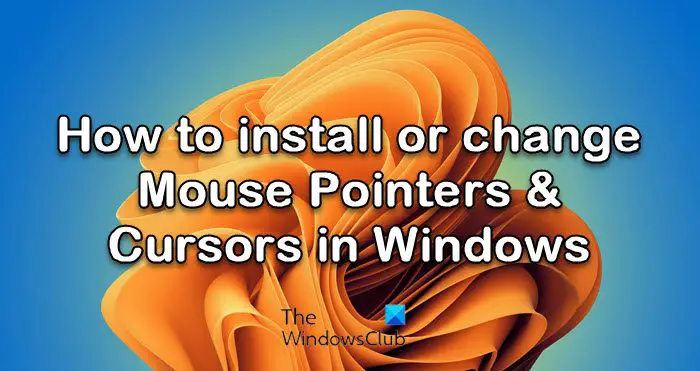 Install, change & customize Mouse Cursors in Windows
To install mouse cursors on Windows 11 or Windows 10 PC:
Download the set of cursors and place the cursors folder in the C:\Windows\Cursors folder. This is where Windows places all the mouse cursors & pointers.
Create a new folder called, say, "NewCursors" or keep the default cursor set's name. Make sure all the new cursor .cur files are in this folder.
If you see a .INF file in the folder, click on it to install the cursor set.
If you do not see it, you will have to install the cursors manually.
Via the Control Panel, open Mouse applet, and click on Pointers tab.
Some downloads come with an Install.inf or AutoSetup.inf file. To install these cursors, simply right-click on this .inf file and select Install. This saves a lot of effort on your part!
Next, open the Control Panel applet, and from the drop-down menu, select the newly installed cursors. Click Apply > OK.
Else you will have to do it manually for each item.
Select Windows Aero (system scheme) in the Scheme drop-down list, if it isn't already selected.
Click on the "Save As" button and name your new scheme as say, "NewCursors". Click OK.
In the Customize list, select the Normal Select cursor. Click Browse.
Navigate to C:\Windows\Cursor\NewCursors\, select the appropriate file for the appropriate mouse gesture, and click Open. Click Apply.
You have to do so with every file for every mouse gesture.
You may also want to check out some of these cool cursors:
Unborn Shadow Edition | Metro X | Directions | OpenCursor Library
Related: Mouse cursor change won't stay permanent in Windows
Also, check out Ultimate Windows Customizer, which allows you to customize your Windows installation, including changing the Start Button, Logon Screen, Thumbnails, Taskbar, Explorer look, Windows Media Player, and more!
If you know of any more good cursors for Windows, do share in the comments.