Inserting audio files in your PowerPoint presentation can add a spark to your work. Fortunately, Microsoft Office allows you to add audio files to PowerPoint presentations. You can add music, narration, or even sound bites, to PowerPoint.
How to Add Audio to PowerPoint
Firstly, to record and hear any audio, your PC or Desktop must be equipped with a sound card, microphone, and speakers. Then, to add audio files to PowerPoint, you will need to
Add audio from your PC
Test Audio
Change Playback options, If necessary
1] Add audio from your PC or Record Audio
Open Microsoft Office PowerPoint and choose 'Insert' from the Ribbon menu.
Select 'Audio' > 'Audio on My PC' if the file is stored on your PC.
Now, in the Insert Audio dialog box that opens, navigate to the path where the audio file is stored and select the audio file you want to add.
Hit the 'Insert' button.
2] Test Audio
Alternatively, you can record audio by going to 'Insert' tab, choosing 'Audio' and then, selecting 'Record Audio'.
In the 'Record Sound' box that opens, type in a name for your audio file, select 'Record', and then speak.
Please note – Your device must have a microphone enabled in order to record audio.
To review your recording, select Stop and then select Play.
3] Change Playback options
To place the clip at an appropriate position, move your clip by selecting and dragging the audio icon to where you want it on the slide.
Then, select the audio icon and choose the Audio Tools Playback tab. Here, you can take the action you would like to take.
For instance, to trim the audio, select Trim and then use the red and green sliders to trim the audio file accordingly.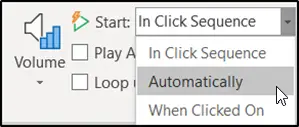 To choose how the audio file starts, select the dropdown arrow from 'In Click Sequence' and choose any of the following options-
Automatically: Plays automatically once you advance to the slide that the audio file is on.
When Clicked On: Plays audio only when the icon is clicked on.
I hope you find this tutorial useful.

Also read: How to insert Offline Video in Word, Excel, and PowerPoint.