When typing on a Microsoft Word document, it tries to break the line at a space or a hyphen. What if you do not want the text in the document to have a space or hyphen between them? You can use the Non-breaking space character in Word to create a Non-breaking space. The Non-Spacing character moves an entire word to the following line and prevents line breaking.
Non-breaking Space is a special character that keeps words or individual characters from separating from line breaks. You can use the Non-breaking characters on words you want to stay together in the document.
How to insert a Non-breaking Space in Word
Open Microsoft Word.
We want to prevent words with a hyphen or two words from separating from each other.
For example, in the photo above, we have Simon-lee Williams, but Simon is separated from Lee.
First, place the cursor at the end of the paragraph line Simon-  and Highlight the cursor.
On the Insert tab in the Symbols group, click the Symbol button and click More Symbols.
The Symbol feature in Word adds symbols that are not on your keyboard.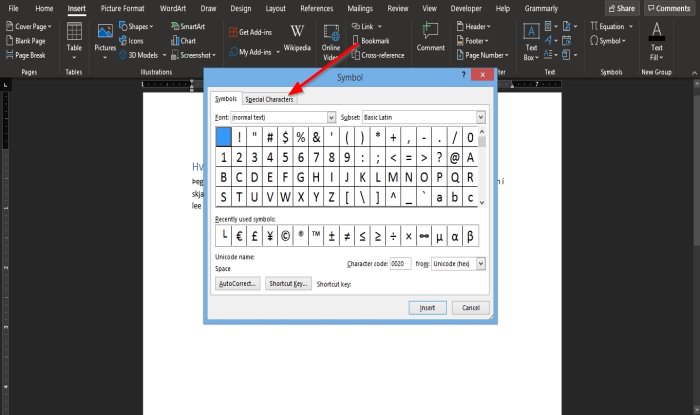 A Symbol dialog box will pop up.
Inside the dialog box, click the Special Character tab.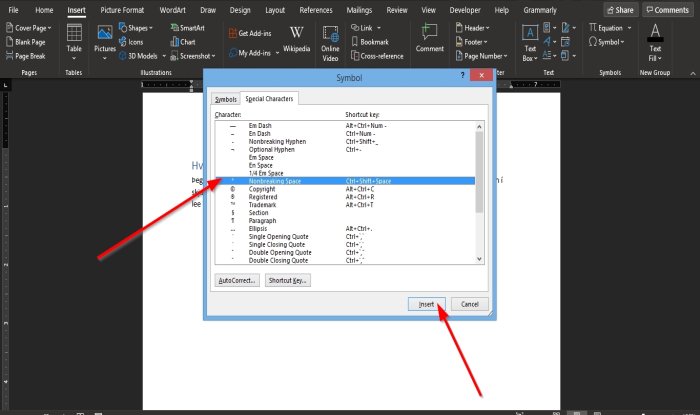 On the Special Character page, scroll until you see the Non-breaking Space.
Click Insert.
Then click Close.
You will notice that Simon-Lee is on the same line and not separated.
There is another method to use the non-breaking feature.
Place the cursor at the end of Simon- and Highlight the cursor.
Press the keys Ctrl + Shift + Space.
The same action will happen as the one mention above.
We hope this tutorial helps you understand how to insert a non-breaking space in Microsoft Word.
Read next: