There was a time in the life of YouTube when the platform supported RSS feeds. Interested viewers could easily subscribe to a channel in order to get the latest video updates directly to their RSS favorite reader. Those days are long gone since the folks at Google have made it increasingly difficult to subscribe to YouTube channels via RSS.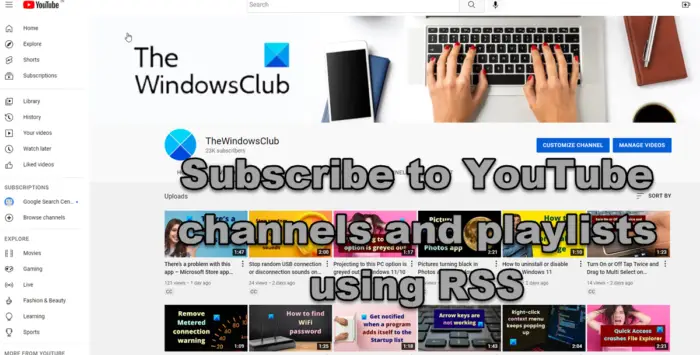 Google is doing this because it wants all users to take advantage of what the default YouTube subscription feature has to offer. However, we must admit that YouTube's subscription feature does not hold a candle to feeds where privacy is concerned.
If you want to follow a particular YouTube Channel like TheWindowsClub, then you must sign into the platform with a Google account. This wasn't the case with RSS feeds, which is why it will always be the better option. Despite what Google has done, the company has not managed to completely block users from following channels via RSS feeds. There are workarounds, and as expected, we are going to explain what to do in order to subscribe to channels with RSS.
How to get YouTube Channel RSS feed
Follow the steps below to subscribe to a YouTube channel via RSS:
Go to the preferred YouTube channel & find browse_id
Create a working channel RSS feed URL
Create a working playlist RSS feed URL
Subscribe to a YouTube channel with Edge
1] Go to the preferred YouTube channel
First, you must navigate to the YouTube channel you want to follow or subscribe to. This is easily done.
Fire up your favorite web browser.
Navigate to YouTube.
From there, find the channel you want to subscribe to.
Find browse_id
Next, we must find browse_id from the source. Let us explain how to get this done in the easiest of manners.
From the channel homepage, right-click on a blank section of the page.
From there, select View Page Source, or Page Source.
A new tab should now be opened.
Press CTRL + F.
Search for browse_id.
Copy the channel ID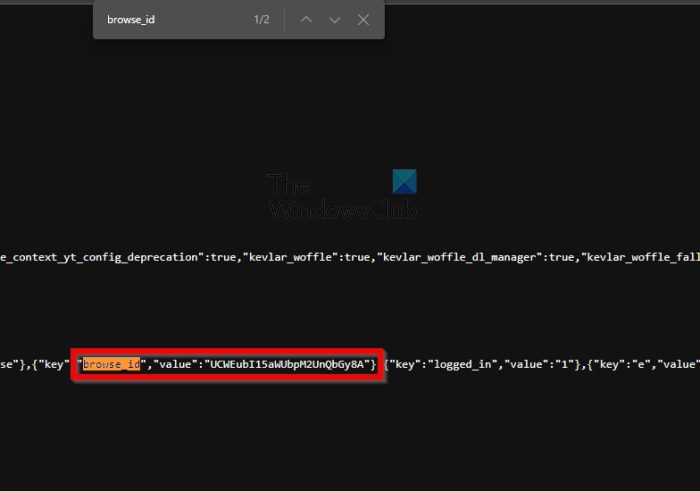 From the same page source tab, we will copy the channel ID for use later.
Look to the right of browse_id, you should see Value.
Copy the random letters and numbers that are next to Value in quotations.
Alternatively, if the channel URL does not have a name, then the ID is right here, so copy it.
2] Create a working YouTube channel RSS feed URL
We have everything in place now to create an RSS feed URL that works. This is the URL we intend to use later, so let us move on and explain how to create it.
To create an RSS feed URL, we must combine the channel ID with the default feed address.
The default URL looks like this:
https://www.youtube.com/feeds/videos.xml?channel_id=CHANNELID
Channel ID: UCWEubI15aWUbpM2UnQbGy8A
Example of a feed URL:
https://www.youtube.com/feeds/videos.xml?channel_id= UCWEubI15aWUbpM2UnQbGy8A
Copy and paste the URL into your web browser, then hit Enter to test it out.
3] Create a working YouTube playlist RSS feed URL
In terms of creating an RSS feed URL for a playlist, the task is easier than creating one from the channel itself. That is because the ID is located in the playlist URL in every situation. So, let us look at what to do here.
Open the YouTube playlist.
Copy the ID from the URL
Paste the copied ID ahead of
https://www.youtube.com/feeds/videos.xml?playlist_id=
In the end, then, the RSS feed URL should look like this:
https://www.youtube.com/feeds/videos.xml?playlist_id=ABCD1234ETC
If you have followed everything above, then you should have no problem going forward following your favorite YouTube channels without having to log in. Just ensure you have an RSS feed reader and you're good to go.
Subscribe to a YouTube channel with Edge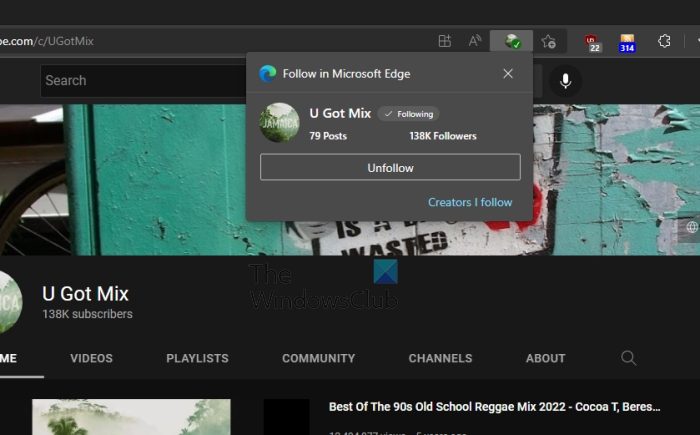 For those who haven't been taking notice, Microsoft Edge has a new feature that makes it possible for users to subscribe to a channel with RSS.
To begin, please open the latest version of Microsoft Edge.
From there, navigate directly to YouTube.
Next, find the channel you want to follow.
Look to the URL bar for the Follow Creator icon.
Click on the icon to follow the channel.
That's it, you've just used Microsoft Edge to follow YouTube channels, and this is done outside of the official subscription feature on the platform.
Note that at the moment, some channels are not supported. We are not sure why this is, but that's how things are right now.
Read: YouTube video freezes but audio continues
Does YouTube have RSS?
It is possible to create an RSS feed URL for every channel and playlist on YouTube, but it requires a bit of work. In the days of old, YouTube made it super easy for users to subscribe to channels using an RSS feed reader, but these days, Google wants everyone to use the built-in subscription feature instead.
Is RSS free?
For those who aren't aware, RSS stands for Really Simple Syndication, and it has been around since the 90s. It is free to use, yes, but RSS feed readers are not all free to acquire, so bear that in mind.
Do all websites have RSS feeds?
Almost every website running right now has a built-in RSS feed that can be used by readers. We're not sure how long this will be the case since readers are choosing to follow websites on social media instead of using RSS feeds like in the old days.
Can use YouTube on Microsoft Edge?
Yes, it is possible to use YouTube on Microsoft Edge like every other modern web browser. If for some reason YouTube is not working, then consider clearing Edge cache, then try again.
How to install YouTube as an app via Edge?
If you want to do this, then first you must open the newest and most stable version of Microsoft Edge. From there, visit the official YouTube website. Finally, you must click on the App Available button found in the address bar of Edge. Click the Install button to initiate the installation. After that, Edge should now create a YouTube shortcut that only opens in its own window similar to that of an app.
How do I download videos from Microsoft Edge?
Visit the official Microsoft Edge add-ons store. From there, search for an add-on that can download videos from the web. We recommend a tool known as All Video Downloader professional.