The popular Roku is known for having errors at times, but fixing them is easier than ever with our fixes. In this article, we will be seeing ways to fix Roku Error Code 014.30.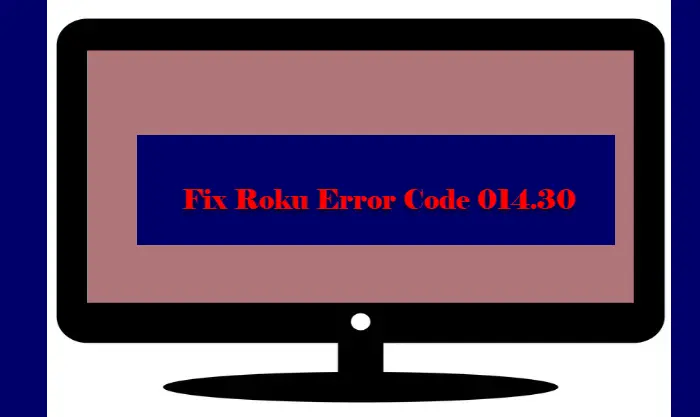 Why do I see Roku Error Code 014.30?
You will see Roku Error Code 014.30 when your Roku TV is facing some network issue. The following is the exact error message (sometimes the error can be slightly different).
Can't connect to your wireless network. Check the following:

Is your password entered correctly (passwords are case sensitive)?

Does your router block unknown MAC addresses? If so, add MAC address…

error code: 014.30
This error can be because of MAC address filtering. Although, this is a rare cause we have solutions for this cause as well.
Fix Roku Error Code 014.30
Before looking at the actual fixes, you need to make sure that the password that you are using is correct. As mentioned in the error message, the Roku password is case sensitive, so, keep that in mind.
These are the things you can do to fix Roku Error Code 014.30.
Restart Device
Check MAC Address Filtering
Perform Factory Reset
Let us talk about them in detail.
1] Restart Device
Restarting the device usually is enough to fix all the errors but there are some tips that you need to consider while restarting your device.
First of all, unplug both the device you are streaming on and the Router.
To discharge the capacitance, press and hold the power button for half a second.
Now, plug both of them back in.
Do, this and check if the issue persists.
2] Check MAC Address Filtering
This is for a small niche of users who use MAC Address Filtering on their router. If you are one of them then you need to make sure that Roku is not blocked. If it is, you will see this error.
3] Perform Factory Reset
If all else fails, we need to pull out the big gun, that is, to perform Factory Reset for Roku. This should be your last resort as it will remove all the configurations that you have made.
To do that, you can follow the steps given below.
On your Remote, Press "Home", you'll be redirected to the Main Screen.
Go to Settings > System > Advanced System Settings.
Click Factory Reset > Factory Reset everything > Ok.
This will fix the error for you.
Hopefully, you can fix Roku with the help of the mentioned solutions.
Why is Roku not connecting to the WiFi?
There are multiple reasons why Roku won't connect to the WiFi. But the easiest way to solve this would be to restart your devices. You need to make sure that you are following the tips mentioned earlier in this article to restart both TV and Router.
Another thing we would recommend you do is to stream Roku on an Ethernet connection. Roku or any other streaming service works better with an Ethernet than it does with WiFi.
Read Next: