This post features solutions to fix Error Code E84 on Steam for Windows. Steam is a digital video game distribution platform by Valve. Despite being one of the best gaming platforms, it still faces bugs and errors now and then. Recently, users have complained about the error code E84 on the Steam app. The complete error message reads:
ERROR
Something went wrong while attempting to sign you in. Please try again later.
Error Code: e84
Fortunately, these simple suggestions will help fix it.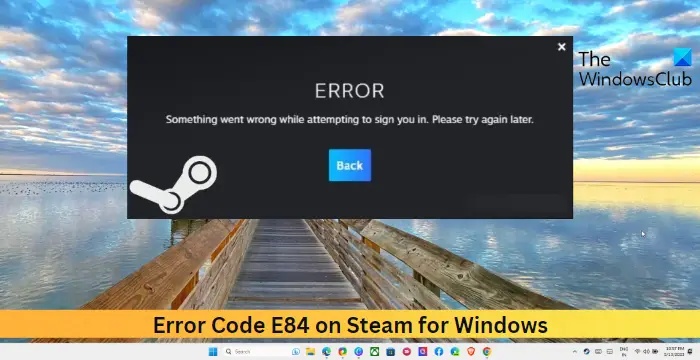 How to fix Error Code e84 on Steam
To fix the Steam Error Code E84 on your Windows PC, follow these suggestions:
Check Steam Servers
Add a Launch Parameters
Reset Steam Account Password
Run Steam as an Admin
Reinstall Steam Client
Now let's see these in detail.
1] Check Steam Servers
Before you make any changes to your system settings, check if the Steam servers are up and running. The Steam servers may be under maintenance or are facing downtime. Follow @Steam on Twitter to stay updated about any scheduled or ongoing server maintenance.
2] Add a Launch Parameter
Next, try adding the -noreactlogin launch parameter in the Steam.exe file. Doing so will disable the ReactJS-based login window, restore the old one, and help fix error code E84 on Steam. Here's how:
Right-click on the Steam.exe file and select Properties.
The Steam Properties window will now open; navigate to the Shortcut tab here.
Modify the Target field by adding a space and then typing -noreactlogin at the end.
Click on Apply and then on Ok to save the changes.
3] Run Steam as an Admin
The error code E84 on Steam can also occur due to lack of permissions. To fix this, run the Steam app as an Admin. You can do so by right-clicking on the Steam.exe file and then selecting Run as Administrator.
4] Reset Steam Account Password
If the error code E84 still isn't fixed, reset your Steam account password. Doing so can sometimes help fix the error easily. Here's how you can reset your Steam Password.
5] Reinstall Steam Client
If these suggestions didn't help, consider reinstalling the Steam app. This has been known to help most users fix the error.
Read: Steam Error 0x4C7, The operation was canceled by the user
We hope one of these suggestions helped you.
How do I fix Steam code error?
To fix error codes on Steam, check if your internet connection is running and allow Steam through Windows Defender Firewall. If that doesn't help, check Steam servers and run the app as an admin.
How do I fix too many login failures on Steam?
To fix too many login failures on Steam, consider using a VPN. It will mask the IP address and allow to pass the soft ban. Other than that, add a launch parameter, and lastly, reinstall Steam.