The PDF file format is a great way to save images and text in a document. PDF is great because the image and text can keep their original quality. Even if the PDF document is not opened in the same software as the original it can still retain its quality. PDF files can be opened and created by a lot of software, so they are quite easy to work with. Since you will likely work with PDF, learning to diagnose and fix a blurry PDF is worth learning.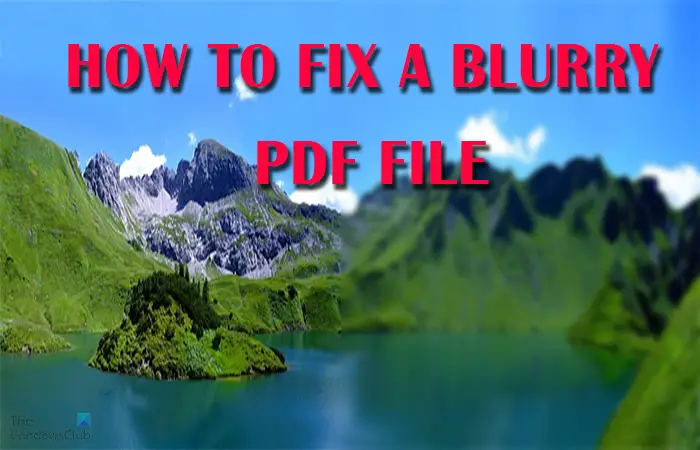 How to fix a blurry PDF file?
With PDFs becoming popular, and easy to share, many people use them and want to save other file formats to PDF. For example, people save Word documents, PowerPoints, and even Excel files as PDFs. When working with PDF files, there may be times when the PDF may come out blurry. You will find it helpful to learn how to fix a blurry PDF file. This article will show you how to troubleshoot and fix blurry PDF files.
Find a higher-quality source
Fix output settings
Check software compatibility
Keep zoom at the correct proportion
1] Find a higher-quality source
One reason your PDF may be blurry is that the original document may be of low quality. PDF can save high-quality documents, however, if the source document is of low quality, the saved PDF will be blurry. Documents with a resolution lower than 72 pixels for web display or lower than 200-300 pixels for print, will result in blurry pixelated PDF output. If a small image is enlarged, it may show blurry when changed to PDF.
2] Fix output settings
Many software can output PDF either through their own built-in capabilities or the use of third-party software such as Microsoft Print to PDF. Some software such as Photoshop, InDesign, Illustrator, and others give the user the ability to change the output settings of the PDF document. Some software will by default output low-quality PDF documents. This means that you will have to change the PDF's output settings to a higher resolution before finalizing the save. If the image is intended for print, make sure the setting that you chose is for print and not for screen display. PDF documents may show well on screen, but they may be blurry when printed so it is best to choose an output setting that is for printing.
3] Check software compatibility
Your PDF may be blurry because the software is incompatible. You may have used third-party software to convert your document to a PDF. This third-party software may not be compatible with some elements in the original document, and this can make the output blurry. If this is the case, use another software to convert the document to a PDF. You may not know that the cause of the blurry PDF is the incompatible software, however, if you have a blurry PDF after converting then try using other software to convert to PDF to see if the software is the problem.
4] Keep zoom at the correct proportion
Some PDF viewers will show images or text blurry if the document is viewed at a smaller size than 100 percent. This can affect output especially if the PDF is going to be copied using screen capture. If you are going to screen capture the PDF, make sure that the document is at 100 percent. It is best to crop the result instead of resizing it. avoid using JPEG compression as this will make the document blurry.
Read: Adobe OCR not recognizing text; This page contains renderable text
How can I make a blurry PDF sharp?
Sometimes the only way to fix a blurry PDF is to rescan if it was from a physical document. A blurry document can be a result of placing a document incorrectly in the scanner, folds, or creases in the paper.
TIP: You can repair PDF using PDF Fixer Tool
How can I edit PDF without Adobe Acrobat?
Microsoft Word can edit PDFs, especially PDF that is has no tables and graphics. To edit a PDF in Microsoft Word, go to the PDF file then Right click on it and choose Open With then Word. You will get an information window pop up, click Ok and you will see the PDF open in Microsoft Word. You will be able to edit the PDF like a regular Word document. If you want to save it as PDF you can just go to File and then Print and then choose Microsoft Print to PDF as the printer. When the  Save dialogue box appears choose a file name and click Save.