YouTube is the #1 social video platform on the web, and there are probably millions of channels to choose from. You see, finding the right channel for you might not be as easy as one thought, so with that in mind, we've decided to talk about the best ways to locate the perfect channels.
Yes, we know that YouTube has its own search feature, but it doesn't give the user a lot of control. We can't be certain of the changes the company will bring to the table in the months to come, so the best option right now is to use third-party tools.
How to discover new channels on YouTube
With the tools we're going to talk about today, we expect readers to use them in a bid to master their search for channels on YouTube. Maybe you could be the reason why a particular creator becomes the next best thing on the platform.
CreatorSpot
Channels Stack
Neverthink
YouTube Trends
1] CreatorSpot
We love to use CreatorSpot.co because it brings to the table eight new creators every day, making it super easy for folks to discover new content. It's very difficult to keep up with all the new videos that are released constantly on YouTube, so using CreatorSpot should make like much easier.
We should point out that the platform doesn't use an algorithm like YouTube, and as such, it relies heavily on user submission than anything else. This is a good thing because bigger channels tend to benefit greatly from YouTube's algorithm, while the little guys have to work that much harder.
2] Channels Stack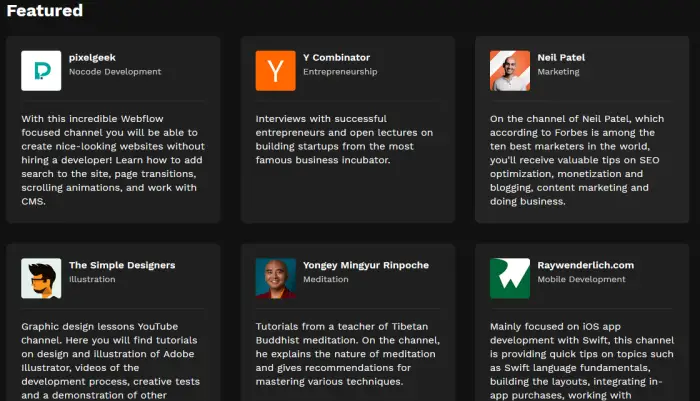 If you want to find educational videos on YouTube, then we wholeheartedly suggest using Channels Stack to find what you want. This website is perfect for teachers who want to showoff great content to their students.
Videos found on ChannelsStack.com are hand-curated, and since the videos are categorized, folks can easily locate the ones that best represent their needs. For example, if you need to teach students how to cook, code, or create water from wine, then it's all there.
3] Neverthink
What we have here is a great option for those who have no idea what to watch on YouTube, which is probably all of us when we're bored. The videos provided by Neverthink.tv are all hand-picked and curated by a team of humans, and all you have to do is pick a theme and let the tool do the hard work.
This is great for avoiding YouTube's sketchy algorithm which tends to recommend low-quality content and things you have no interest in seeing.
4] YouTube Trends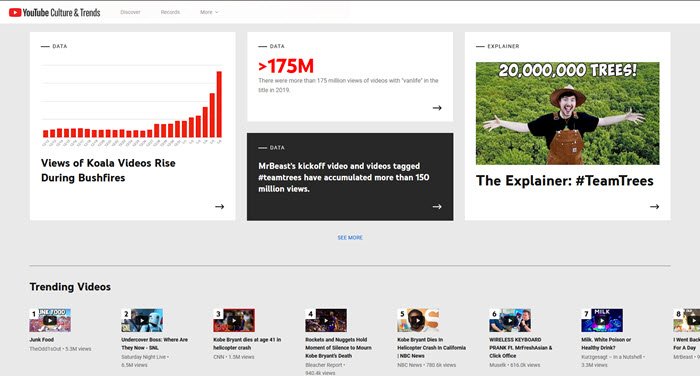 This one is pretty good because it displays all the videos that are trending for the past 15 minutes. The folks at YouTube have done a decent job in getting this page to work, but since its all about trending videos, it will likely not help you in a great deal to locate channels to your liking.
Still, if you're not interested in using third-party avenues to find awesome channels, then this is your best bet right now.
Let us know which one is your favorite.