This post will show you how to export Teams Wiki to OneNote. Teams Wiki offers a convenient way to capture and centralize information. However, sometimes you may need to export it to another platform for further utilization or documentation purposes. Keep reading this post to learn how to export a Teams Wiki to OneNote.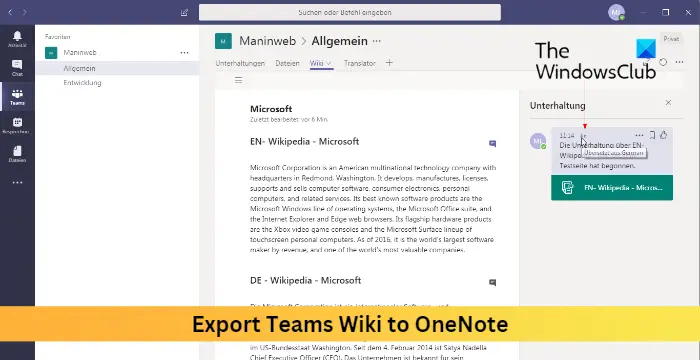 How to export Teams Wiki to OneNote?
Follow these suggestions to export Microsoft Teams Wiki to OneNote easiely: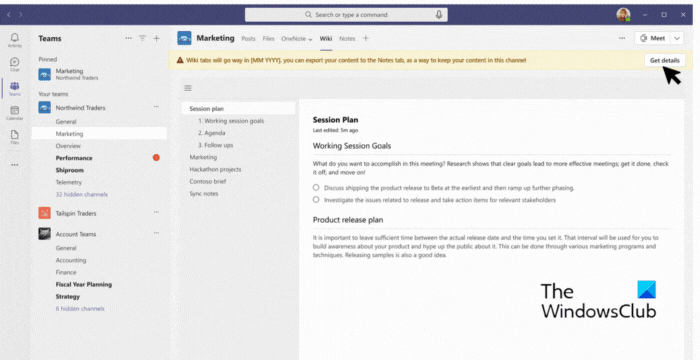 Open Teams and navigate to the channel with the wiki to export.
Navigate to the Wiki tab and select Get details > Export to Notes > Finish.
Open the Notes tab to access your content. A read-only version of your wiki will now be available in the Wiki tab.
Read: How to share PowerPoint slides in Teams meetings
I hope this helps.
Should I use Wiki or OneNote in Teams?
Use Teams Wiki if you need a collaborative knowledge base within the Teams environment. However, if you need more robust note-taking capabilities, extensive organization options, and cross-platform accessibility, choose OneNote.
Does OneNote work with Microsoft Teams?
OneNote can integrate easily with Microsoft Teams, allowing users to create, access, and collaborate on notebooks within Teams channels. This will enhance teamwork and streamline communication within the Teams environment.