Telegram added a new feature that is designed to allow users to export their chats. And we're not talking about exporting walls of text, but pictures, videos, files, GIFs, and stickers. From our point of view, this is an important addition to the service.
Export Chat and Group data in Telegram
Platforms such as these don't usually offer a simple way to export data. For example, it is not easy to do this on WhatsApp or Signal, for that matter.
Bear in mind; however, that Telegram does not offer full end-to-end encryption by default. If you are using the Secret Chat feature, where everything is encrypted, then you won't be able to export your chats.
Log-in to your Telegram account
Open the chat you want to export
Select the three-dotted menu button
Export your chat history
Let us discuss this in more detail.
1] Log-in to your Telegram account
After opening Telegram, you must now log-in with your master password; well, that's if you've added one prior. If not, then your chats will load right away.
2] Open the chat you want to export
OK, so the next step to take right now is to open the chat you wish to have exported. Do this by clicking directly on the chat from the list to the left.
3] Select the three-dotted menu button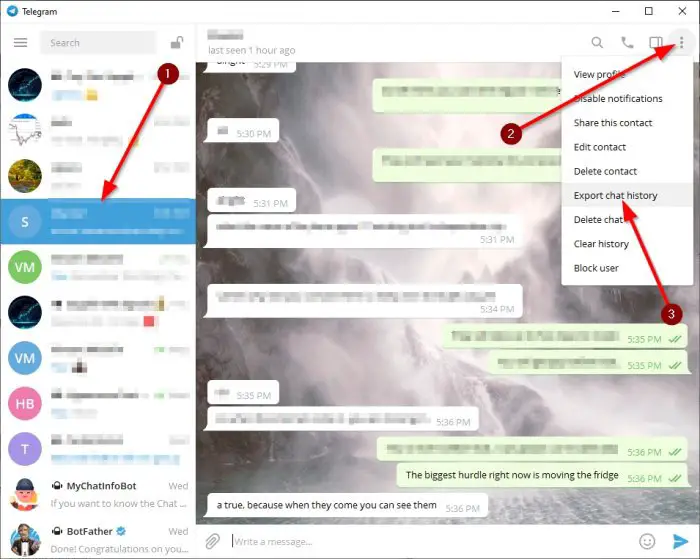 From the top-right section of the chat, you should see a button with three dots. That is the one you should select to display a dropdown menu with a few options to choose from.
4] Export your chat history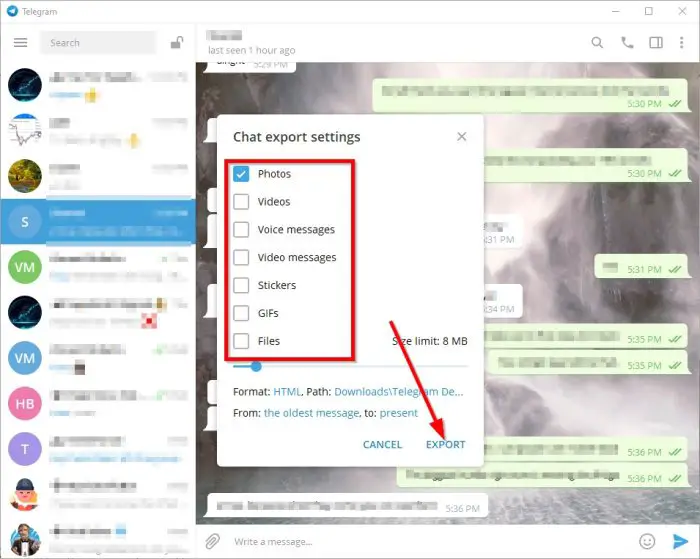 Click on Export chat history from the dropdown menu. From the small window, please select all the contents you want to be exported. The options are vast, and they are as follows:
Photos
Videos
Voice Messages
Video Messages
Stickers
GIFs
Files
You have the choice to set a size limit and specify the location you want the exported files to go. If you want, you can determine the starting date and end date if you do not want to export everything under the sun.
Once the settings are to your liking, click on Export to begin the process.
Read next: How to manage and clear Telegram local cache.